Event Information
Location
Prequel
918 F Street Northwest
Washington, DC 20004
Description
Frequently Asked Questions (FAQs):

Q: Can you pay for tickets at the event?
A: Yes, you can pay for tickets at the event.
Q: Do I need to print out a ticket to bring to door?
A: No, it's not required. We will check-in all guests via Eventbrite Mobile at the front door. We will match your ID to ticket name registered on eventbrite.

Q: Where is Prequel?
A: It is located at 918 F Street NW between 9th Street and 10th Street.

Q: How is parking and transportation?
A: We strongly encourage you to Uber or taxi. Street parking is limited, but available. There are a few parking garages in close proximity to the venue.

Q: Is there Public Transportation/Metro?
A: The closest metro station is Gallery Place-Chinatown. The South Entrance is located less than 1 block away from the venue.

Q: Attire?
A: Cocktail attire. Chic and trendy is the goal.
---
Join us for our Summer '16 POP-UP Dinner Party by TTC Private Chefs

Unwind with that special someone or reconnect with your favorite group of friends. This pop-up dinner is the perfect way to kickoff a Friday night.
Craft signature cocktails. Corn meal-crusted scallops & pineapple chicken [full menu]. A musical playlist curated by DJ Suave. A five-course meal cooked by TTC Private Chefs. Wine pairings. Dessert.
Fellowship with good people while enjoying the good life. The energy will be electric. The music will be unforgettable. The food? Exquisite.
And around 10 p.m., after dinner's done, we'll turn up the volume so you can turn up a little, too.

What other five-course meal comes complete with its own after party? Only ours.
This is the dining experience you deserve. The kind of social experience that's been missing on the DC scene. And it's the Friday night you've been waiting for. Treat yourself to something unique. After all, life is good.
Summer '16 POP-UP Dining & Social Experience
Hosted by Enitan Bereola II
Friday, July 29th, 2016
Cocktail Hour (Open Bar) 7pm to 8pm
Dinner Starts @ 8pm
5-Course Dinner
Signature Wine Pairings
Cash Bar with Craft Signature Cocktails
Music Playlist Curated by DJ Suave
Proceeds will benefit Girls Health Ed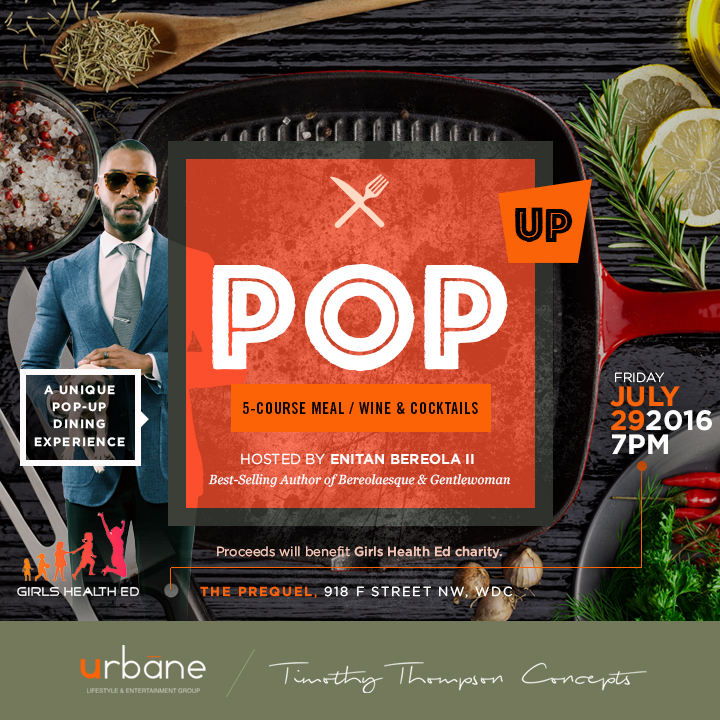 About The POP-UP Dinner: TTC International is a private chef and banquet services company based in New York City. In 2015, TTC International launched "TTC Pop-Ups" and hosted a number of pop-up dinner experiences at nontraditional venues throughout New York City. These pop-up dinners took place at unusual and unassuming space, such as rugged warehouse buildings, vintage parking garages, and historic outdoor parks. In contrast, the event was curated with elegant decor and guests wore high-fashion cocktail attire served over a 5-course meal & wine pairings. In July 2016, TTC Pop-Ups will expand to the Washington, D.C. market and form a partnership with The URBANE Group for a series of pop-up dinner experiences.
About Girls Health Ed: Girls Health Ed is a nonprofit organization with a mission to provide free health education to girls and young women through school- and community-based workshops focused on key health components including nutrition, physical fitness, personal care / hygiene, reproductive health, and body image. To date, the organization has impacted 1,100 girls in Washington, DC, New York City, Los Angeles, and Kogelo, Kenya. The organization is recognized as a leader in the advancement of health education for girls. For more information, visit www.girlshealthed.org.
Date and time
Location
Prequel
918 F Street Northwest
Washington, DC 20004