In this exciting course you will learn some background in Chinese painting.
About this Event
Basic Chinese characters and brush techniques will be taught as well as how to paint bamboos, rocks and sparrows.
Skill Level: All. This class is for adults.
Recording: We are not recording this workshop.
Requirements: This is a virtual workshop. Students should have the following:
Computer or other internet-connected device with a built-in camera.
Zoom conferencing software and familiarity with the platform. In order to access the workshop on Zoom, you will first need to download the free Zoom app (called Zoom Client for Meetings) on your tablet or computer, if you don't already have it. Click here before the workshop to download the Zoom app https://zoom.us/download. If you are new to the platform, Zoom offers tutorials here: https://support.zoom.us/hc/en-us/categories/200101697.
Supply List:
Sumi Ink
Basic three set of Chinese paint brushes
Newsprint paper (practice paper)
Rice paper OR watercolor paper
Palette
Two water containers
Newspaper (to cover work table)
Paper towels (to clean and dry brushes)
Supplies can be purchased at Dick Blick, Amazon or blueheronarts.com
It's ideal to have Chinese brushes, Sumi ink and rice paper but regular watercolor sable brushes (large and small), a flat brush, India ink, and watercolor paper work just as well.
Rice paper is different than any other western paper, it gives Chinese painting its' unique effects and mark making. However watercolor paper is easier to reign in the brush marks.
About Instructor Julian Wong: Julian Wong studied traditional Chinese painting in Hong Kong then continued in Fine Arts and Industrial Arts training. He teaches classes in the Detroit metropolitan area and on Zoom. View some of his work at wonginkandbrush.com.
Michigan Association of Calligraphers (MAC): MAC is a non-profit organization open to all who are interested in calligraphy, the art of beautiful writing. Its principal purposes and functions are to perpetuate, enhance, and promote the art of calligraphy. Guild membership covers a calendar year (Jan-Dec). We invite you to follow us on Eventbrite.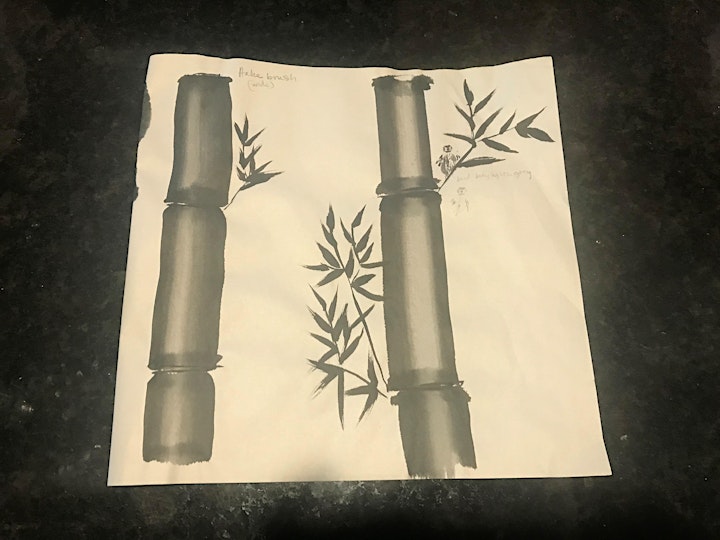 Date and Time
Location
Refund Policy