Description
"Sumer Is Icumen In!8" Please join the Rainbow Elders for a summer picnic! Enjoy a catered meal, meander through the daylily gardens on 15 and a half acres of land, and meet with LGBTIQA friends old and new.
*A medieval English round or rota of the mid-13th century. The title translates approximately to "Summer Has Come In" or "Summer Has Arrived."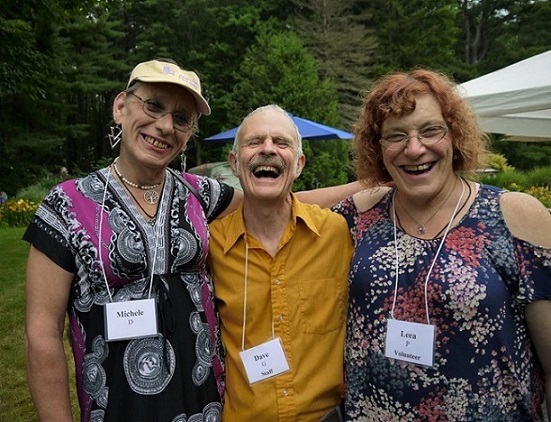 RSVP by July 18 here at Eventbrite or contact Lynne Feldman, Director of Community Services at LifePath: lfeldman@LifePathMA.org, 413-775-5555 x2215, or 978-544-2259 x2215. You will receive a confirmation with directions. Registrants will receive a call or email should the event be rained out.
A suggested donation of $10 is appreciated and will be used to cover expenses for this and future Rainbow Elders events. If you can donate more than $10, it will help someone else with fewer resources attend. Any donation amount is welcome.
This is a drug-, alcohol-, and fragrance-free event.
Special thanks to our sponsors
Rockridge Retirement Communities
Victory Home Healthcare

---
LifePath's Rainbow Elders offers opportunities and information to build connections and find resources to lesbian, gay, bisexual, transgender, intersex, queer, questioning, asexual, aromantic, and agender elders, as well as their allies, and educational outreach to agencies, businesses, and the community at large. Rainbow Elders helps people build relationships, give and gain support, grow in knowledge and cultural competence, and advocate for human rights so that everyone can live and age with dignity.
Read more and sign up to receive emails with future Rainbow Elders event invitations and relevant news and information at LifePathMA.org/RainbowElders.
LGBTIQA: lesbian, gay, bisexual, transgender, intersex, queer, questioning, and asexual, aromantic, agender and allies
---
We're asking for a $10 suggested donation for this event - more if you can, less if you can't - to help sustain and grow support for LGBTIQA elders right here at home.
Did you know?
LifePath has been supporting the LGBTIQA elder community with quarterly meals for over 10 years. The first breakfast event took place in June of 2006! Here's a photo from that very first gathering.
Since 2006, Rainbow Elders efforts expanded to offer additional support beyond meals, with annual intergenerational and educational events, and the momentum has picked up even more in the past several years.
Where are we now?
This past year we began offering monthly luncheons. We continue to offer social events, with a picnic in the summer, plus an intergenerational gathering in the spring. We also offer educational panels in the community and at local businesses and organizations that interact with the LGBTIQA elder population to support community building, support, and understanding. We send representatives to speak at conventions and conferences and act as advocates to ensure civil rights for all. Our quarterly newsletter and additional periodic emails keep our community informed and connected to the happenings and news that impacts our lives.
What's next?
Though the Rainbow Elders receives community support from generous community sponsors, donors, and the Friends of the Rainbow Elders, more than 75% of the expected costs will come from LifePath, a nonprofit agency, directly, at a time when funding streams are narrowing.
We want to continue expanding services, but we need your help. We ask for your support to guarantee that the Rainbow Elders have a solid and sustainable foundation to build upon, no matter what tomorrow brings.