About this Event
The Sullivan County Chamber Orchestra (SCCO) Quartet will perform, "A German Celebration" in Monticello and Liberty in October including compositions by Haydn, Mendelssohn, Humperdinck and Brahms. Join the SCCO Quartet as they present a smorgasbord of German music. The program will start with the second movement of Haydn's "Emperor" quartet. It will be followed by one of the most important musicians in German history, Mendelssohn. The second half of the program will start with an excerpt from Engelbert Humperdinck's "Hansel und Gretel." The ensemble will conclude with the String Quartet No. 1 by Brahms.
SCCO Artistic Director Andrew Trombley said, "This program was inspired by a supporter of ours who loves German music. It was difficult to choose only a few composers out of so many and it wasn't possible to organize a 4 hour concert. Starting with the second movement of the Haydn was a must. While Haydn is an Austrian composer, the noble theme from the second movement has been adopted as the German National Anthem. Mendelssohn was another necessary composer. Few have contributed to the arts in Germany the way Mendelssohn has. He revived the masterworks of Bach, developed the iconic ensemble Gewandhaus Leipzig Orchester, and used his studies to create masterworks drastically different from peers of his time. The second half will open with the music of Engelbert Humperdinck (not the famous 1960's singer). Humperdinck is not known for much, but his opera Hansel & Gretel has stood the test of time with regular productions across the world with an audience favorite, "Evening Prayer." The program will end with the music of Brahms. We chose the c minor quartet because it serves as bridge between the world of chamber music and orchestral music for Brahms by using a thick harmonic language not typical of quartets at that time."
There is a Sunday matinee on October 27th, 2019 at 3 p.m. at Liberty Museum & Arts Center, 46 S. Main Street, Liberty NY.
For tickets to the Saturday night performance on October 26th, 2019 at 7 p.m. at St. John's Episcopal Church, 15 St. John Street, Monticello, NY, CLICK HERE.
General Admission for SCCO 2019-20 is $20. Seniors are $18. Students are free.
Follow SCCO on social media: @sccoplayers
Contact Marina Lombardi at: marina@nesinculturalarts.org or call (845) 798-9006
The Sullivan County Chamber Orchestra Quartet is a Nesin Cultural Arts sponsored project. SCCO is made possible by the New York State Council on the Arts with the support of Governor Andrew M. Cuomo and the New York State Legislature.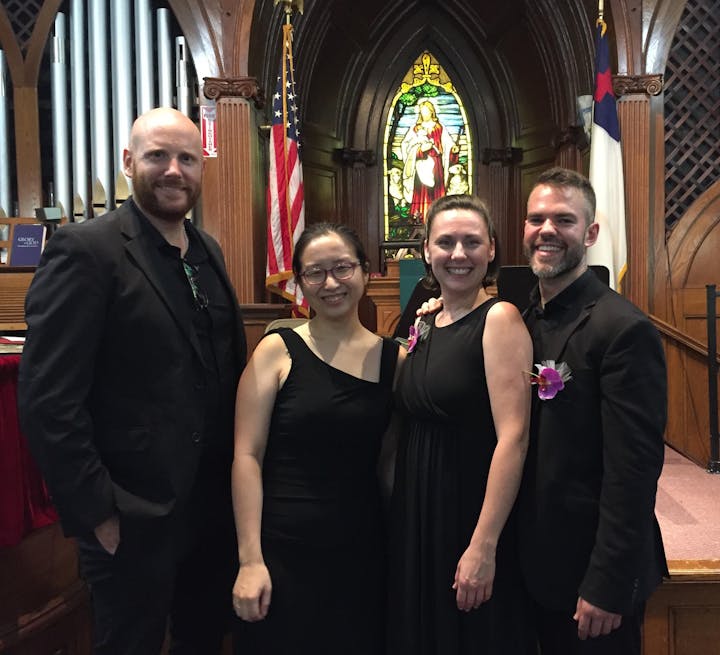 The Sullivan County Chamber Orchestra Quartet (from left): Luke Krafka (cello), Akiko Hosoi (violin), Adrienne Harmon (violin) and Drew Ricciardi (viola)