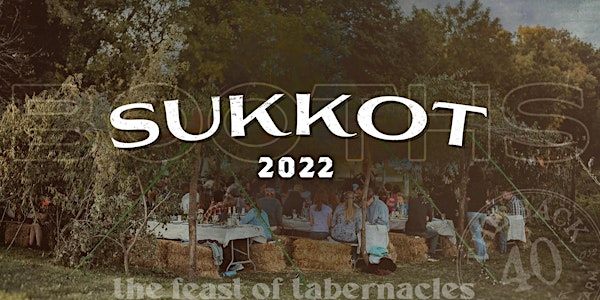 Sukkot, The Feast of Tabernacles
The Feast of Tabernacles at the Back 40 Family Farm. Food. Fun. Fellowship. Worship. Community. Education.
When and where
Location
The Back 40 Family Farm 10911 SW CR 5 Willmar, MN 56201
About this event
For many years we have been celebrating this beautiful Biblical Feast with our family and friends, always longing to dig deeper into the prophetic shadows that God has embedded into it and experience its fullness as a community of believers. This year we are taking the plunge and opening up our farm to so much more than just building a sukkah and having one big meal outside with friends. Our vision is great and bold and we are still working out all the details, but we wanted to publish our event even as the details are still forth coming, so that those of you wanting to celebrate with us can make appropriate plans. It's likely we will need your help in making this happen so stay tuned for more information. We invite you to join us -- either for the whole week, for part of it, or even just the day of the main feast. You are welcome to camp on the Back 40 property, snow, rain, or shine (because -- Minnesota October can be all of the above), stop in for a workshop, or join us for a community Sukkah building on Saturday, October 15, with a feast and worship to follow. (IMPORTANT: registration for each event you would like to participate in will be required)
Here is our tentative schedule so far:
OCTOBER 11-14:
Camping check-in at the Back 40 Farm beginning at 3pm on Oct. 11. Community meal for all who are here to kick off the celebration: 6 pm. Menu TBD
DAILY SCHEDULE (both for all who are camping out here and for any who would like to join for any part of the day):
8:30 am - devotions/Scripture reading
9:00 am to 10:00 am - Community breakfast and cleanup.
*Food Crew, Clean-up Crew sign ups to come
*Each family will bring their own plastic dishes to wash to reduce trash.
10:00 am - 12:30 pm -- morning workshops (see the bottom of this section for a sample of workshops that will be offered with more to come)
12:30 pm - 2:00 pm -- independent lunch
2:00 pm - 5:00 pm -- afternoon workshops
5:00 pm - 7:00 pm -- independent supper
7:00 pm - 9:00 pm -- in depth Bible study
9:00 pm -? -- campfire
*There will be a small charge for camping to provide for different logistics associated with it.
*The farm will make limited refrigerated space available for a small fee, on a first come, first served basis.
*The farm will make power available to campers during specific times (generators) for a small fee
*Please watch your step and be safe: the Back 40 Farm and/or the Arends family will not be held liable for any accidents.
FRIDAY, OCTOBER 14
PREP for Sukkah building and the feast on Saturday- we will be getting everything ready for building of the Sukkah and for the main meal.
6:00 pm-8 pm -- Shabbat community supper will be served to all present.
SATURDAY, OCTOBER 15
Large gathering for all who want to experience a rehearsal of the Marriage Feast of the Lamb: big sukkah building, the elegant Feast, time of praise and worship, dancing, prayer, teaching, and fellowship.
SUNDAY, OCTOBER 16
community breakfast, afterglow, clean up and downtime
ADDITIONAL LODGING OPTIONS
For those of you who are out of town, and would like to join us for multiple days but are not able/ready to camp, there are multiple hotel and Airbnb options available in Willmar, only 15 minutes away from the farm.** Reservations are to be done on your own.**
WORKSHOPS
Example of possible workshops and service projects offered during the Sukkot week (workshop registration to open later):
Inductive Bible Study by Deidra Lynch
Creative Food Preservation by Toni Shafer and Angela Miedema
Roofing and Farm Building Maintenance with Farmer Al (service project)
Spiritual Living Select Topics by Anita Nelson (prayer counselor)
Natural Wellness: Supporting Your Immune System by Tamara Gabrielson, Board Certified Naturopath
First Aid Foundations by Christina Messina, RN with ER and combat medic experience
The History, Meaning, and Making of the Tzit Tzits by Amara Gilmore
Survival and Wilderness Training with Eli Smith
There will be a charge/suggested donation associated with the workshops to bless the instructors and cover any necessary supplies.
Watch for emails and announcements, or check the Eventbrite page frequently for workshop updates and registration.
PS: As I am in the middle of learning how to use the whole functionality of the site to our advantage, I made a mistake and I can't seem to fix it now. When you register, you will see two Saturday Feast registrations on the sign up page, one of which is marked as sold out - that's the best I can do to fix the mistake and direct traffic to the correct sign up. Apologies for confusion and inconvenience - next time I will know better. Also - the bread class was cancelled. I will wait until next Sukkot or perhaps summer to offer it. Thanks for understanding. We are excited to invite you, to celebrate with you, and to grow the community of believers who strive to live in sync with God's rhythms.
Maranatha