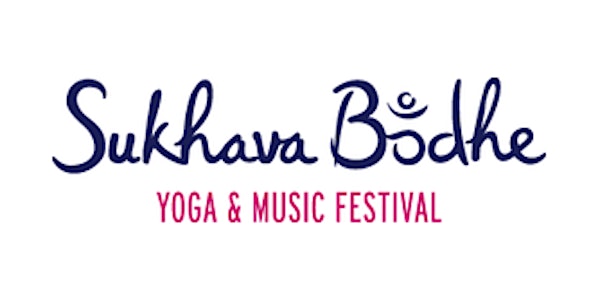 Sukhava Bodhe Yoga and Music Festival: Fri-Mon, Sept 2-5, 2016
Location
Stonehouse Farm
3719 Suydam Road
Paw Paw, IL 60518
Description
Sukhava Bodhe means "Joyful Awakening" and consists of four days of yoga, music, camping, wisdom talks, beekeeping classes, slacklining across the 2-acre pond, late night fireside gatherings, and community.
Learn more about the fest and see the full 2016 lineup at sukhavabodhe.com.
"We believe that through joyful movement, music and meditation, the mind, body and spirit come alive. It's an awakening. And when these ignited spirits come together, the collective power to make the world a better place increases exponentially. It's community that empowers us to create an abundance of joy to experience, share and enjoy." -Mission of Sukhava Bodhe
To attend, please purchase a 1, 2, 3, or 4 day pass and feel free to add on a ticket to one of this year's special intensives: Vinyasa Intensive with Daren Friesen, AcroYoga Intensive with Joe Yonek, and Kundalini Intensive with Shakta Kaur! All Intensives are on Friday from 10am-4pm with a lunch break.

Also, you may purchase tickets for the Farm-to-Table Dinner on Sunday as well as tickets for one or more Stand Up Paddle Board classes throughout the weekend!
All tickets include admission and camping. Feel free to add tent rental, glamping, or yurt rental to your purchase. Please learn more about lodging options here.
We also have Rock the Love Youth Camp for the little ones!
Looking forward to seeing you at the fourth annual Joyful Awakening!
FAQ's
When should I arrive?
General Admission:
General admission begins 6pm Thursday for those who have a four day pass.
All other pass holders must arrive on a day listed on their pass and are permitted to camp the last night listed on their pass. For example, if you have a Saturday pass, you may arrive as early as 6am Saturday and camp that night. Those who camp must leave by noon the following day and are permitted to take classes only on the day(s) which are included in their registration.
Gate Times:
Thursday, 6pm
-9pm
Friday, 8am-9pm
Saturday, 6am-9pm
Sunday, 6am-8pm
Monday, 6am-12pm

What should I bring?
We suggest you bring the following to help make the most of your weekend:
Tent with a tarp

Bug spray

Water (some will also be for sale)

Sunscreen

Earplugs for light sleepers

There will be food and supplies available for purchase throughout the weekend

Yoga mat and any props you like to practice with (straps, blocks etc)

Towels for showing and swimming
What can I expect there?
Sukhava Bodhe is a camping event. Enjoy the beauty of Stonehouse Farm's gentle rolling fields, woodlands and swimming pond.
Grills/Firewood: Participants may bring portable grills, which can be used in designated areas of the campsite. Outside firewood for campsites isn't allowed, but wood will be sold on-site.
Recycling and Trash: Facilities for both will be available on site. Reduce, reuse and recycle, and please do not use fire pits as garbage cans.
Wildlife: We subscribe to the "leave it as you find it" principle. Please don't feed the wildlife. Fishing in the pond is also prohibited.
Quiet Hours: Designated quiet hours will run from midnight to 6am. Please respect your fellow campers and confine any noise and music to your own site, especially during quiet hours.
Fireworks: No fireworks are allowed at Stonehouse Farm.
Pets: Pets are not allowed at Stonehouse Farm.
Food and Drink: Vendors will be selling food on-site and supplies will be available at the Country Store, including necessities like toothpaste. We encourage campers to bring their own. Please be mindful of the no-glass policy. Ice will also be on sale at the store.
Alcohol: Sukhava Bodhe is an awakening of all that is inherently joyful within our bodies, minds, and spirits. We believe that as we are surrounded by vibrant community, natural beauty and conscious-raising practices, we reach states of intentional bliss. Please bring you own if desired, use alcohol mindfully at Sukhava Bodhe and refrain from consuming drugs. There is a strict no glass policy, but you can bring your own in proper containers.
What are my transportation and parking options?
Cars and motorcycles can park at a designated lot on the property. There will be RV hookups on-site, which will be given out on a first come-first serve basis. RV's may park for $100 for the weekend. Consider sharing a ride with fellow festival attendees by posting a message on our message board.
Please visit this page for directions to Stonehouse Farm.
Can I bring the kids?
This is a family-friendly gathering and children twelve and under do not need a ticket to attend the weekend. There will also be a designated family camping area on the ground of Stonehouse Farm and yoga classes for kids. Special kids classes will require pre-registration.
Participant Info
By participating in Sukhava Bodhe, all participants agree to the following.
Voluntary Participation
I, the undersigned, acknowledge that I have voluntarily chosen and requested to participate in the yoga class, workshop, event, massage, or activity sponsored by Stonehouse Farm, LLC.
Acknowledgement
I am aware that participation in the yoga class, workshop, event, massage, or activity may be hazardous. I acknowledge that a certain minimum level of physical health, strength, fitness and flexibility will be required. I represent that I possess the level of health, strength, fitness and flexibility necessary to participate in these activities. I am voluntarily participating in these activities with knowledge of the risks of injury. I assume all responsibility and liability for any and all injuries I may sustain due to my participation in these activities.
Release
In consideration for being permitted to participate in the yoga class, workshop, event, massage or activity, I agree that I, my heirs, assignees, guardians, and legal representatives will not make any claim against, sue, or attach the property of any of the hosts, instructors, organizers, or participants in the yoga class, workshop, event, massage, or activity including but not limited to Daren Friesen and Stonehouse Farm LLC and its staff, for injury or damage resulting from my participation in such yoga class, workshop, event, massage or activity.
 I release all such hosts, instructors, organizers, and participants, their employees, agents and heirs from any and all actions, causes of actions, lawsuits, claims, or demands that I, my assignees, heirs, guardians, and legal representatives now have or hereafter may have for any and all personal injury, illness, loss or damage to property associated with my participation in the yoga class, workshop, event, massage or activity.
Photography
By participating I grant Stonehouse Farm and Sukhava Bodhe Yoga & Music Festival permission to use any photos or images taken of me during the festival for marketing and portfolio purposes, in all media.