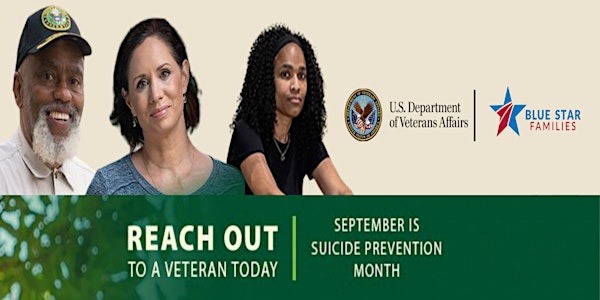 Suicide Prevention Month 2021 at the Salt Lake City VA
A series of special events centered on preventing Veteran Suicide! #ReachOut
About this event
Join Salt Lake City VA Suicide Prevention Team and Blue Star Families as we spread awareness and education to help prevent Veteran Suicide. For Suicide Awareness Month, we are featuring a special series of clinical presentations and events, held through Zoom with a couple of in-person opportunities. All those who would like to learn more about Veteran Suicide and how they can help prevent it, are invited to join us for these great events.
If you have any questions about this series, please contact Michael Tragakis at Michael.Tragakis@va.gov.

Wednesday, 9/8/2021 – Clinical Application of PTSD Treatment in the Context of Suicidality by Erika Roberge, PhD
- 8:30 to 10:00 AM MT – Virtual Clinical Presentation via Zoom (1.5 hours CE/CME offered**)
Saturday, 9/11/2021 – American Foundation for Suicide Prevention (AFSP) Out of the Darkness Walk
- Check-in at 9 AM, walk commences at 10:30 AM : In-person event at Veteran's Memorial Park in West Jordan (1985 W 7800 S, West Jordan, UT 84088)
- Please register via this link to official be part of the SLC VA Suicide Prevention Walking Team: AFSP Walk Out of Darkness Team Registration
Friday, 9/17/2021 – 3:00 PM to 5:00 PM - HONORING RESILIENCE: The Art, Music & Poetry of LGBTQ+ Survivors of Suicide
- Virtual event held via Zoom.
- Suicide survivors will share works of art, music, poetry to honor their resilience. Join us to honor and hear their stories!
Saturday, 9/18/2021 – 10:00 AM to 2:00 PM - Family Resilience & Suicide Awareness event with Blue Star Families and National Abilities Center (NAC)
- For additional details and registration, please visit this link: Family Wellness Day Registration
Wednesday, 9/22/2021 - Practical Lethal Means Safety Conversations presented by Bridget Matarazzo, PsyD & Joseph Simonetti, MD MPH from the Rocky Mountain MIRECC
- 8:30 to 10:00 AM MT – Virtual Clinical Presentation via Zoom (1.5 hours CE/CME offered**)
Thursday, 9/30/2021 - Virtual Self-care/Postvention Event for Providers
– 11 AM to 1:00 PM - Virtual Event via Zoom
- We will have an hour-long grief process group followed by self-care activities by VA staff and self-care kits will be delivered to involved staff

** CE/CME Credits will be provided to everyone who pre-registers for Clinical Presentations in the TMS System.
For all Non-VA Providers - The VA manages and tracks all training and CEs through the online Talent Management System (TMS). To attend and receive your CE certificate, you'll need to CREATE AN ACCOUNT AND REGISTER IN TMS NO LATER THAN 1 WEEK IN ADVANCE OF EACH CLINICAL PRESENTATION EVENT. Instructions will be sent upon Eventbrite registration via the confirmation email.
This series is mostly virtual with a couple of in-person events which are outdoors.
We are actively monitoring state and county COVID guidelines. If conditions change, registrants will be contacted with additional information.
Please review this additional info:
An inherent risk of exposure to COVID-19 exists in any place where multiple people are present. COVID-19 is an extremely contagious disease that can lead to severe illness and death. According to the Centers for Disease Control and Prevention, senior citizens and Guests with underlying medical conditions are especially vulnerable to the effects of COVID-19.
We at Blue Star Families strive to empower military families to thrive by connecting them with their civilian neighbors — both people and organizations — to create strong communities of support. As part of our core mission, Blue Star Families seeks to ensure military families experience a sense of belonging and welcome in the communities in which they live. As a result, we are once again beginning to host in-person events and want to do so in a safe way that gives our members, staff, consultants, and volunteers confidence.
As a guest at any Blue Star Families event, I understand that I must wear appropriate PPE based on State and local requirements, as applicable for both indoor and outdoor events in my area. As guidance continues to evolve, Blue Star Families, with the support of health and government officials—will be making more gradual adjustments.