Suicide By Cop: Assessment and De-escalation (CA POST Approved Course)
FREE POST Approved Course (Police Agency ID Required) Suicide by Cop: Assessment and De-escalation
Date and time
Friday, May 12 · 8am - 5pm PDT
Location
Anaheim Police Department 8201 East Santa Ana Canyon Road Anaheim, CA 92808
About this event
Who Should Attend:
Available to CA POST Agencies
Police Officers, Dispatchers, Supervisors, Detectives and Managers
(Police Agency Identification Required)
Class will be limited to 30 participants - POST Course 1417-22642-22-046
Course Purpose
Recent studies of Officer Involved Shootings (OIS) reveal that as many as 30% of OIS incidents are acts of Suicide by Cop (SbC) committed by the suspect. This number rises significantly if the suspect is a recent veteran. A study by the California State University Fullerton also found that for every completed act of SbC, there are as many as 50 attempts to force police to use deadly force by the suspect.
The purpose of this course is to provide relevant training with the objective of reducing incidents of SbC. Focusing on suicidal ideation and early indicators of SbC, students will:
1) Develop an understanding of the need for proper interviews to assist dispatchers and call takers to identify potential acts of SbC and properly communicating critical information to first responders.
2) Have a better understanding of tactics and de-escalation techniques with the goal of reducing violent encounters with suicidal subjects thereby reducing the number of SbC incidents.
3) Should an incident of SbC occur, participants will better understand the need to conduct a parallel investigation into the incident of suicide (SbC) perpetrated by the subject with the goal of reducing civil liability, assisting with the administrative adjudication, and assisting the involved officer(s) in their recovery from their part in this tragic incident.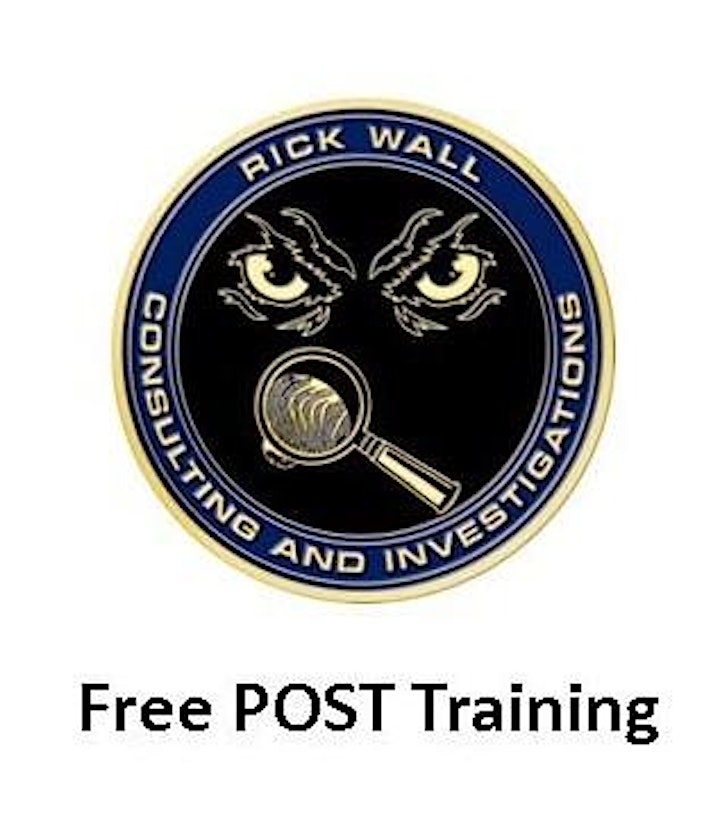 About the organizer
Rick Wall Consulting and Investigations was founded by Retired Chief of Police and 38-year law enforcement veteran Rick Wall. We assist with law enforcement consulting, investigations and training related to use of force incidents, police contacts with the mentally ill, and de-escalation. As a licensed private investigation firm we also assist with internal affairs investigations and POST public safety background investigations. CA PI Lic#23080