| | |
| --- | --- |
| Suicide Awareness & Prevention | |
Event Details
PCS Presents:
Suicide Awareness & Prevention
Presented by Michelle Snyder, M.S.W., M.Div., LCSW
Approved 3 CEU Credits for Suicide Prevention Morning Session
Conference Details
Date: Friday, March 17th, 2017
Location: Puritan Conference Center, Pappas Room, 245 Hooksett Rd, Manchester, NH 03104
Morning Session 8:45am-12:00pm  | 3 CEU Credits
Life on the Ledge: A Psychotherapeutic Approach to Suicidal Desperation
Licensed Psychologists, Clinical Social Workers, Pastoral Psychotherapists, Marriage and Family Therapists, and Mental Health Counselors
Cost: $70.00
Afternoon Session 1:00pm-4:00pm | Completion Certificate
Life on the Ledge: A Caregiver's Response to Suicidal Desperation
Health and Human Services Personnel, Community Health Providers, School Counselors, Teachers, Human Resource Professionals, Religious Leaders
Cost: $50.00
Refreshments will be served.
Attendance Benefit:
Approved 3 CEU Credits for Suicide Prevention for morning session. Certificates will be provided for afternoon session.
Raising suicide awareness through statistics and warning signs.
Increase awareness of public health dimensions to suicide prevention.
Identify major obstacles to honest, respectful conversation about suicide.
Offer a concise methodology for crisis intervention.
Explore a spiritual dimension of suicidal desperation.
Introduce the concept of reinvention, an alternative construct for thinking about the suicidally desperate.
About the Speaker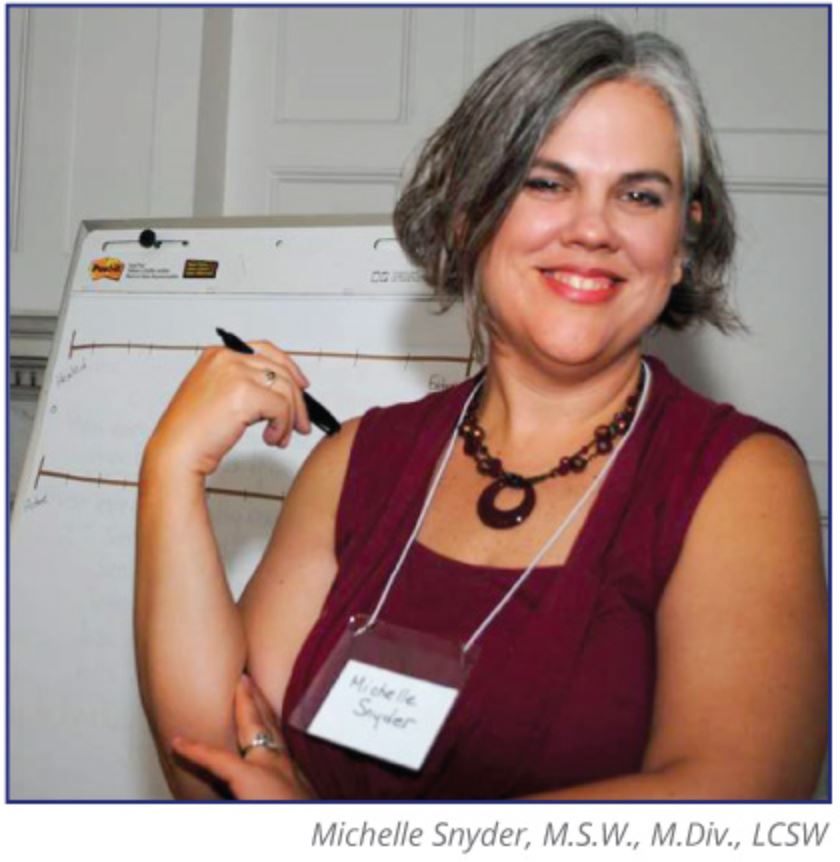 Michelle Snyder is the owner and director of Soul Shop, a national movement that equips faith community leaders to minister to those impacted by suicidal desperation. Trained in both theology and mental health, Michelle has extensive experience as a chaplain, a therapist, a public speaker, suicide intervention trainer, and as a congregational consultant. She is the former executive director of the Pittsburgh Pastoral Institute, a Samaritan Counseling Center and has recently published a book, Life, Death, and Reinvention: The Gift of the Impossibly Messed Up Life. Michelle lives in Pittsburgh with her husband, a Presbyterian pastor, and her two young daughters.
Where

Puritan Conference Center
245 Hooksett Road
Manchester, NH 03104


Organizer
PCS was founded in 1979 and provides the best psychotherapeutic techniques while respecting the natural connection between the physical, mental, emotional and spiritual dimensions in the psychotherapy process. PCS is an agency in which clients Feel Heard, Feel Cared for and Feel Better. In addition to our counseling services, PCS impacts the vitality of the community by partnering with other non-profit organizations to help underserved & at risk populations with stress management techniques. PCS also honors those who pursue extraordinary measures to strengthen communities and improve life in New Hampshire with the Good Samaritan Awards, an annual tradition since 1996.
PCS is located in Manchester with satellite locations in Bedford, Nashua and Portsmouth, NH. For more information, visit www.pcs-nh.org or call 603.627.2702.