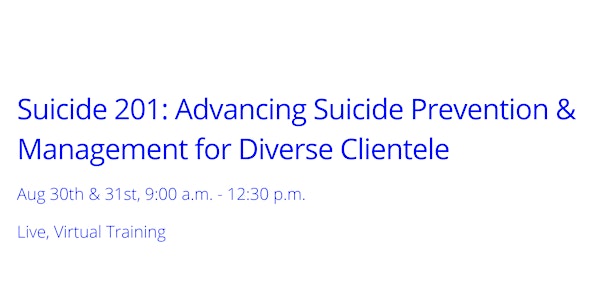 Suicide 201 Advancing Suicide Prevention & Management for Diverse Clientele
Fulfill your suicide prevention licensure renewal requirement in this live, virtual, 7-hour workshop for clinical sucide prevention.
About this event
This two day workshop will provide instruction and a forum for clinical discussion and case practice, on the current standards of practice for suicide prevention and management. A useable framework and accessible guidelines will ensure that workshop participants are able to competently manage suicide risk, incorporating the latest standards in suicide science and practice.
Throughout its content, this workshop addresses the management of suicide in diverse populations. Attendees will learn state-of-science theoretical, measurement, and applied research as practical approaches to assist clinicians in accounting for cultural influences on suicide risk among diverse populations. Aims are to provide guidance to advance culturally competent suicide research and practice.
Learning Objectives
• Identify 6 key steps of assessing & managing suicide risk
• Apply standard approaches to suicide risk assessment & inquiry
• Identify major components of safety planning, suicide risk case conceptualization, and treatment planning while accounting for important clinical documentation & legal considerations
• Discuss the latest research on cultural differences in suicide, & culturally competent assessment & prevention of suicide among ethnic minority & LGBTQ populations
• Apply a guiding framework & assessment tools/approaches that advance culturally competent suicide practice w/ diverse clients
The training will take place virtually on August 30th & 31st from 9:00 a.m. -12:30 p.m. Participants must attend both days.
The training is very much designed for clinicians, however the relevance is much broader. The training covers best practices in suicide screening (any patient-facing license holders including MD, nurses, social workers, etc.), and thorough assessment (tends to be more psychologists, social workers, etc.), wrapping up with treatment (licensed providers and paraprofessionals). However, the information in the training may also be relevant for anyone who is in a managerial or supervisory role and may be in charge of designing the screening and management systems that are implemented by clinical staff.
CPA Accredited: Community Connections Psychological Associates Inc. is approved by the California Psychological Association (CPA) to provide continuing professional education for psychologists. The California Board of Behavioral Sciences (BBS) now recognizes CPA continuing education credit for license renewal for LCSWs, MFTs, and other BBS licensed professionals. Community Connections Psychological Associates Inc. maintains responsibility for this program and its contents. This course / its instructors have no commercial support or conflict of interest relationships to report.