Suhaila Salimpour Annual Intensive @ AFBD plus ENTA OMRI Show @ Strand Thea...
Description
Join us in Atlanta the East Coast debut of Enta Omri and over 21 hours of dance instruction by Suhaila Salimpour!
About Enta Omri Theatrical Belly Dance Show - Saturday 1/14/17 at Earl Smith Strand Theatre, Marietta, GA. DOORS OPEN @ 7:00PM. SHOW STARTS PROMPTLY @ 8:00PM.
***Please note, Enta Omri is a 90 minute continuous show with NO intermission*** Arrive early
"Enta (You Are) Omri (My Life), a lifetime of love and loss told through modern belly dance to classic Middle Eastern music.
Conceived, choreographed and directed by Suhaila Salimpour. Featuring the Suhaila Dance Company. Music from the Enta Omri double album produced by Suhaila International.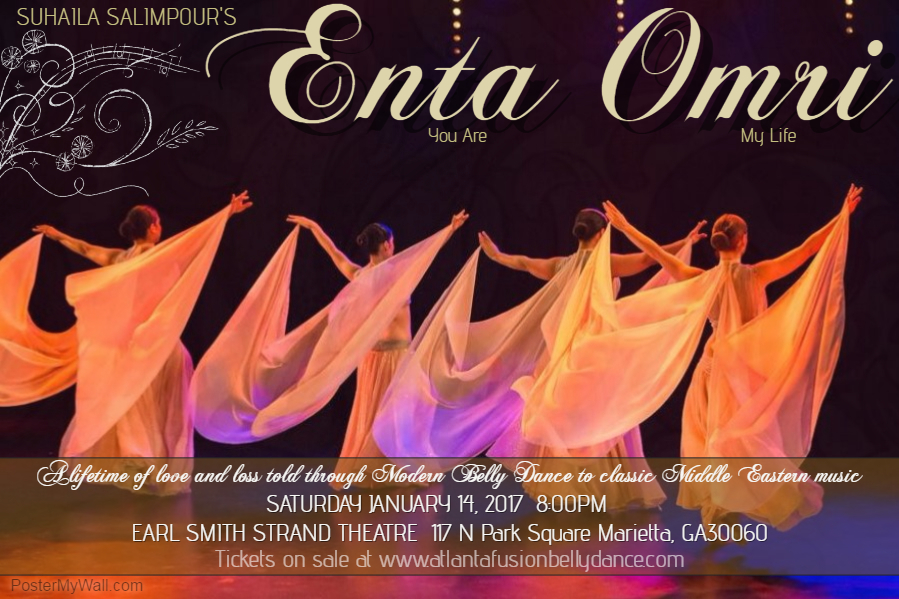 WEEKEND SCHEDULE

FRIDAY 1/13/17 5PM-8PM MASTER CLASS WITH SABRIYE!
SATURDAY 1/14/17 9AM-5PM CHOREOGRAPHY WORKSHOPS WITH SUHAILA (6 HRS)
SATURDAY 1/14/17 8PM ENTA OMRI THEATRICAL PRODUCTION @ EARL SMITH STRAND THEATRE
SUNDAY 1/15/17-TUESDAY1/17/17 10AM-5PM SUHAILA SALIMPOUR BELLY DANCE (SSBD) FORMAT LEVEL 1 (15 HRS)
SUNDAY 1/15/17 7PM SIMPLY SALIMPOUR SHOWCASE @ AFBD
About Suhaila Salimpour:
Suhaila Salimpour is a highly acclaimed performer, teacher, and choreographer of belly dance. Schooled from an early age in jazz, tap and ballet, Suhaila began integrating her extensive classical training with the Middle Eastern dance passed on by her mother, Jamila Salimpour. The result was a true artistic breakthrough: a revolutionary foundational technique that has brought the art of Belly Dance to a new level. Click here to learn more about Suhaila and the Salimpour Legacy.
About Enta Omri
Enta Omri "You are my life"
Enta Omri is a milestone in the art of Middle Eastern dance. Choreographed and directed by Suhaila Salimpour, this full-length production presents the evolution of modern-day belly dance with vibrant choreography, rich Arabic music, and the passion of the highly skilled dancers of Suhaila Dance Company (SDC). Representing the musical poetry of the Arabic world, Enta Omri explores the timeless themes of love and loss, and converges into a single, poignant story in Salimpour's latest work. Translated, Enta Omri reads "You are my life".
The Enta Omri album is a collaboration between musical producers Suhaila Salimpour and Ziad Islambouli and was recorded utilizing today's top musicians from Lebanon. The compositions for the album were carefully selected for their significance to Arabic culture, music, and dance.
Who Is Suhaila Dance Company (SDC)?
The Suhaila Dance Company was created in 1996 out of the need for an organized presentation of classical Middle Eastern dance. The Company's repertoire has grown to include folkloric, fusion, and classic belly dance pieces presented within the highest level of training. All company members are also part of Bal Anat, a folkloric belly dance group originally formed in 1968 by Jamila Salimpour and directed by Suhaila Salimpour since 1999.
The dancers of Suhaila Dance Company are disciplined and humble women who devote their own personal time and resources to participate in SDC because of their passion for the dance form and belief in the quality of the work being presented by Suhaila Salimpour.
Who Is The Choreographer/Director?
Suhaila Salimpour is a master choreographer, performer, and teacher. She began her dance training at the age of 2 and teaching at 14. In addition to training with her mother, Suhaila also studied ballet, jazz, tap, modern, and even hip-hop. Through years of experience as both performer and master instructor, Suhaila recognized the need to create an organized system for teaching and training in belly dance. Rather than trying to integrate Middle Eastern dance with ballet or jazz, Suhaila used the training methodology she experienced in her classical western dance studies to preserve the quality and longevity of belly dance as its own individual art form.
To fully comprehend the significance of Suhaila's contribution to belly dance, one must also understand the roots of her dance training. Suhaila's mother, Jamila Salimpour, began teaching her own unique method of training in 1949 by breaking down traditional Middle Eastern dance into standardized movement patterns and belly dance terminology. For her contribution to the dance form, Jamila was recently given the prestigious Isadora Duncan Award as a "Sustained Achievement Honoree." It is from this long history in both eastern and western dance forms, and a unique ability to merge her training from various dance forms, that Suhaila Salimpour brings you Enta Omri, "You Are My Life."
ABOUT THE SALIMPOUR PROGRAM AND WORKSHOPS:
Train to be the best dancer you can be!
Benefits of the Salimpour Program!
For the Student:
Learn body awareness and proper technique offered in a safe and structured format.
Progress in creativity and emotional development within a supportive, positive learning environment.
Build on knowledge gained in previous levels, as each subsequent level is part of a carefully crafted and consistent continuum of knowledge.
Learn choreography, improvisational and teaching skills.
For the Instructor & Professional:
Establish professional credentials and enhance your teaching resume.
Receive intelligent material for class curriculum and learn how to develop curriculum.
Develop as an artist, gaining the tools to anticipate and respond to change.
Create a continual and lifetime path for learning new things and developing skills.
Provide greater earning potential; the tremendous demand for Suhaila Salimpour format instruction is worldwide!
Please note: Show will take place at Earl Smith Strand Theatre in Marietta, GA