Suge Show Selfie Museum| Citadel Mall |Charleston, SC Visit Our 4,287 Square Foot Space Packed With 11+ Photo Installations
About this event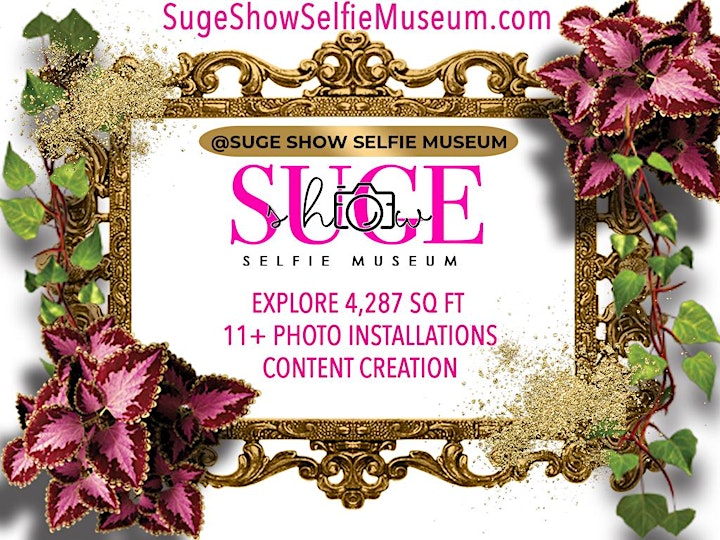 Charleston's First Pop-Up Selfie Museum opens at the Citadel Mall with a soft opening event on July 2, 2021 and lasts through July 30, 2021.
Perfect for group outings, vacationers, family day, girls day out, and any other occasion. There is a photo installation for everyone!
Create and film all of your content at the Suge Show Selfie Museum!
All you need to bring is a positive attitude, your creativity, open mind and phone! This is every TikTok and Instagrammer's dream come true!
From field trips to corporate events, from baby showers to graduation celebrations, from that first date to anniversary.....and everything in between.
Make Every Moment a Work of Art.
For more information, contact via email at hello@thesugeshow.com
Ticket Policy: Tickets must be purchased prior to entry to Suge Show Selfie Museum. No Refunds.
To purchase tickets for children ages 17 and under, book via Suge Show Selfie Museum website.
Attire: Think of what you want to be photographed wearing! Wear that outfit that you've been saving for the right occasion, after all, you're becoming a work of art. After a long year inside, pick out that outfit that makes you look and feel your best!
For the professionals (Photographers, Wedding Planners, Event Planners): Come be a part of history in Charleston's first Pop-Up Selfie Museum. Give your clients an immersive experience in our 4,000+ square feet of creative space.
Waiver of Liability
Purchase of a ticket to the Suge Show Selfie Museum automates completion of a waiver of liability. The information contained herein identifies the verbiage of said waiver.
Activity: Participation in Suge Show Selfie Museum
Participant: Name of Guest on Ticket
Waiver: I completely understand and realize participation in the Suge Show Selfie Museum could include actions or tasks which might be hazardous to me. By purchasing a ticket and attending, I agree to the fact that participation can cause harm or injury to me. I release the organization or business named The Suge Show LLC from all liability, costs, and damages which could arise from participation in the above named event or activity. I agree to accept financial responsibility for the costs related to any subsequent emergency treatment and give my confirmation by attending this event or activity.