Description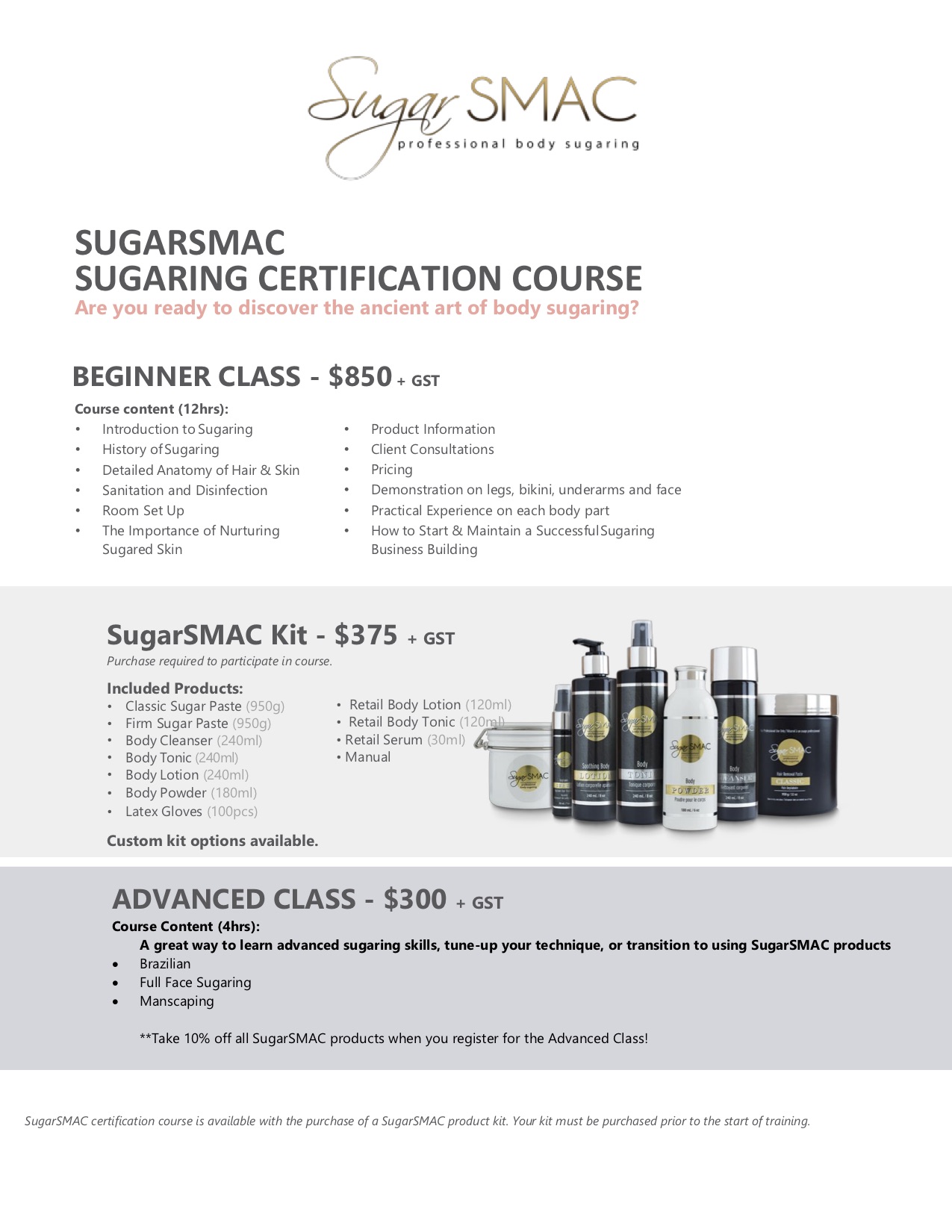 Holistic in its approach, the SugarSMAC brand is rooted in exceptional education and a product line specifically formulated so it leaves your skin nourished by nature.
Elena Daase, the founder of SugarSMAC Professional Body Sugaring, began her career in Esthetics in 1998. In 2000, a dear friend introduced Elena to Body Sugaring. After one session, she was hooked! It was an experience that would change her life and the entire trajectory of her career. The more she learned about the practice and benefits of Sugaring, the more she realized that Body Sugaring would transform the world of hair removal! In the years that followed, Elena's knowledge and skill would continue to grow, fuelling her passion for Body Sugaring.
After a decade of mastering the Art of Sugaring, Elena recognized a void in the beauty industry. She perceived the need for a company that would combine the highest standard of education and certification with an exclusive product line tailored to Sugared skin. SugarSMAC was created to ensure that everyone would have the best possible Sugaring experience.
Elena's background in esthetics and passion for skin care drove her to create an all-natural line of products, specifically designed for the healing and nurturing of Sugared skin. By avoiding fillers and parabens, and using pure ingredients such as Calendula, Chamomile, and Lavandula, SugarSMAC products have become a proven formula for luxurious and effective skin care. The years of dedicated research have led to a loyal following, who christened the SugarSMAC line, "liquid gold".
Thank you for choosing SugarSMAC!
Sugaring is a lucrative business that allows you to work from anywhere with very few start-up costs. Flexible in nature, it is a service that can be done any time of the day. Whether you choose to pursue it full or part-time, you have the ability to create a schedule that is best suited to your lifestyle. Once you are SugarSMAC certified you will have the confidence to start your own business or add the ancient art of body sugaring to your existing business. You will gain a clientele that will trust in your ability to take complete care of their sugaring needs.
Our intensive 2-day course for Individual Certification covers the following materials and much more:
What is body sugaring

The history of body sugaring

Hair anatomy and physiology

Skin anatomy and function

SugarSMAC advanced method of body sugaring

Hands-on practical training

The importance of nurturing sugared skin

How to start and maintain a successful sugaring business
You will need to bring your own models.
The first model to arrive on the second day by 1:30pm. They must have a minimum of one week of hair growth on legs, or arms or under arms.
The first day starts at 12:00pm and ends at 8pm
The second day starts at 12:00 pm and ends at 8pm
Contact Elena 204-960-7914 for any further questions.
---