Suffrage as Activism: Black Women's Movements for Civil Rights
Dr. Janaka Bowman Lewis joins us from UNC Charlotte for our conversations on race and ethnicity series.
About this Event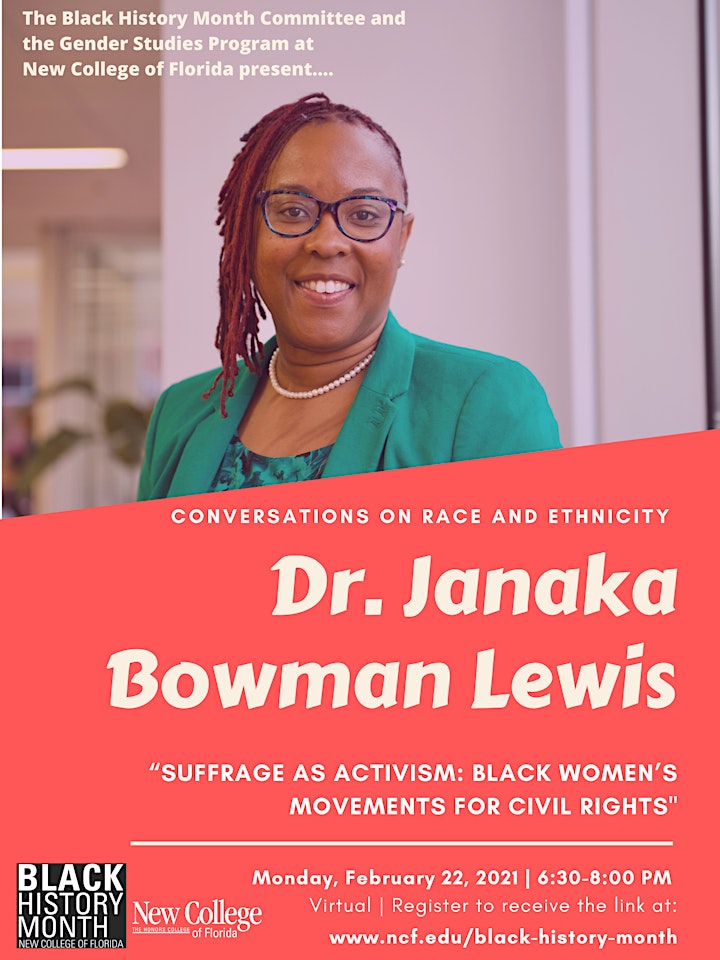 This talk will discuss Black women's social, political, and literary efforts in the nineteenth century that led up to their involvement in Civil Rights efforts in the twentieth century. Highlighting such women as Maria Stewart, Frances Ellen Watkins Harper, Anna Julia Cooper, and Ida B. Wells Barnett, Dr. Bowman-Lewis argues that the movement for suffrage began for Black women long before they were considered part of larger political processes as they identified relevant issues for Black women. She will discuss their oral and written platforms and participation in formal and community educational processes as the foundations that these women used to circulate social issues and then shape solutions for change.
This talk is sponsored by the Black History Month Committee and the Gender Studies Program at New College of Florida.
Janaka Bowman Lewis, Ph.D is an associate professor of English, director of the Women's and Gender Studies program, and faculty affiliate in the Department of Africana Studies at UNC Charlotte. She teaches courses on 19th and 20th century African American women's literature and African American archival and material culture. She is the author of Freedom Narratives of African American Women (McFarland 2017), two children's books, and is currently at work on a monograph, "Freedom to Play: Black Girlhood and Narratives of Liberation," that focuses on the significance of representations of African American girls and social engagement in literature from Harriet Jacobs' Incidents in the Life of a Slave Girl to Angie Thomas' 2017 novel The Hate U Give.