To help entrepreneurs create a better future for everyone.
About this event

Keep up with all the latest news about how SUEGO is helping grow the Greater Washington, D.C. Region's entrepreneur funding sector through investments, network of industry professionals, and educational resources.
Ready for something fresh? Want to get involved with DMV Startup in 2021? Looking for business and grant resources? Are you a fan of networking with some of the finest tech and entrepreneurial folks across Greater Washington, D.C. Region?
The DMV Startup Community celebrates a thriving entrepreneurial ecosystem in Washington, D.C. / Mayrland / Virginia and beyond; showcasing and building a global culture of innovation. Make sure to find epic content all year long and build your skill set on your terms; check out some of the upcoming sessions.
StartupBlink Virtual Coffee Chats:
Want to know others across the DMV Startup community? Then join the virtual coffee chats to network and introduce yourself and your work.
Please email Sara Lucia Piedrahita (sara@m.suego.co) before the event with any questions or to get involved. Interested in launching a business this year? Join the Kauffman [FastTrac Virtual Program] this Fall.
More Programming & Events
Hackers/Founders PlayLab: Welcome to our monthly PlayLab where we experiment with games, icebreakers and other activities to cheer up and engage people in our online meetings and workshops.
#MovingForward Series: Once a month, we invite an Industry Leader to share their expertise and these conversations are uploaded in the FB Group unit section.
ExO Clinic: In the ExO clinics, we invite one founder who is struggling with an issue and apply the 11 attributes lens of Exponential Organizations to help process that issue. Lots of deep listening and tuning in happening for this session.
Healing Circle: Every month we have a healing circle to give space to "what is alive in us" and to witness each other. It's a space of vulnerability and openness.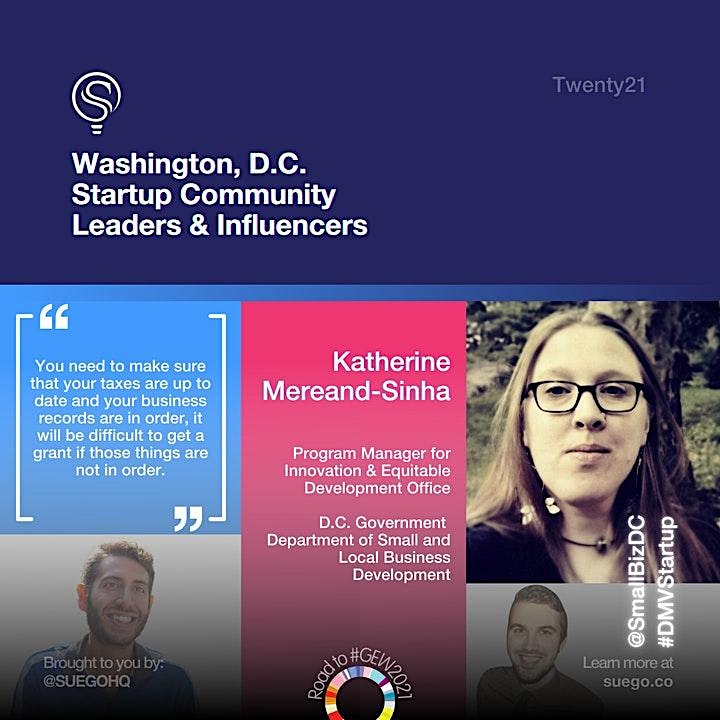 Do you know someone shaping the future of business, tech, innovation, policy and/or politics? A community organizer, startup CEO, company executive, VC, academic, policymaker, advocate, technologist?
[Nominate them] to be included in the SUEGO Community Leader & Influencer Spotlight directory.
SUEGO spotlights are promoted across our social channels and will be featured in one of our community updates.

Featured Videos On Demand
Organizer of SUEGO Series: StartupBlink Virtual Coffee Chats
SUEGO is a content platform designed to mobilize the mindset and culture of entrepreneurship, as well as to develop skills and abilities for entrepreneurs, helping to break down barriers in the creation and growth of companies through the crowdsourcing of knowledge and entrepreneurship. It is focused on potential and current entrepreneurs, teachers, students and anyone interested in learning.
Learn More: suego.co