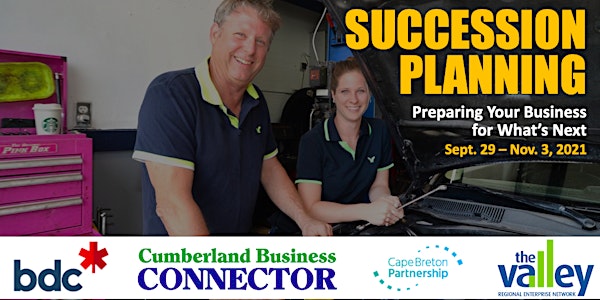 Succession Planning: Preparing Your Business for What's Next
A 6-part virtual workshop series for Nova Scotia businesses who want to exit their business profitably and purposefully.
Refund Policy
Contact the organizer to request a refund.
Eventbrite's fee is nonrefundable.
About this event
PRESENTED BY: Acadia Entrepreneurship Centre, Business Development Bank of Canada (BDC), Cape Breton Partnership, Cumberland Business Connector, and the Valley Regional Enterprise Network.
PROGRAM DATES: September 29, October 6, October 13, October 20, October 27, and November 3 (9am-11am)
CONTACT: Joel Stoddart - joel.stoddart@acadiau.ca
PROGRAM INFORMATION
Succession Planning: Preparing Your Business for What's Next is for businesses asking themselves any (or all) of the following questions:
1. What is the best and most profitable way to exit my business?
2. How can I move on from my business in a way that isn't just good for me, but is good for the people around me, and the community my business serves?
3. Who can help me make my business succession fast, effective, and seamless?
Join a group of motivated entrepreneurs from around Nova Scotia to hear from succession planning experts including lenders, accountants, lawyers, business valuators, succession counsellors and more. Perhaps most important of all, you'll hear from other business owners who have gone through this process themselves.
Program modules:
Session #1 (September 29): The Big 'Why' – Understanding and Contextualizing the Importance of Succession Planning from a Macro and Micro Perspective
Session #2 (October 6): Succession Readiness and Willingness – Taking Stock of your Business' Current Position
Session #3 (October 13): Finding Your Path, Part 1 – Exploring Traditional Succession Planning Options and Models (includes selling on the open market, selling to employees, and selling to competitors)
Session #4 (October 20): Finding Your Path, Part 2 – Exploring Non-Traditional Succession Planning Options and Models (includes transitioning to co-operative, nonprofit, and other collective ownership models)
Session #5 (October 27): Building Your Network – Finding Allies, Partners, and Supporters for Your Succession Journey
Session #6 (November 3): Putting it all Together – Creating Your Mini Succession Plan
FAQ
Q: How will my business be better off by participating in this program?
A: There is a great deal of free literature (online and offline) about succession planning you can read on your own time, and there are also lots of YouTube videos on the subject. While many of these resources are incredibly helpful, this program will help you apply these ideas to your own business and your own situation. It will also connect you with local experts and local business owners who know what it's like to go through business succession in rural Nova Scotia.
Q: I registered for the program. How many people from my business can attend and participate in the program with me?
A: One paid ticket ($199) is good for three people, representing the same business. So, yourself and two others.
Q: What are the workshop dates and times?
A: The workshop dates are (all Wednesdays): September 29, October 6, October 13, October 20, October 27, and November 3. Each session will occur from 9:00am-11:00am ADT (Halifax/Nova Scotia time). NOTE: Session 5 (held on October 27) will run from 9:00am-11:30am. Each session will feature a 10 minute break midway through.
Q: Who are the program facilitators?
A: Although the program features many different presenters and guests, each session will be anchored by representatives from the Acadia Entrepreneurship Centre (www.acadiaecentre.com), the Valley Regional Enterprise Network (www.valleyren.ca), and Leading Edge Consultants.
Q: Does this program have homework?
A: Although there are no homework requirements for this program, your experience will be maximized if - in between sessions - you review and complete some of the resources shared throughout the program. IMPORTANT NOTE: prior to the first session, there will be a short (15-20 minute) participant survey for you to complete. This will help us better understand your current perceptions about (and skill level in) succession planning.
Q: Is there a certificate of completion for the program?
A: Yes, the Acadia Entrepreneurship Centre will issue a certificate of completion to all those who complete the program (by attending at least 5 of the 6 sessions).
Q: What happens if I miss a session (or two)?
A: Although we encourage all registrants to commit to all 6 sessions, we understand that life (and business) happens. If you miss a session, please contact the program facilitators and they will send you course resources to help you catch up
Q: What will the sessions be like?
A: Each session will be interactive and relatively fast-paced. There will be a blend of presentations, small group discussions, large group discussions, and time for individual reflection and hands-on work. You should expect to share some of your ideas with others throughout the program.
Q: What technology do I need in order to participate in the program?
A: You will need to have an up-to-date version of Zoom, and a high speed Internet connection.
Q: Can I join by phone (audio only)?
A: Generally, you should plan to attend this program on a computer or tablet (so that you can see other participants and presenters, and the content that is being presented). However, if in an emergency situation you can only join by phone, that is okay.
Q: Is anyone going to try and sell me anything?
A: No, we promise there will be no sales pitches during this program. That said, we do expect you might be interested in following up with some of our presenters after the program has concluded.
Q: What is your refund policy?
A: We will gladly refund 100% of your ticket purchase price up until the beginning of session 1. After sessions 1 or 2, we will refund 50% of your ticket price. After you have begun session 3, no refunds will be issued.