Description
A Leadership Workshop with Executive Coach Charmaine McClarie
Presented by BlackFemaleProject
Need to be strong in the workplace, but not too strong? Assertive, but not aggressive?
The same qualities that may be considered plusses if you're a white colleague can be considered drawbacks if you're a woman of color. How do we deal with that?
Executive coach Charmaine McClarie leads a candid conversation about these mixed messages, and the perceived and real challenges facing us as Black women.
In this fun, interactive, and insight-packed session, you'll explore:
Effectively negotiating your way in the workplace

Using situational leadership strategies to cut through barriers

Creating value and being seen as a strategic partner

Successfully bringing your whole self to work
You'll gain increased self-awareness as you consider the differences in how you see yourself, how others may see you, and how you want to be seen. Charmaine McClarie has gleaned insider insights in her one-on-one discussions with CEOs, and shares proven and practical tips that help you to be recognized as the leader you are.
Join us in a facilitated conversation and workshop to discuss the ideals of cultural identity with Black professionals who are women just like YOU. This event will sell out, purchase your ticket today. $79 pre-sale.


AGENDA
Introduction
Workshop
Closing Ritual
---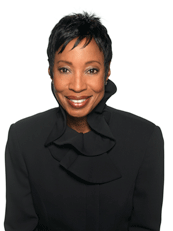 About Charmaine McClarie
Charmaine McClarie is a senior executive coach who helps leaders have their best year ever. Her clients include top executives from Coca-Cola, DuPont, Humana, Johnson & Johnson, Starbucks and T-Mobile. She has worked with leaders in 27 industries across five continents.
Charmaine works predominately with C-suite leaders and executives with demonstrated readiness to be in the C-suite, coaching them on leadership acumen, communications ability, an executive presence.
During Charmaine's 26 years as an executive coach, 98% of her clients are promoted within 18 months. For CEOs, that might mean promotion to corporate directorship. For other senior leaders, that might mean a promotion from SVP to EVP or even CEO.
Charmaine and her work have been profiled in People, Forbes, Harvard Management Update, The London Times, and The New York Times.
She is on the faculty at the University of Missouri Kansas City Block School of Management, EMBA program, and is a visiting lecturer at the Smith College Executive Education program.
Charmaine lives in California with her husband, the celebrated composer and jazz musician, Dr. Patrick Gleeson.
---
About BlackFemaleProject Conversations & Workshops
What started as an online Call for Submissions has grown into a vibrant community. In response, we've designed an eight-month engagement to support your participation and enhance the BlackFemaleProject experience.
The Workshop Series grew out of needs that were raised during 2015. In response we have planned 3 workshops on building collective and individual awareness about cultural identity, leadership, and lifestyle with Baayan Bakari, Charmaine McClarie and Phyllis Bowie.
The conversations and workshops are a space where Black women and BlackFemaleProject Experts in Residence come together to talk about how to thrive professionally and navigate workplace environments. These opportunities provide Black women with a space to share with and learn from one another.


About BlackFemaleProject
The BlackFemaleProject aims to prepare girls and young women for the realities of the work world by introducing stories of triumph and perseverance. Real women with satisfying careers discuss navigation strategies that help them maintain professional leadership. By studying how Black women have survived and thrived in a post-affirmative action era, we will reduce the impact of structural racism and empower a generation. www.BlackFemaleProject.org
BlackFemaleProject is a volunteer-led and run organization. The purchase of your ticket helps us pay for materials, refreshments, and guest speaker honorarium. We are seeking a Venue Sponsor for this event. Help us continue to offer impactful, affordable programming by supporting the Conversation Series financially. Rewarding sponsorship opportunities begin as low as $100.

Consent to Use of Images
Ticket purchase and attendance at, or participation in, BlackFemaleProject events constitutes an agreement by the attendee to the use and distribution of their image or voice in photography, video, and recording by BlackFemaleProject, its partners, and sponsors.