Successful Remote Communication Skills in the Post-Pandemic World
Zoom Workshop Series: Adapting and Thriving in the COVID – 19 Era and Beyond. Sign up today, registration limited to 300.
About this Event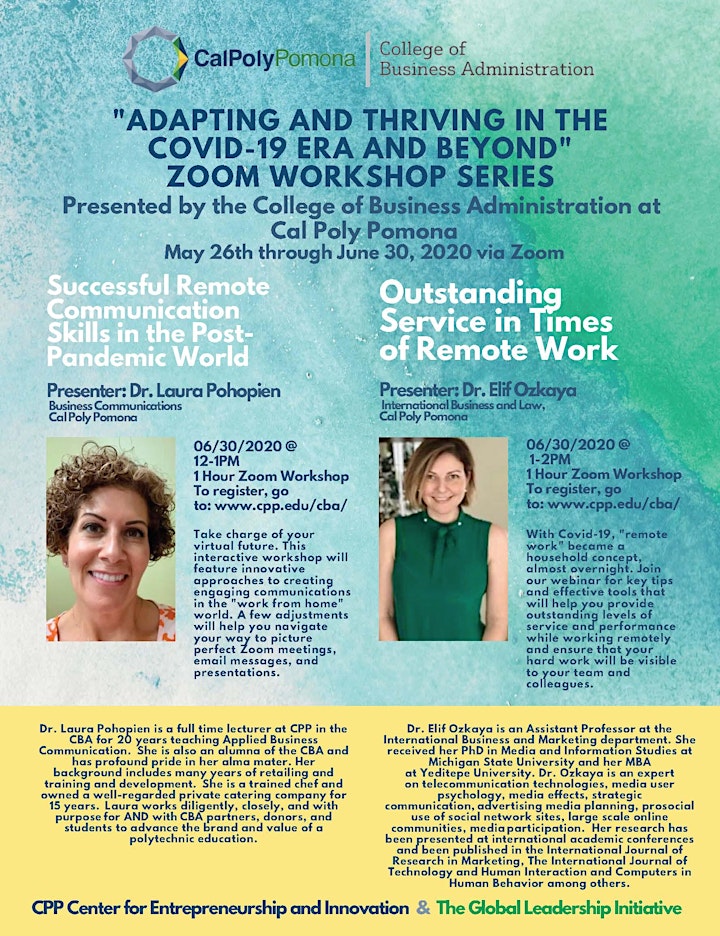 Zoom meeting link will be e-mail to attendees the day before the workshop. Separate Eventbrite registration is required for the, "Outstanding Service in Times of Remote Work " immediately after this workshop.
Take charge of your virtual future. This interactive workshop will feature innovative approaches to creating engaging communications in the "work from home" world. A few adjustments will help you navigate your way to picture perfect Zoom meetings, email messages, and presentations.
Presenter:
Laura Pohopien, PhD, is a Lecturer in the Management & Human Resources Dept. at the College of Business Administration, Cal Poly Pomona
Dr. Laura Pohopien is a full-time lecturer at the College of Business Administration for 20 years teaching Applied Business Communication. She is also an alumna of the CBA and has profound pride in her alma mater. Her background includes many years of retailing and training and development. She is a trained chef and owned a well-regarded private catering company for 15 years. Laura works diligently, closely, and with purpose for AND with CBA partners, donors, and students to advance the brand and value of a polytechnic education.