Successful Business Leaders Unite to Give Back to the Baltimore Community
6 & 7 figure Baltimore business leaders give free investing and entrepreneurship training
About this event
REGISTER TO ATTEND WHILE WE STILL HAVE COMPLIMENTARY SEATS! (Scroll down to see promo video)
10 components of wealth building is taught by trailblazing business leaders. They share SECRETS for FREE, without selling!
Time to get your wealth building mogul mindset ready for 2020! Don't miss this opportunity to get your 2020 financial toolkit together! Join us at this year's #GWS_2019
Here's why....
💰 Some of the best and brightest business leaders have united to give back to the Baltimore community. See their bios at GenerationalWealthSymposium.com
💰 97% of people will never retire. There has to be a real debt to wealth conversion.
Topics include:
1️⃣ Acquiring property with no money down
2️⃣ The details of rehabbing for flips
3️⃣ Learning legal tax strategies to deliver more income
4️⃣ Multiplying your money in the largest financial market in the world
5️⃣ Leveraging your six figure or more salary through investing
6️⃣ Using digital marketing and branding to position yourself as an expert
7️⃣ How to become a first time homebuyer and then landlord of the same property
8️⃣ Best practices for managing multiple properties
9️⃣ How to properly manage your money so you can increase your investing
🔟 Understanding how to leverage insurance for living benefits such as medical bill coverage
Incentives:
🔹️ Complimentary but LIMITED seating
🔹️ Successful Wealth 🧲 Mentors
🔹️ Door Prizes 🎉 and several Vacation Package Giveways ✈🌍🏖
🔹️🆓️ Brunch 🥐🥪
What you can expect:
♦️NO SELLING. Only sharing success SECRETS
🔶Develop a 1-10 year financial plan
🔸Walk away with a toolkit
🔸Quality collaboration with like minded professionals and wealth mentors
🔸Be inspired by real Baltimoreans who overcame adversity and shifted into the top 1% earner
🔸Meet a new circle of wealth conscious entrepreneurs
https://www.facebook.com/events/2391166284465690/?ti=icl
Agenda for the day
10:15 am Brunch
11:00 am General Assembly
1:00 pm Breakout sessions begin
4:00 pm Breakout sessions end
For an immediate response within the hour, text 575-SHATEKA (575-742-8352).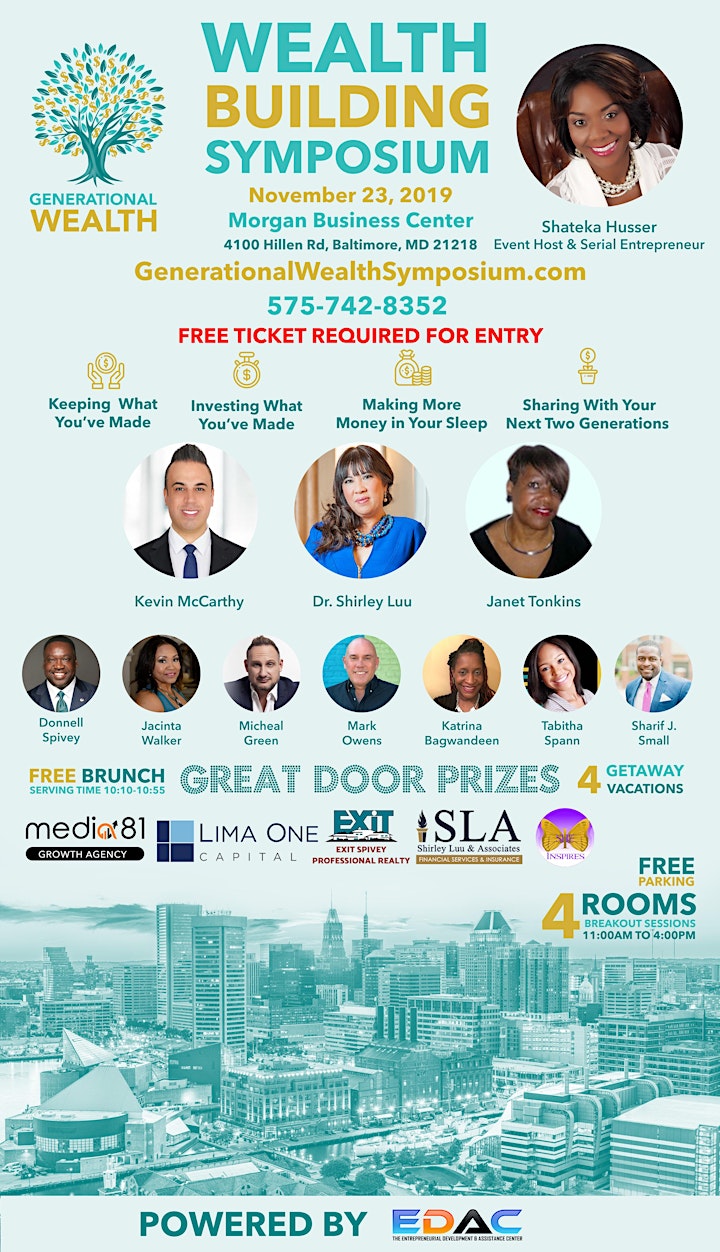 Organizer of Successful Business Leaders Unite to Give Back to the Baltimore Community
SHE (Shateka Husser Enterprises) Inspires' mission is to educate and empower thousands in their personal, professional, and financial development. 
Shateka Husser, founder of SHE Inspires, is a combat veteran and serial entrepreneur.  Her entrepreneurial endeavors include real estate investing, retirement consulting (using "catch-up" investment strategy), network marketing, and commodities investing. 
Shateka is also a licensed life insurance producer, ICF certified professional coach, international best-selling author, and combat Army officer veteran.
With the belief that purpose, health, relationships, and finance are the pillars of a wealthy life, Shateka started the Generational WEALTH show.  She also authored the first Generational WEALTH symposium event in Baltimore, MD.
To find out more, visit www.LNK.BIO/Shateka.
Shateka holds a Master of Business Administration from Devry' University's Keller Graduate School of Management, Bachelor of Science in Management from SC State University, and has been certified as a Professional Coach using WCI's International Coach Federation criteria.  She also serves on the board for Veterans Housing Solutions, Keep It Moving, and is a member of the Alpha Kappa Psi business fraternity.
Besides connecting people with industry resources, Shateka enjoys traveling, networking, and exploring new restaurants.