Success Summit Seminar - Network Learn Get Motivated - Steve Black

Tuesday, December 12, 2017 from 8:30 AM to 5:00 PM (EST)
Event Details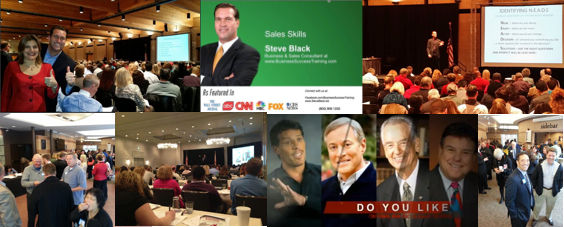 MULTIPLE DATES TO CHOOSE FROM - CLICK "TICKETS" TO SEE AVAILIBILITY

If you are truly commited to earning
a strong six figure or even seven figure income
from your business or sales career ...
then you NEED to attend ....
"Success Summit Seminar "

In our NEW PROGRAM – you will learn the same cutting edge techniques that Entrepreneurs, Small Business Owners, Professionals, Salespeople, and Network Marketers have paid over $30,000 to learn! Unless you were part of our high paying private clients … the information YOU will have access to, has

NEVER BEEN RELEASED TO THE PUBLIC. EVER. Until now…

Download flyer at http://www.businesssuccesstraining.com/SuccessSummit2017.pdf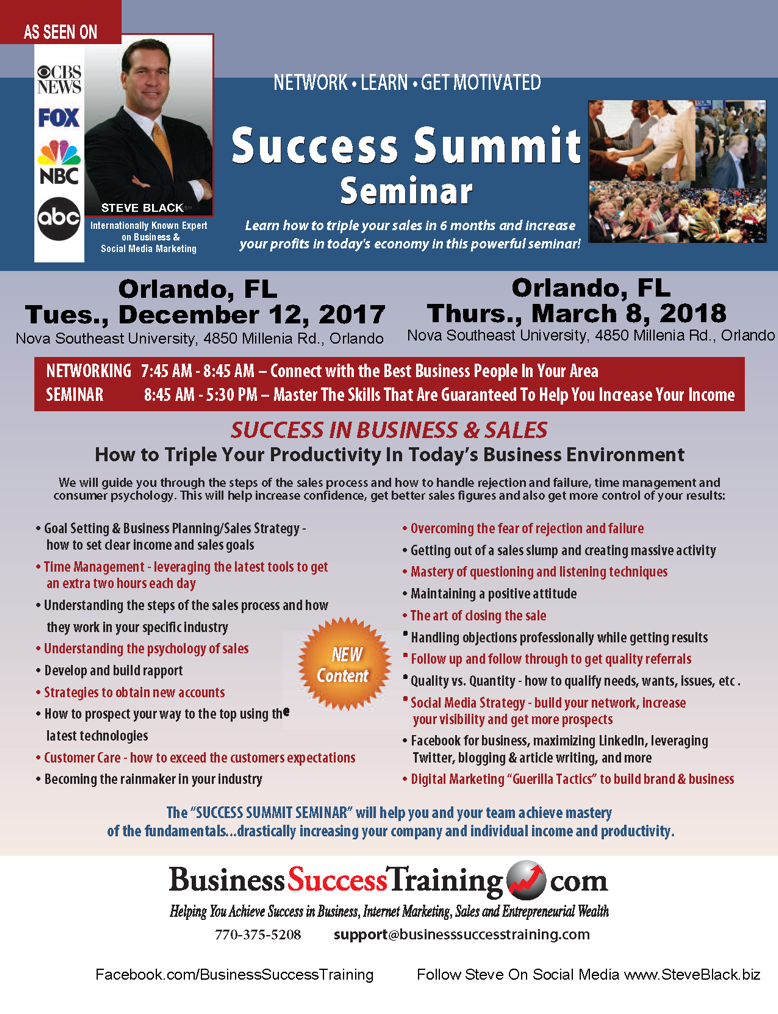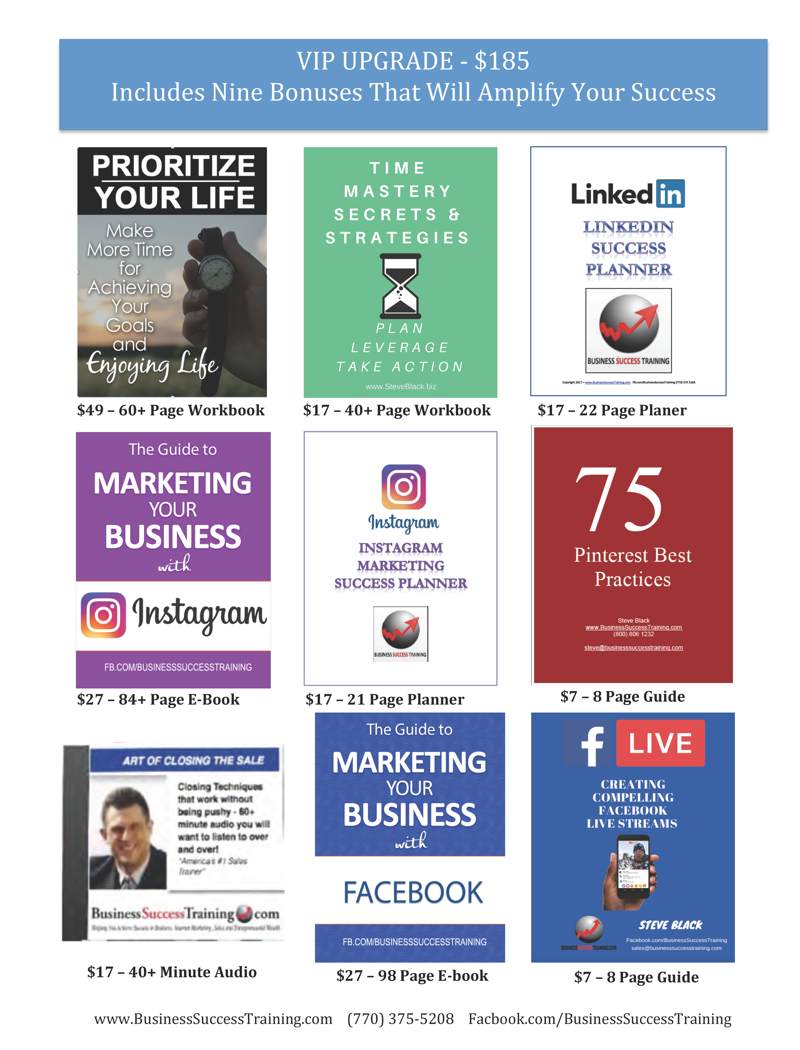 DOWNLOAD PDF AT:  
http://www.businesssuccesstraining.com/SuccessSummit2017.pdf   


See What Other Success Summit Seminar Attendees Say

About The Event...
See What Two Time Super Bowl Champion Rod Smith
Says About Success Summit Seminar...


Call (800) 806 1232 Register Today Success Summit Seminar or register here online

LEARN CUTTING EDGE SKILLS
NETWORK WITH WINNERS
GET MOTIVATED
SEE FACEBOOK EVENT PAGE:
http://bit.ly/SuccessSummitFBEvent


WATCH SEMINAR VIDEO AT:
http://bit.ly/SuccessSummitHighlightVideo

Watch Seminar Reviews at:
SEE WHAT OTHER ATTENDEES SAID

Vew More Event Photos at:
http://bit.ly/SuccessSummitPhotos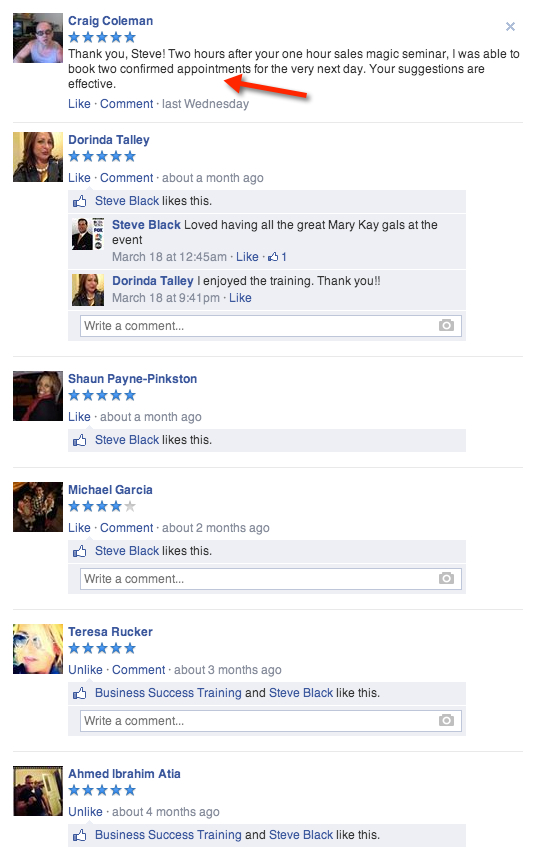 When & Where

Nova SE University
4850 Millenia Rd
Orlando, FL


Tuesday, December 12, 2017 from 8:30 AM to 5:00 PM (EST)
Add to my calendar
Organizer
Steve Black and http://BusinessSuccessTraining.com
Need more Info - Call (770) 375-5208 
or email sales@businesssuccesstraining.com
SEE SEMINAR REVIEWS AT:

VIDEO REVIEWS: SEE WHAT OTHER ATTENDEES SAY!

FACEBOOK REVIEWS: 
https://www.facebook.com/SteveBlackSpeaker/reviews/ 

OTHER VIDEOS

http://www.businesssuccesstraining.com/videos-2/steve-black-videos/
CONNECT WITH STEVE BLACK ON SOCIAL MEDIA

http://www.businesssuccesstraining.com/
https://www.facebook.com/SteveBlackSpeaker
https://www.instagram.com/steveblackspeaker/
https://www.facebook.com/BusinessSuccessTraining

#SteveBlackSpeaker #SuccessSummitSeminar


People Love the events that
Business Success Training put on!
We encourage you to take action today!
 
Business Success Training Since 1994 we have trained over 500,000 salespeople and business owners from Vancouver to Miami and everywhere in between.
We have never seen things change as much as they have in the last few years – both due to the economy and technology. We believe success this year and beyond is a combination of mastering the traditional skills … while embracing Social Media and Internet Marketing.
Business people, professionals, and salespeople must know how to set appointments, get referrals, ask great questions, make an emotional presentation, be able to ask for the order, and most importantly deal with objections without alienating the prospect.
After the prospect has turned into a customer they must utilize the technologies available to them to maintain the relationship, stay in front of the customer, and bring value to the relationship, and that is what our www.BusinessSuccessTraining.com is all about.
In all of our training & seminars, we deliver high-quality cutting-edge information in a fun way. The team at Business Success Training looks forward to helping you and your team overachieve their goals in the next twelve months.

Need more Info - Call (800) 488 5535 
or email sales@businesssuccesstraining.com