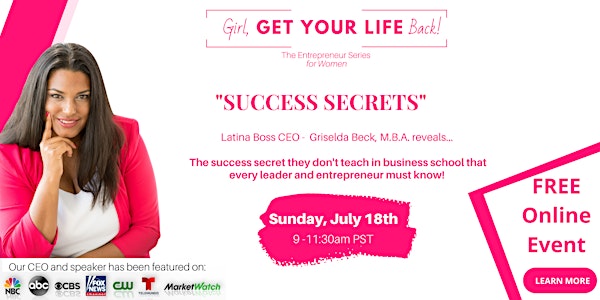 Success Secrets!
The secret to success they don't teach you in business school that every leader and entrepreneur must know!
About this event
Shhhhh....I'M SHARING SECRETS WITH YOU!
When was the last time you ditched "the rules" and felt FREE?
Ever wish there were more hours in a day or that you could freeze time just long enough to catch your breath?
Or maybe if you could just clone yourself, you'd be able to get everything done AND possibly one of the things you'd really want to do?
Girl, its time to get your life back!
In this 2.5 hour hands on experience you will...
Learn the secret to revitalizing your energy
Discover tiny habits that create huge wins
Uncover the generational myths that are holding you back
Reveal the secret to creating an extraordinary life you love
Bring your coffee, tea or mimosa and POWERUP among like-minded women. There will be a Q&A session at the end, so come ready to fill your cup, feel empowered and step into your greatness...you were meant for so much more!
Take the first step to creating a life you LOVE!
A little more about me:
Griselda Beck, M.B.A.
Founder and CEO of Latina Boss Coach and Beck Consulting Group
Success Coach, Expert Strategist, Author, Motivational Speaker ​and proud Latina WOC!
As featured on: ABC, CBS, FOX, NBC, TELEMUNDO, MARKET WATCH, SHIFT MAGAZINE AND DISRUPT MAGAZINE
Featured Author in the book series "13 Steps to Riches" and "Boss Latina Anthology".