Success In the City: A Professional Networking Mixer
Description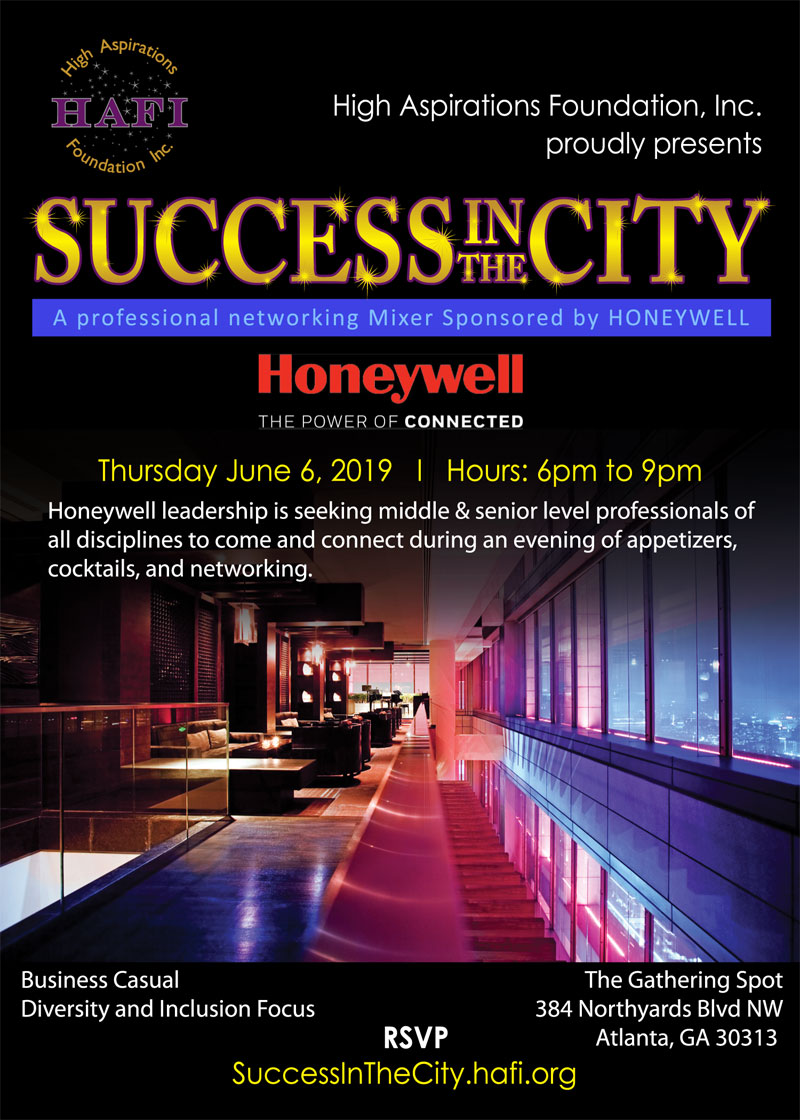 Honeywell is a Fortune 100 company that is committed to expanding Diversity and Inclusion on all levels. The company invents and manufactures technology that addresses some of the world's most critical challenges around energy, safety, security, productivity and global urbanization. Honeywell is building a Smarter, Safer, and more Sustainable world. That's the Power of Connected. That's the Power of Honeywell.
High Aspirations Foundation, Inc. (HAFI) is a 501c3 foundation that focuses on Uplifting the Community through Service. This is achieved by the following pillars:
Youth Leadership Development

Education/Life Enrichment

Health Initiative

Environment Sustainability

Hunger/Poverty Reduction
Honeywell is seeking qualified mid and senior level executives to fill several positions as they increase their commitment to diversity and inclusion. The High Aspirations Foundation, Inc. (HAFI) in conjunction with Honeywell has partnered in an effort to assemble highly qualified people of color in the Atlanta area.
You are cordially invited to Success in the City: A Professional Networking Mixer. This event will take place on Thursday, June 6, 2019 from 6:00 p.m. - 9:00 p.m. at The Gathering Spot, 384 Northyards Blvd NW Atlanta, GA 30313. The purpose of this event is to bring together professionals of all disciplines to come enjoy an evening of appetizers, cocktails, and networking in an informal environment. It will provide an opportunity to create connections between Honeywell leadership and diverse talent within the Atlanta metropolitan community.
Prepare yourself for an evening of professional diversity engagement and interaction. Please RSVP for this exciting event at www.SuccessInTheCity.hafi.org Please contact Keith Humphrey at 770-317-7486 or via email SITC@hafi.org with questions.
Thank You,
Gene Toodle, HAFI Chairman
David L. Bingenheimer
Chief Information Officer - Honeywell Building Technologies
Inclusion & Diversity Executive Sponsor