Succeed with Data Storytelling for Business Professionals - Learning Circle
Description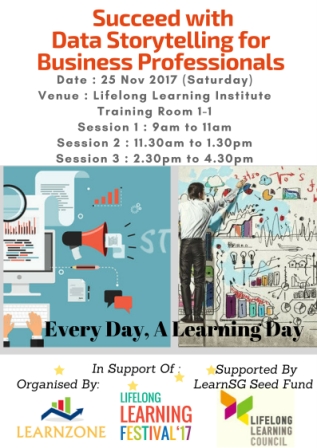 There is a story in your data. Being able to tell stories with data is a skill that is becoming ever more important in our world of increasing data and desire for data-driven decision making. Data Storytelling is an Essential Skill in Today's Data-Driven World. Visualization is powerful, but even more powerful is the ability to connect visuals, and to tell a story with the data.
This learning for anyone who needs to communicate something to someone using data. Analysts sharing the results, managers needing to communicate in a data-driven way, and business leaders informing their board.
It will focus on general best practices and are not tool specific, concepts learned can be applied in any graphing application or presentation software
Learning Outcomes for 2 hours session –
1) Gain an overview on the fundamentals of data visualisation and storytelling
2) Recognise the core principles of storytelling with data
3) Select effective visualisation techniques in diverse contexts and situations
** Participants are required to bring laptops, or tablet to get on digital learning style **
~~This session is facilitated by LEARNZONE ~~
A boutique learning and consultancy solutions provider and an approved Non-WSQ training organization, LEARNZONE partners associations, government agencies, MNCs, SMEs and NPOs to offer high quality learning solutions aimed to improve productivity through the effective use of modern technologies and digital platforms.
At LEARNZONE, we take pride in the full competence of our consultants and facilitators. We are committed to staying current and we employ the most appropriate learning solutions to improve performance. As a trusted partner, we curate learning solutions that anchor on meeting the needs of individuals and organisations. We pride ourselves on being customer-centric. We listen with the intent to hear clients' needs, pay close attention to details and ensure total customer satisfaction.
Join us in this participatory learning experience facilitated by Dr Casey and Angela Chin.
A Project supported by the LearnSG Seedfund.
Every Day, A Learning Day!
@LearnSG #LearnSG #EverydayALearningDay #LoveLearning #LifeLongLearning @MyLearningCircles @LEARNZONESG