About this Event
Playhouse Grot3sk is an action-packed night filled with culture-pushing short films, live comedy, and, of course, a wild dance party.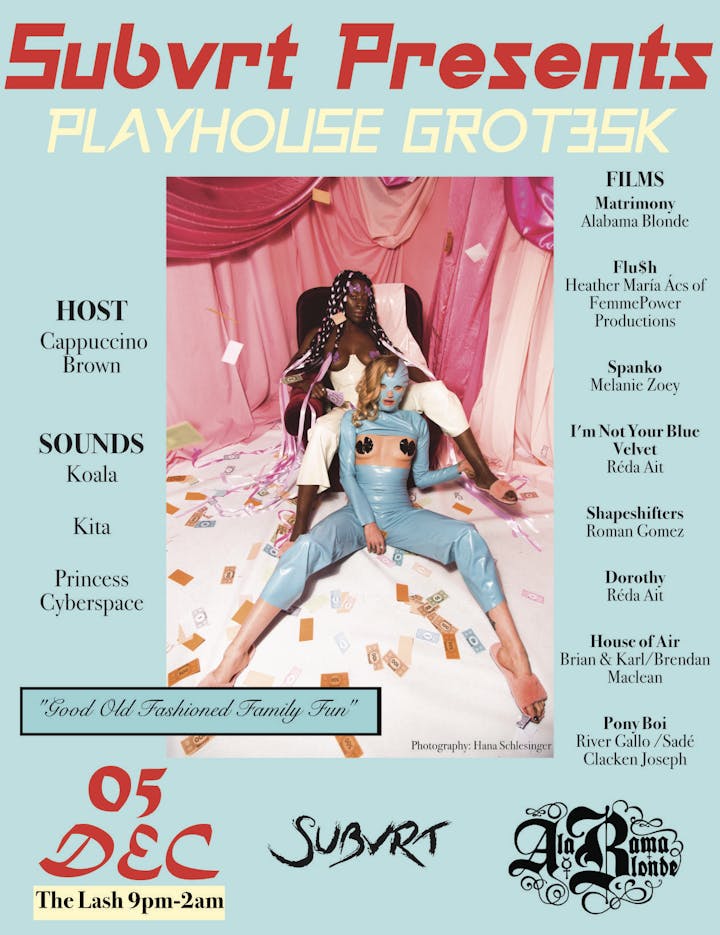 We will be opening the evening with a live comedy performance by Cappuccino Brown. The event will be showcasing films from all over the world, including:
Matrimony (AUS), Dir. Alabama Blonde
A cutting-edge fashion film from Australian designer Alabama Blonde that breaks down the traditional concept of marriage,
Flu$h (USA), Dir. Heather María Ács of FemmePower Productions
A groundbreaking film that premiered at Outfest in 2018, exploring sex work in a queer-positive environment.
Spanko (USA), Dir. Melanie Zoey - 12 mins
A heartfelt dramedy about a teacher who finally explores her fetish.
I'm Not Your Blue Velvet (GER), Dir. Réda Ait - 3 mins
A fashion story that is a reference to one of the first scene of David Lynch's famous movie, Blue Velvet.
Shapeshifters (MEX), Dir. Román Goméz
An eerie film where fashion meets horror.
Dorothy (FRA), Dir. Réda Ait
A tribute to David Bowie and the art/sport of pole dance.
House of Air (AUS), Dir Brian & Karl/ Brendan Maclean
Explores the 'hanky code' and gay semiotics.
Pony Boi (USA), Dir River Gallo/Sadé Clacken Joseph
A short film about an intersex runaway, looking for love in all the wrong places.
Following the films get ready for the infamous Subvrt dance party featuring badass female artists Princess Cyberspace, DJ Kita, and DJ Koakakoala.