Suburban Revitalization Forum - Featuring Ellen Dunham-Jones & Chris Porter
Description
Suburban Revitalization Forum: The BIG Design & Development Project of the Next 50 Years

Featuring ELLEN DUNHAM-JONES, a suburban redevelopment expert and author of Retrofitting Suburbia, and CHRIS PORTER, Vice President & Chief Demographer at John Burns Real Estate Consulting & Co-Author of Big Shifts Ahead: Demographic Clarity for Businesses.
Part 2 of the Suburban Revitalization Forum will discuss the ways redevelopment can be tailored to take advantage of the demographic, socio-economic and lifestyle changes and trends impacting how people live, work and play in New Jersey today.
Chris Porter, will first offer perspective on the key demographic shifts playing out with increased speed in our country that are shaping the communities we live in. Ellen Dunham-Jones will then examine the importance, practicality and success of suburban retrofit and redevelopment as an opportunity to create more sustainable places to redirect growth into existing communities that could use a boost.
If you are already registered for Part 1 of this event series, "Suburban Revitalization Forum: Where People are Choosing to Live Work & Play in New Jersey Now" with Dr. Jim Hughes on March 5th, this is the follow up event you won't want to miss!
Due to limited seating, registration is required. Registration is free, but hurry! Tickets are limited on a first come, first serve basis. Refreshments will be provided.
---
Speaker Biographies
Ellen Dunham-Jones is Coordinator of the MS in Urban Design. She teaches "Theories of Urban Design," "Retrofitting Suburbia" and urban design studios.
A leading authority on suburban redevelopment, she and June Williamson wrote Retrofitting Suburbia; Urban Design Solutions for Redesigning Suburbs (Wiley & Sons, 2009, update in 2011, mandarin edition in 2013). The book documents successful retrofits of vacant big box stores, dead malls, aging office parks, etc., into more sustainable places. The book received the PROSE award from the American Association of Publishers as best architecture/urban planning book of 2009, was featured in Time Magazine's March 23, 2009 cover story, "10 ideas changing the world right now" and is the subject of her 2010 TED talk and 2012 TED-NPR Radio Hour interview. She appeared in the 2011 documentary Urbanized, the 2012 PBS series "Designing Healthy Communities" and was recently interviewed on NPR's Morning Edition, in anticipation of the National Bike Summit, and for AIA Atlanta's Shoptalk series. She continues to build her database of suburban retrofits, lecture widely, and is working on a follow-up book on successful strategies for retrofitting suburbs to meet 21st century challenges.
Ellen's published over 60 additional papers linking contemporary architectural theory and practice. "Irrational Exuberance: Rem Koolhaas in the Nineties" in the 2013 book Architecture and Capitalism was named one of the ten most popular essays of 2013 by The Design Observer Group.
She has served in several national leadership roles including Board Chair of the Congress for the New Urbanism, AIA Design and Health Leadership Group, the Hanley Wood Sustainability Council, and the advisory boards of the Journal of Urbanism, Places, (in)Forma, the Livability Index, and is chair of the board of Commons Planning. In 2015 she was honored to be inducted in the inaugural classes of both the Brooks Byers Institute of Sustainable Systems Fellows at Georgia Tech and the CNU Fellows.
She received undergraduate and graduate degrees in architecture from Princeton University and taught at UVA and MIT before joining Georgia Tech's faculty to serve as Director of the Architecture Program from 2001-2009.
----------------------------------------------
Chris Porter is Vice President and Chief Demographer, John Burns Real Estate Consulting. He co-authored Big Shifts Ahead: Demographic Clarity for Businesses.
As part of the John Burns research team, Chris leads the company's demographics research, which helps to inform many of the firm's forecasts. For the last 12 years, Chris has provided analysis for the firm's research subscription clients and custom analysis for the company's consulting clients.
Prior to joining John Burns Real Estate Consulting, he was a Senior Editor at Reed Business Information for Professional Builder magazine's housing industry web site, HousingZone.com, and he was also Director of Electronic Media for the company's Building and Construction group. Chris previously worked as an Analyst at Rogerscasey, an investment consulting firm.
Chris graduated from Princeton University with a B.A. in Economics and has a M.S. from Northwestern University's Medill School of Journalism.
---
FAQs
What are my parking options for the event?
Please enter through 340 Kingsland Street as shown on the map below. Guests will then be guided by staff to valet parking on-site, and directed to the Auditorium at the ON3 campus' 200 Metro Blvd. building.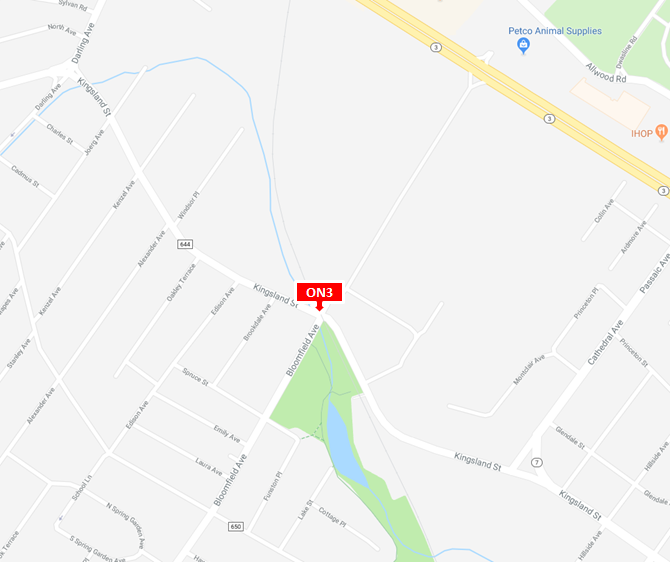 Is handicap accessible seating available?
Yes, once registered, please email info@on3nj.com to reserve.
How can I contact the organizer with any questions?
Please direct any questions to info@on3nj.com