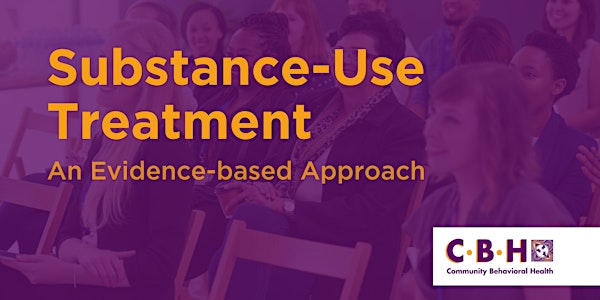 Substance-Use Treatment: An Evidence-based Approach
When and where
Location
Community Behavioral Health 801 Market Street 11th Floor, Room 1154A Philadelphia, PA 19107
Description
Join us for Substance Use Treatment: An Evidence-based Approach. During this event, we will hear about Cognitive Behavioral Therapy(CBT), Prolonged Exposure(PE) for PTSD, Medication Assisted Treatment (MAT), and how these evidence-based practices (EBPs) are used to help individuals address substance-use disorders. We will hear about these EBPs from the perspective of EBP-specific trainers, clinicians, and Community Behavioral Health members who have personally received these services.
*Please note: Media may be present to highlight the event.
Torrey Creed, PhD, is a licensed clinical psychologist specializing in CBT with children, adolescents, and their families. In addition to her faculty role at the Beck Institute, she is an Assistant Professor at the University of Pennsylvania's (UPenn) Aaron T. Beck Psychopathology Research Center. There, Dr. Creed directs The Beck Community Initiative (BCI), a partnership between UPenn and DBHIDS launched in 2007.
Sandy Capaldi, Psy.D., joined the CTSA in 2007, and is the Center's Associate Director. Dr. Capaldi is a licensed clinical psychologist who has a variety of clinical experiences with patient populations ranging from children to older adults. She specializes in PE for PTSD, Exposure and Response Prevention (EX/RP) for OCD, and cognitive-behavioral treatment for trichotillomania, excoriation disorder, social anxiety, panic disorder, specific phobias, and generalized anxiety.