Subscription to West Jersey Chamber Music Society's 2019-20 Season
About this Event
Our exciting 2019-2020 concert season celebrates 40 years of bringing world-class, affordable music to audiences in New Jersey. We kick off our fourth decade of world-class chamber music with a celebration of our big 4-0: our Concert of 40's will feature a variety of Op. 40s from renowned composers. Our season continues with a diverse selection of music: an array of holiday carols and brass fanfare from the West Jersey Chorale, an exciting selection of spirituals celebrating African-American history and heritage, and a program of outstanding music by women composers that hails Women's History Month, performed by The Arcadian Trio.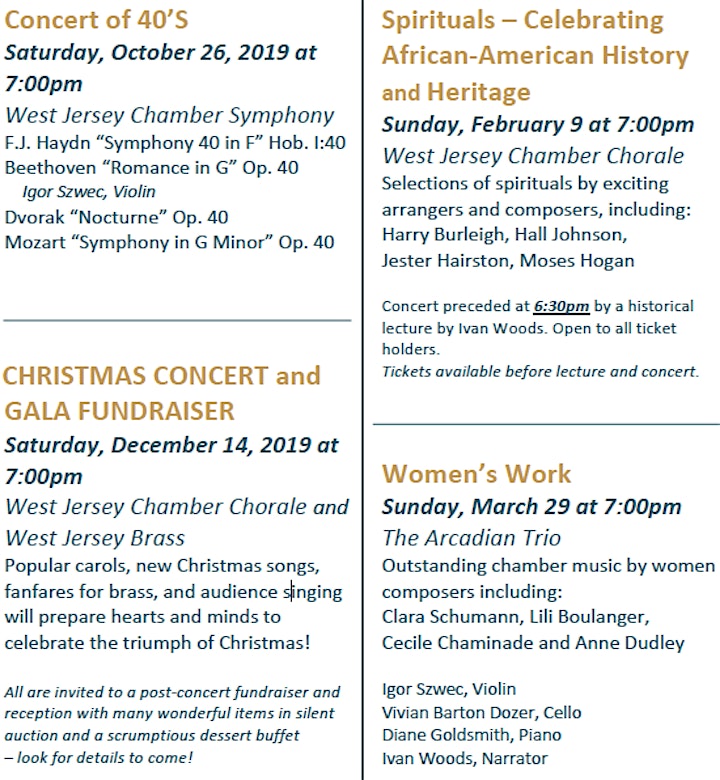 We will arrange to mail your season tickets or hold them at the box office. If you have a seating preference or any questions, please contact West Jersey Chamber Music Society.
Subscription and ticket revenues cover less than 50% of our costs. Please consider an additional donation to help WJCMS continue to provide world-class music and support free tickets to low-income seniors and students.
Have questions about WJCMS's 2019-20 Season Subscription? Contact West Jersey Chamber Music Society.