About this Event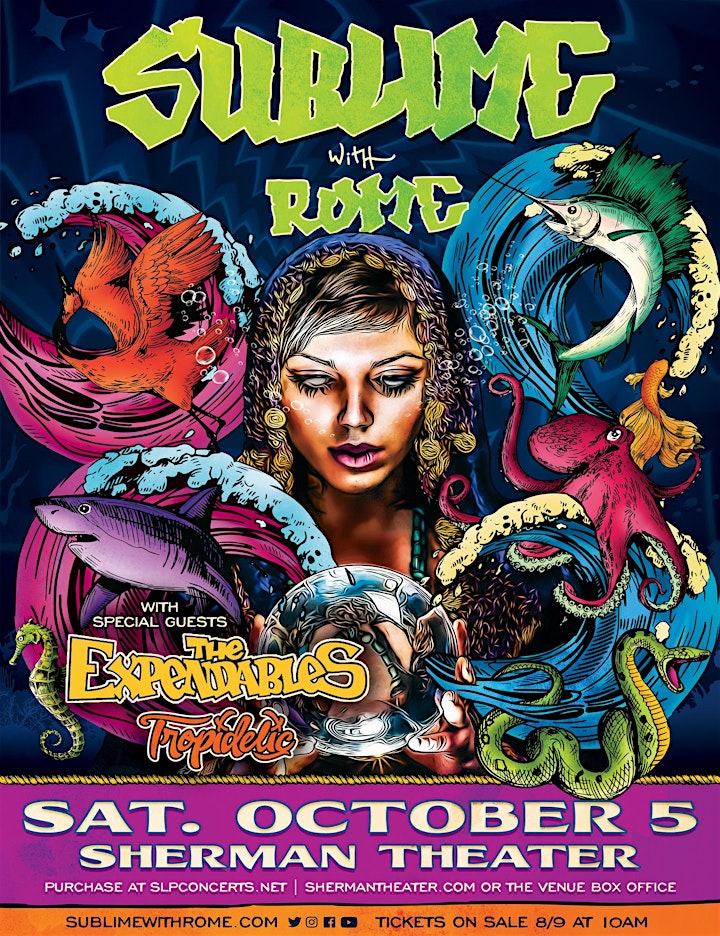 Sublime With Rome
Billboard charting ska-punk trio Sublime With Rome announce fall headline tour today with support from The Expendables and Tropidelic. The tour starts on October 1st in Tulsa, OK and wraps on October 13th in New Orleans, LA. Tickets go on sale on Friday, August 9th at 12PM local time and will be available for purchase on the band's website HERE.
Additionally, Sublime With Rome have announced that they will be joining Platinum RIAA-certified hip-hop star Post Malone as the backing band for his August 5th NYC show on the Bud Light Dive Bar Tour. Fans can stay updated on tonight's show details by visiting BudLight.com/DiveBarTour and following Bud Light on Facebook at Facebook.com/BudLight, on Twitter at @BudLight, and on Instagram at @BudLight.
The band's most recent release, Blessings, debuted at #2 on the Current Alternative Album Chart, #10 on the Current Digital Albums Chart, and #26 on the Billboard Top Albums Chart. Blessings, was produced by Rob Cavallo (Green Day, Paramore, Linkin Park), and "Wicked Heart" was co-produced by Rob Cavallo and Andrew Goldstein (Robert DeLong, Blackbear, Lauv). Listen to "Light On", "Spiderweb", "Blackout", "Wicked Heart", and most recently "Thank U", a tribute video to fans who have supported the band throughout the years, off the forthcoming release. The album is available to stream and purchase HERE.
Sublime With Rome is Rome Ramirez (vocals, guitar), Eric Wilson (bass), and Carlos Verdugo (drums).
The Expendables
A reggae/rock band from Santa Cruz, California.
Tropidelic
"Every single second is a blessing if you count them all," sings frontman Matthew Roads. You can hear the sincerity in his voice; the joie de vivre that oozes from everything Tropidelic does is apparent. When they take a stage, their synergy flows member to member—horns blow, knees kicked high and grins are passed from one man to the next. Almost immediately, it spreads to the crowd, lifting hands in the air as their feet begin to move. The pulse collectively becomes that of one.
The six-piece band from Cleveland, Ohio may be far from any tropical islands, but that doesn't stop them from dishing out an interesting mix of reggae, hip-hop and high energy funk for audiences across the country. Tropidelic has a deep and widespread appreciation for music that can be heard in each note. Some of the members are hip-hop heads, while others are into metal, funk or reggae. Each of these genres lends something to their collective sound. "We pride ourselves in being original in our musicality and personality as a band," says Roads, "but also in not taking ourselves so seriously that it ruins the fun."
For their 2017 release, "Heavy is The Head", Tropidelic carefully vetted what songs made it to the record, and featured songwriting efforts from multiple members. Sound engineer Cary Crichlow, who has worked on the last four releases from the band, returned to get the job done. "Our socio-political views vary as much as our musical tastes and always seep into the music" says Roads. "There's certainly a lot that needs said, but on this record we tried to be well-rounded and touch on a broad scope of emotions." The release debuted at #1 on the iTunes reggae charts on November 10, 2017.
These seasoned road dogs can be found spreading their soulful sound across the country in both intimate venues and music festivals, having shared the stage with and supported such acts as 311, Slightly Stoopid, The Dirty Heads, Pepper, The Flobots and Wookiefoot. Previously, Tropidelic has been featured at Electric Forest, California Roots Music & Art Festival, Reggae Rise Up and Warped Tour.
In 2019, the band is focused on touring and working on their next album, which is set to be released in the Summer. They are also making an appearance on the 311 Caribbean Cruise, hosting their third annual Freakstomp Music Festival and much more. Stay tuned for what's to come from Cleveland's own, Tropidelic.
Performers
Date and Time
Location
Refund Policy