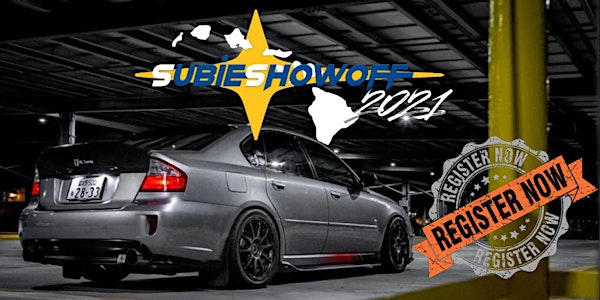 Subie Showoff 2021
Subie Showoff is BACK!!! Bigger & Better than ever!!! Pearlridge Center "Wai Makai" roof top level. Saturday August 7th, 2021 - 12pm to 5pm
When and where
Location
Pearlridge Center 98-1005 Moanalua Road Aiea, HI 96701
About this event
**Subie Showoff 4th Annual Car Show**
Subie Showoff Is Hawaii's first & only "all-Subaru" car show founded and supported by Hawaii's local Subaru enthusiasts community. This year event will be held at a new and exciting location, the "Wai Makai" roof top level of Pearlridge Center! Along with our new venue, Subie Showoff 2021 will also include select Pearlridge Center vendors, Live DJ music, Raffle Prizes, Exclusive event merchandise, and a automotive show & shine containing over 150+ of Hawaii's hottest Subarus competing for over 20+ different Subaru related trophy categories!!! AND for the third year in a row, Subie Showoff presents "Slam Battle" an exciting automotive Limbo Contest!!!
Subie Showoff is free to both participants and spectators. 
In an effort to provide a family friendly & safe atmosphere, and to comply with the State Of Hawaii's COVID-19 restrictions and guildlines pertaining to social gatherings and events, There are afew polices we ask of all participants and spectators to follow. If you do not abide by these event polices, you will be asked to leave the event.
•No Alcohol or Drugs of any kind is allowed at Subie Showoff 
•No Squealing of tires or "Burnouts" are allowed
•No Excessive Revving of engines
•No Speeding into, out of, or around the event location
•Please Be considerate, make sure you keep the event area clean!
•Please wear a mask at all times during the show and while you're on the property, unless you're eating and drinking.
•Please practice social distancing (6 feet apart from those not in your immediate household.)
•Please limit your groups of people to 10 people maximum.
Subie Showoff staff members reserve the rights to restrict entry into the event due to unacceptable behavior during any or all activities promoted. Those performing childish acts or not complying with the guidelines stated above will be asked to leave the event IMMEDIATELY. 
 *Due to limited space, only 150 Subies are able to participate in the event area that has been set aside for Subie Showoff