About this Event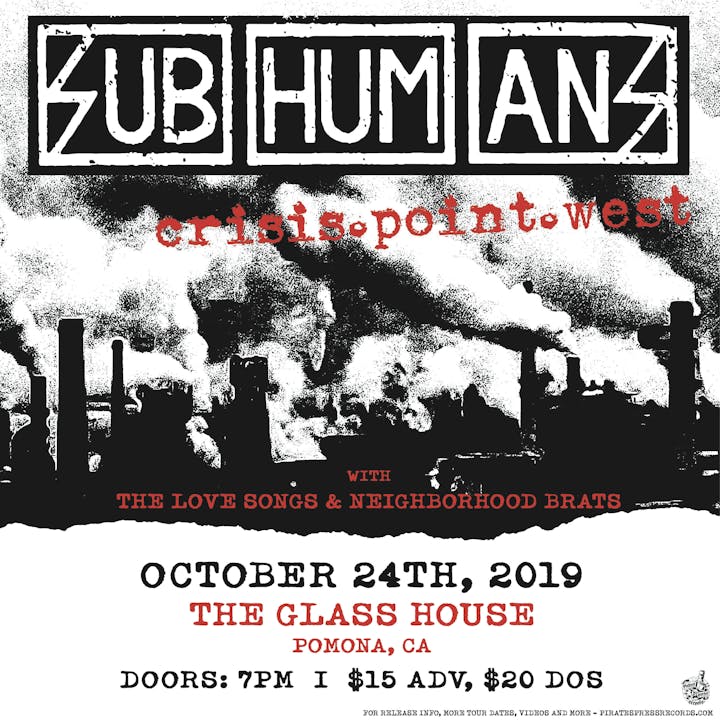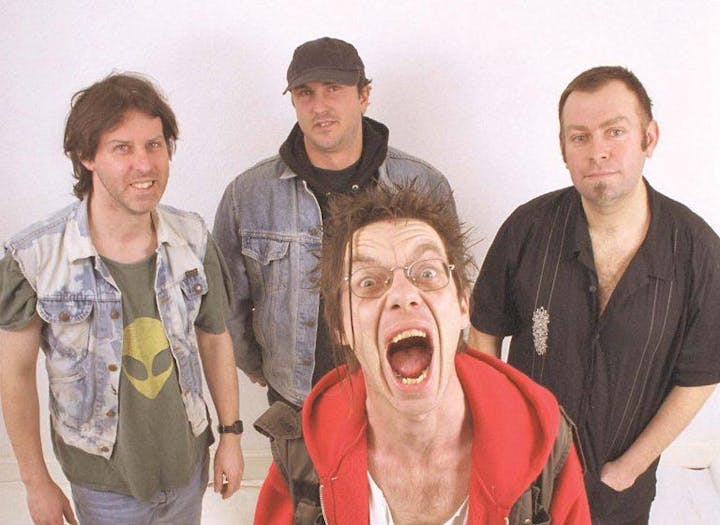 Subhumans are one of the most influential bands from the UK Anarcho-Punk scene of the 80's, filed right alongside Crass and Conflict, and just as relevant today as they were during the darkest days of Thatcher's Britain. Take your choice in how to label them – Punk, UK82, Crusty, etc, – there lies the attraction and consequent reason for their popularity, the band epitomizes non-conformity and connects with people in many different scenes.
Forming in 1980, recording and releasing a series of live and demo cassette tapes on their own Bluurg label, they continued to release music throughout the 80's – building a powerhouse of a back catalog that completely stands the test of time. Their debut LP 'The Day the Country Died' (1983), with its Orwellian influence, is considered by many to be a classic and has sold in excess of 100,000 copies. The second album, 'From the Cradle to the Grave', came swiftly the following year (1984), and although the same frenetic pace is in evidence, this marks a significant musical development for the band. In 1985 Subhumans broke up, citing the usual musical differences, although had managed to release a third, maybe ironically entitled, LP 'Worlds Apart.' A final EP was released posthumously in 1986, '29:29 Split Vision,' a further demonstration of how far the band had come musically from their initial leanings.
Dick Lucas subsequently joined Culture Shock and then formed political ska-punk band Citizen Fish in 1990, both bands releasing many albums, and still playing today. Subhumans had a couple of reunion shows in the nineties, before a more permanent return for the 21st century, including 2 major tours of the US, the first resulting in the 'Live in a Dive' LP. The Subhumans then released a further studio album in 2007, 'Internal Riot,' again on Bluurg Records. The band is still passionate and angry, illustrated by Dick saying "Being in a band is the source of most of my passion and drive! The live experience of sharing it with people keeps it ongoing, the release of anger, frustration and initially negative/destructive states of mind is a release from the downward spiral of keeping it all bottled up and it feels positive/constructive as a result."
The band have recently written ten new songs, which Pirates Press Records are thrilled to be releasing, and are embarking on a year of touring in both Europe and North America! First a split with The Restarts before a 12" of their own comes out in October of 2019! The social and political commentary of bands like Subhumans forged a path, along with their contemporaries, for punk to change lives and opinions around the world. Sadly the things they sang about forty years ago are largely just as important now, sometimes more so in an age of Trump and Brexit. We can't wait to hear more of what they have to say about the current political climate, the immense imbalance of wealth and power, and the causes they hold near and dear to their hearts.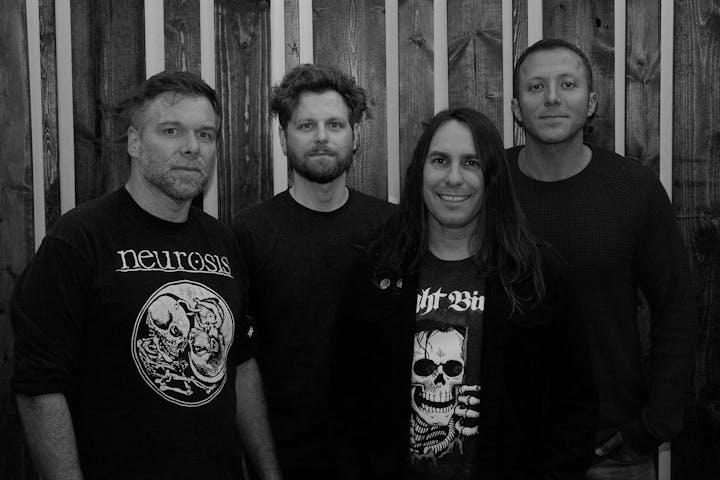 Hailing from San Francisco's East Bay punk scene, The Love Songs are honored to join the legendary Subhumans (UK) October 24 through 27, 2019 in the southwest for their US tour. Pulling from influences as varied as King Diamond, SNFU and "Weird Al" Yankovic, The Love Songs have enjoyed being confused for a punk, thrash, lite rock, hardcore, indie trash, folk, and/or metal band. Led by Craigums, aka Air Guitar World Champion Hot Lixx Hulahan, the band has released seven full-length albums since 2000. The current line-up includes the everfaithful and creative Bradley on drums, a veritable thrash-riff encyclopedia named Frank on the lead guitar, and the Lebanese pharmacist Salem on bass. The Love Songs released their most varied and ambitious album, titled Oh, The Places You'll Go Wrong, in late 2016 on 1986'd Music Industries. It was engineered by and produced with Chris Dugan (Green Day, U2) at the legendary Jingletown Studios in Oakland, CA. The band just finished recording their new album, The Loneliest Whale, for the record label Blonde Medicine, which is due to be released fall 2019. In addition to multiple gigs with the Subhumans, the band toured the eastern seaboard with the Night Birds in 2017. Come see who the 924 Gilman Street staff declared "a punk rock Queen" (probably referring to the band fronted by Freddie Mercury, or not) and "The sexiest yet most alienating band." For booking and band contact, please email Kamala Parks: kamalaparks@gmail.com www.thelovesongs.com|https://www.facebook.com/thelovesongs|https://twitter.com/TheLoveSongs
If you are a jaded, sarcastic, grumpy, old fuck, kinda OFF WITH YOUR HEADS fist-pumping, tough guy, or spiky belted punk rocker, then this record is not for you. While SHIRTS-OFF PARTY PUNK makes its comeback at each passing these boys never stopped with their PANTS-OFF tom-foolery. If you are like fun sometimes slightly wacky stuff and music and Weird Al and old metal you have found heaven. This is all funny, sweet, hyper-fueled punk-rockage. The lyrics are sappy love songs about girls, but you can't tell. A lot of the songs vary in style from super fast punk, to great DESCENDENTSY pop punk songs, to who knows what. There is also some bossanova riffage thrown in too and much like the band FUN PEOPLE they pull it off all these styles without missing a beat.
Performers
Date and Time
Location
Refund Policy