Subculture Music and Arts Festival 2021 w/ Tsuruda, Truth, DDD Showcase..
This meticulously curated lineup and our intimate, hands on approach to this festival will truly make you feel like you are coming home.
About this event
SUBCULTURE MUSIC AND ARTS FESTIVAL 2021
We are proud to present the first year of our brand new festival specifically curated for those of you who are looking for a fresh, hands on and intimate experience. We are committed to nailing every detail of this event including building out a lineup that caters to and represents multiple disciplines of bass music and providing three stages of Hennessey Sound Design. Without further adieu, our phase one lineup:
FEAT: TSURUDA & TRUTH
Ternion Sound, Hypho, Sepia, Cartridge, American Grime, Glume & Phossa, Chokez, Somah, Danny Grooves, Rafeeki, Wessanders
(more headliners tba)
Takeovers from: The Goop Troop, Rewind 140 and Dipitus
Daze Inn, Evac Protocol, Glass Arrowhead, Glowworm, Josh Teed, Michael Savant, Mindtality, Mizeyesis, Newgent, Pi Wrecks, Somejerk, Subsequence, Terraphorm...
Each night will end with special sunrise sets at our stage overlooking the lake from the top of the hill.
We have full showers/restrooms, a restaurant on site, fire pits, electricity at most campsites and a full vendors row.
This event will be following all current NY state covid guidelines at the time of the show including reduced capacity as your safety and well-being are our number one concern. Vaccination card or negative covid test within 48 hours of arrival is required.
Location:
New Echo Lake Resort, 185 Echo Lane, Afton NY.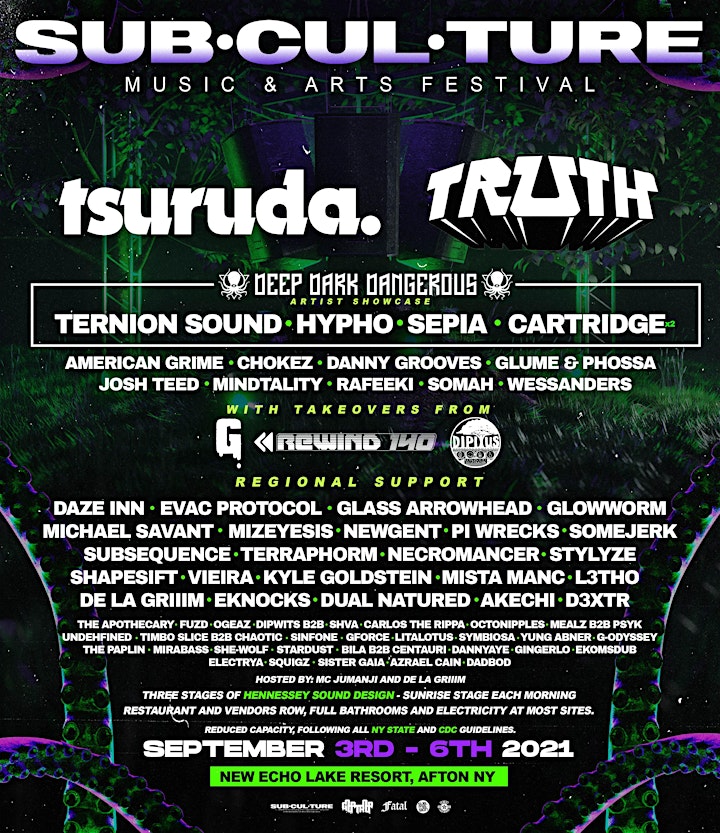 Organizer of Subculture Music and Arts Festival 2021 w/ Tsuruda, Truth, DDD Showcase..