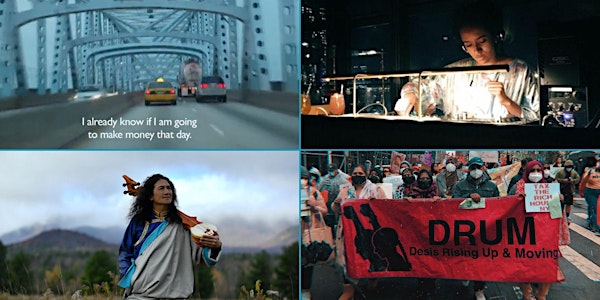 Subcontinent on the Hudson: South Asian Migrations and Musics in New York
A month-long series paying homage to the diverse creative experience of NYC's South Asian diaspora community.
Refund Policy
Contact the organizer to request a refund.
Eventbrite's fee is nonrefundable.
About this event
Subcontinent on the Hudson: South Asian Migrations and Musics in New York
South Asian immigration to New York has been documented since the 1800's predating the independent countries that contemporary diasporas identify with. While grappling with international news, U.S. immigration policy, and the shared struggles of gentrification, wealth inequality, and xenophobia, it is not uncommon to see our communities struggling with their adherence to the twinned allures of capitalism and white supremacy, propagating casteism, classism, and ethnonationalism across continents. It is important now more than ever to also recognize where South Asian-Americans across generations have built interlinked and unique communities through their languages, food, and art. Rooted in folk, classical, and fusion traditions, music is a site of ongoing self-expression, negotiation, innovation, and community-building.
In the face of global capitalism and ethnonationalism fracturing the South Asian-American diaspora, Brooklyn Raga Massive in partnership with DRUM (Desis Rising Up and Moving) has curated "Subcontinent on the Hudson: South Asian Migrations and Musics in New York." In four events, we pay homage to the variety of South Asian creative experiences in New York by foregrounding the diversity of traditions and inspirations informing our art. Above all, this series seeks to heal, unite, and contribute to the continued mobilization of diasporic communities that make their home here: we call on our audiences to be inspired – as we are – by the history, diversity, and imaginations of South Asian American communities in our home.
This series is free and open to the public. 100% of donations to BRM via this series will go to DRUM's Emergency Mutual Aid Fund.
All events will take place online on Youtube or Zoom. Registered attendees will receive the link in advance of the events. All event times are 7pm EST.
Featured Events:
November 9th @ 7pm: Finding/Funding the Creative Self: Screening of "12 Days in a Taxi"
"12 Days in a Taxi", a 2012 documentary by Ambarien Alqadar, tells the story of two South Asian immigrants who are aspiring filmmakers working as taxi drivers. They share the realities of finding and building community in post-9/11 New York as well as their creative processes, dreams, and challenges. This first event will invite our audiences to consider the ongoing realities of class, caste, and faith politics in the South Asian-American diaspora, particularly as it relates to realizing creative goals. It will be accompanied by a community discussion space after the screening. This event will take place on Zoom.
November 15th @ 7pm: DJ Cardamami: Playlist Curation Workshop
The diversity of New York has engendered neighborhood music scenes with international inspirations. DJ Cardamami (Anisa Jackson) offers a playlist curation workshop that enables performers to think about the interplay between the local and the global: How does your audience inform and respond to song choices from all over the world? How do you read the energy of an event and transform it into a playlist blending across a wide variety of genres? And how does the singular vibe of one moment in one neighborhood become refracted into a distinctly global mix?
Anisa Jackson is an artist, writer, DJ and curator based in New York of Pakistani and Afro-Caribbean descent. Under the moniker DJ Cardamami, Anisa began DJing in Oslo and has played for venues and radio stations everywhere from Seattle, New York, and London to Istanbul and Mérida. They host a biweekly radio show with Playground Radio called Spicy Trax and are the co-host of Yalla Yeehaw, a party featuring Arab pop, bhangra, & other Southwest Asian, North African & South Asian sounds.
This event will take place on Youtube.
November 22nd @ 7pm: Healing and Art in Exile: Tibetan Music Performance and Discussion by Techung
With the rise of ethnonationalist conflict and ethnocentrism in South Asia, artistic traditions are often mobilized by power-bearing institutions to promote insularity or supremacy. These centuries-old art forms transformed across time and space, however, can conversely and intentionally be used to promote solidarity and healing. In this event, New York-based Tibetan folk musician Techung will share a selection of Tibetan folk songs learned in India's Tibetan refugee community. He will invite the audience in discussion to consider the significance of tradition outside of the homeland/in exile, music as healing, and the act of establishing a creative community in a new home.
Techung is a prominent Tibetan singer/songwriter living in exile in New York. He is best known for his performances of traditional Tibetan music, dance as well as opera. His dedication and love for performing arts and years of training has come to fruition with his becoming a master musician and composer in his own right. He is a recipient of the New York Foundation for the Arts Fellowship in Folk and Traditional Arts and was recently nominated for the National Heritage Award by the National Endowment for the Arts. Whether performing traditional or contemporary songs, Techung's dual purpose has always been to revive Tibetan music in the Tibetan community and to promote the rich performing tradition of his homeland to a wider audience around the world. Techung has collaborated with world-renowned musicians such as Phillip Glass and blues master Keb Mo. Along with musicians such as Patti Smith, Iggy Pop and others, Techung has performed at the famous Carnegie Hall in New York City.
This event will take place on Zoom.
November 29th @ 7pm: Building Diasporic Solidarity through Art: Panel Discussion
Our final event will be a panel discussion bridging the topics and contributions of the previous events. We will invite NYC-based South Asian and Indo Caribbean grassroots organization Desis Rising Up and Moving (DRUM) to drive this conversation with Brooklyn Raga Massive musicians. With decades of community-building experience organizing working class, South Asian and Indo Caribbean communities in New York City, as well as experience working with local artists on community campaigns, DRUM has the perspectives needed to both educate and innovate with BRM's musicians and audience. This event will take place on Youtube.