Actions and Detail Panel
STYLE:Wars - Fashion Stylist Registration
Fri, March 31, 2017, 7:30 PM – 10:00 PM CDT
Description
THIS IS STYLIST REGISTRATION ONLY!! Actual tickets are on sale NOW through this website: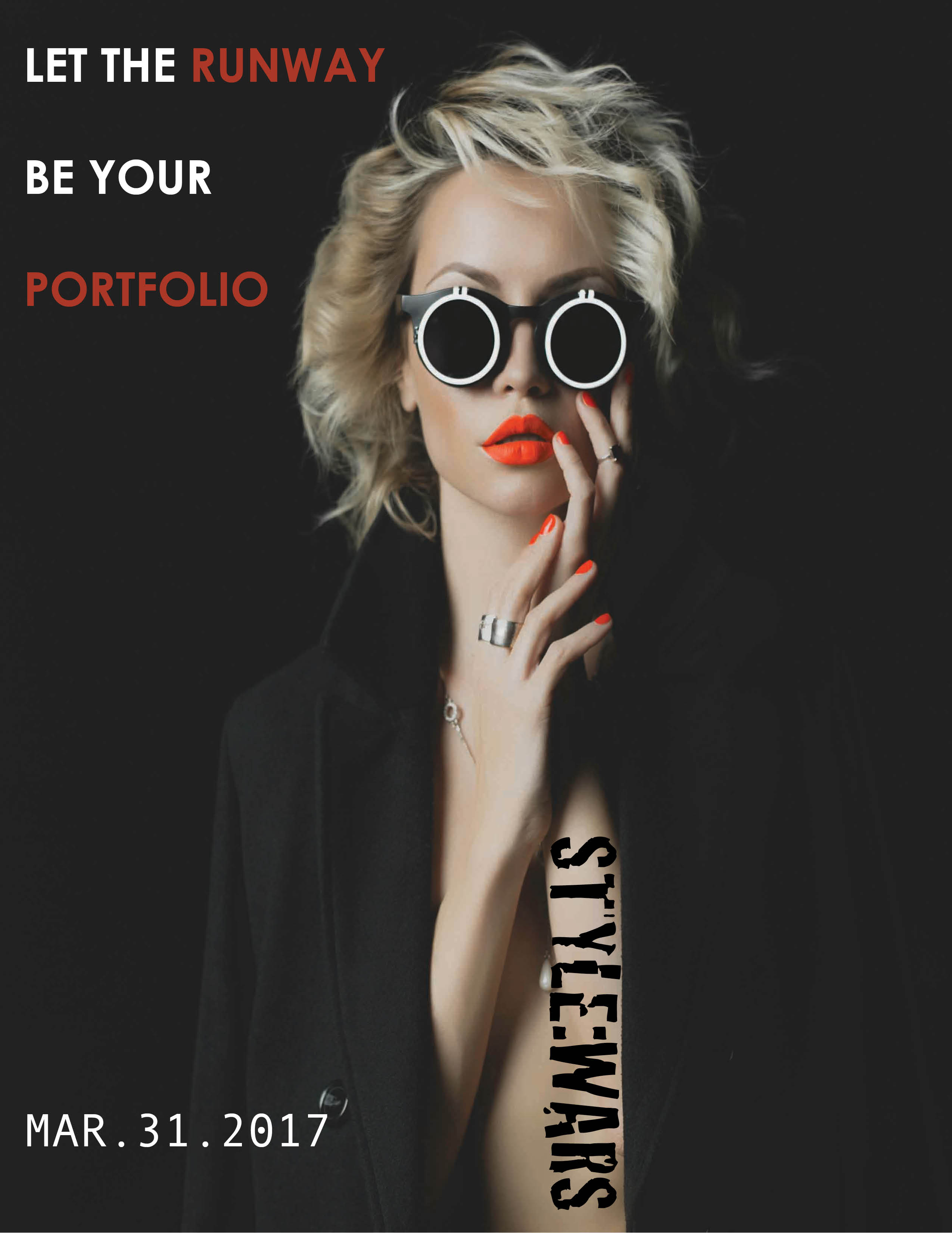 If you're a wardrobe stylist, STYLE:Wars is the perfect platform to show local and industry professionals (PR personnel, store owners, designers and more) your creative capabilities!
The goal of Style:Wars is to showcase the talents of our amazing Chicago stylists. You as the stylist can showcase up to 5 looks and will need to provide your own models and clothing for this event. Professional models are not required. Your models will walk the runway in your selected styles. A panel of judges (industry professionals) will select the best look(s) in which the winning designer will win a prize!! And best of all will win the title of "Stylist of the Year!"
There will be two themes for this competition: Budget on a Dime ($500 or less for each look) and Anything Goes (Skies the limit with styles, budget, etc.) As a stylist, you decide which bracket you prefer and you don't have to be locked in until closer to the event date.
The Fashion Champion who wins STYLE:Wars 2017 will be awarded with multiple prizes including:
$250 GIFTCARD for Online Luxury consignment retailer TheRealReal
Closet Edit Consultation from online Luxury consignment retailer TheRealReal
Photoshoot with Rapidly Emerging Professional Fashion Photographer
A Crystal Award
and more to come!
*Registration fee is non-refundable.
****REGISTRATION FEE WILL INCREASE ON JANUARY 31ST****
FAQs
Logistically, how will this event work?
It's simple. The stylists will present their looks on their chosen models behind the scenes. The models will then be sent out to walk the runway. Upon completion of each stylist's set of looks, they will be judged. At the end of the show, the winner will be revealed. The stylists are to provide their own models and their own looks. The goal of this event is to really feature our local stylists in their best light (whatever you choose that to be).
What if I have a small staff of people to help me (like MUAs and dressers)?
The stylists gets 3 free passes to help; if more than 3 is required they will have to purchase tickets for their additional members.
What if I own a boutique and would like to participate?
We are happy to feature some boutiques in this event, but not in the actual competition segment.
Who is on the judging panel?
There are 3 judges on the panel. The panel of judges include Judy Lockhart of Chanel, Katie Schuppler (a professional stylist) and Elda Rosa (a fashion designer).
When are you holding the event?
The event will be held on March 31, at 7:30pm at The Instituto Cervantes.
Where will this event be held?
The event will be held in the downtown loop at 31 W. Ohio, The Instituto Cervantes.
What is the benefit of participating in this event? What is the event providing the stylist with?
The event is providing the stylist with a platform to present their work. It is like a walking portfolio! Instead of the stylist having to fit the bill of an entire runway show or photo shoot, they can present their styles in front of a large group of industry professionals, extend their portfolio and gain the exposure many local stylists need.
Do you have categories?
Yes, there are two main categories, which gives the stylists range to create themes as he or she pleases. The categories are: Budget on a Dime ($500 budget or Less) and Freelance (which basically means anything goes in regards to designers, budgets, etc.). To be fair, the goal is to have the stylists compete only within their chosen category. For instance if one stylist is styling with all high-fashion goods (i.e., Gucci, Dolce&Gabbana, etc.), they will not be competing against a stylist who uses vintage and or lesser brands (i.e. Forever 21, H&M). If by chance we do not evenly fill each category, the stylists may have to compete regardless of chosen category.
How many looks are you asking stylists to put together?
We are asking each stylist to provide a minimum of 5 looks and a maximum of 8. The models do not have to be professionals. We know how hard it can be to obtain professional models. However if a stylist wishes to use professional models that is fine as well.**
Will the stylists, shops or models that participate get any publicity during the event?
We will have an area at the event for any stylist, boutique or model advertising.
Is the runway geared for only adult female or also adult male?
The runway is geared toward no sex in particular. It is up to the stylist if they choose male or female models or both! Even children can walk the runway if the stylists are working with them.
Who is the audience? Approximately how many people and who are you expecting to be in attendance?
No more than 60-80 people. The goal is to help promote the stylists, we will ensure as many fashion network professionals as possible are in attendance to make that happen.
Is the registration fee refundable?
The fee is non-refundable. We are seeking committed stylists for this event!
Are there any additional fees outside of the $50 registration fee?
There are NO additional fees.
How many stylists will there be for this event?
Stylist count is dependant on how many register for this event. The maximum amount of stylists will be ideally 8-10.
Will the event provide models?
YES! We can help if you cannot find models. While the stylist can choose whom they please to model their selected styles (including family and friends); we have two model agencies that are offering certain models at no charge! Email for details as needed.
Will there be a prize?
The prize is a free photoshoo to continue building the stylists portfolio as well as a crystal "Stylist of the Year" award.
**UPDATE: We now have a model agency sponsoring this event! If you choose to sign up and are in need of models, we can provide AT NO CHARGE!!! Email stylewarschicago@gmail.com for more details about sourcing models!