Description
Style your Spring is a new pop-up event of vintage clothing, handmade hats, and botanical artwork. At a beautiful private loft in Logan Square, we invite you to sip, shop and get ready for Spring.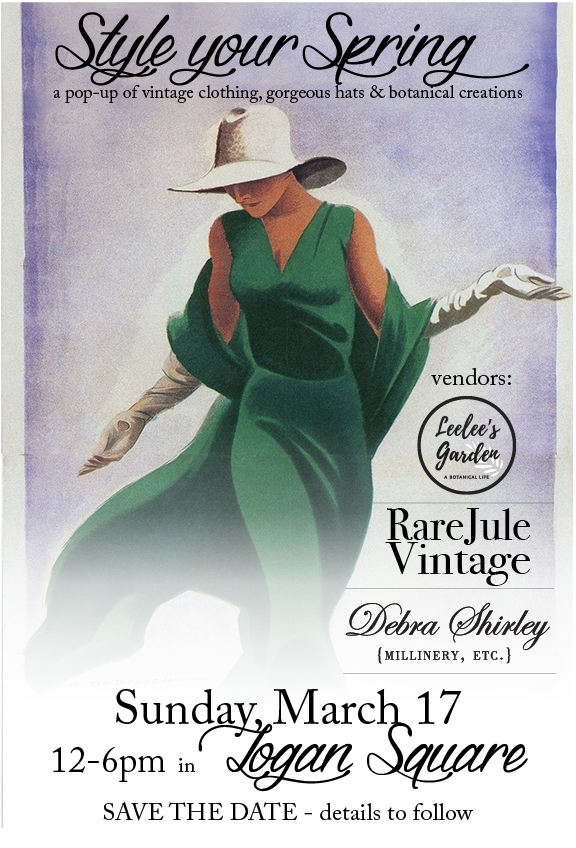 Our Pop-Up Vendors
Julia of RareJule Vintage has been selling vintage women's clothing around the world for nearly a decade online and is excited to create a personal shopping experience for her own community. Expect to find colorful and whimsical frocks, both classic AND funky separates, and plenty of statement accessories.
Debra Shirley will be showing her unique, handmade headwear designs which often utilize vintage and repurposed items. She will have an array of playful Hats, Kentucky Derby Fascinators and Headpieces available for purchase.
Leelee of Leelee's Garden, a botanical artist and floral designer, will host a pop-up bouquet and terrarium bar. With Leelee's help, make and take your vintage-flair floral bouquet or gemstone and air plant terrarium. She'll also have air plants, handmade wildflower necklaces and her unique vertical gardens, so you can go home with green this St. Patrick's Day!
Learn more about our vendors:
RareJule Vintage: https://www.etsy.com/shop/RareJuleVintage.
Debra Shirley: www.millineryetc.com
Leelee's Garden: www.leeleesgarden.com
Or Get Social! : @LeeleesGarden @rarejulevintage_ & @debrashirley111
Tickets
Admission to Style Your Spring is Complimentary.
Please RSVP by reserving a free ticket, so we can make sure we have plenty of refreshments on hand.
Bouquet & Terrarium Bar
Join Leelee at the Bouquet and Terrarium Bar! Be sure to sign up ahead to reserve your spot.
Make a Vintage Flair Floral Bouquet - With help from a floral designer, choose your favorite spring flowers and greens to create your own small bouquet. Then pick from a mix of fabric and ribbon to finish off your mini project with a vintage twist. $25 + processing
Make a Gemstone and Air Plant Terrarium Garden - Pick from a wide selection of sand, air plants, "toppings" like moss and pebbles, and crystals to create your own terrarium. We'll have meanings on hand, so you can make it a themed garden! Small 4": $16 + processing |. Medium 6+: $32 + processing

Our Venue and Goodies!
We are hosting our pop-up in a beautiful Logan Square loft owned by Chicago businesswoman (and vintage fashion enthusiast!), Rachel Cherny. We'll have on hand snacks and drinks to enjoy as you shop.
Come support Chicago women owned businesses and get inspired for a Spring of style!
Have a question? Just reach out to Leelee@leeleesgarden.com