Line Up Announced - A GLOBAL VIRTUAL RUNWAY EXPERIENCE + Red Carpet
About this Event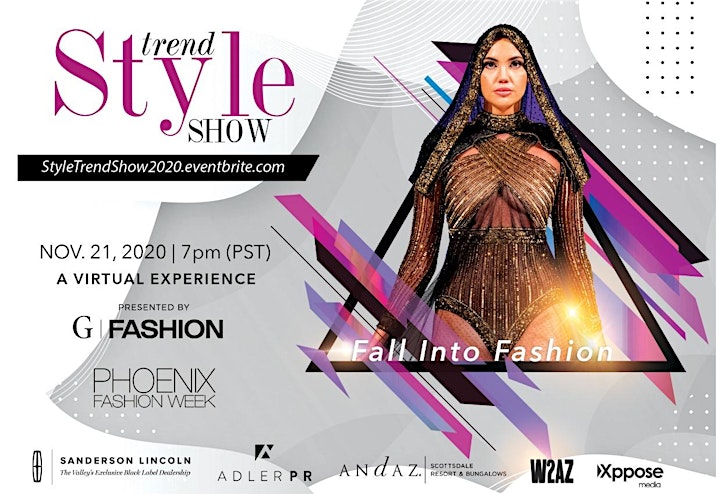 -------------------------------------
NOVEMBER 21st - BOOK YOUR VIP WATCH PARTY WITH YOUR CLOSE FRIENDS
THE STYLE TREND SHOW: Presented by G|Fashion
Who are the brands that will be showcased at this season's Fall Into Fashion, Style Trend Show?
Rocky Gathercole - Philippines (Best known for dressing Tyra Banks for Dancing With the Stars & America's Next Top Model)
Yas Couture - Lebanon (Best known for dressing Carrie Underwood multiple years, from CMAs to the Grammys)
Dany Mizrachi - Israel (Best Known for dressing Israel's Royal Family in Couture)
Dolcessa Swimwear - Las Vegas (Best known for multiple years of the Sports Illustrated Swim Issue)
Elevee Lifestyle - Los Angeles (Best known for dressing top athletes Larry Fitzgerald and Archie Bradley)
Orlando Dugi - Santa Fe New Mexico - (Top Rated Native American Couture designer)
Christine Adar - Chicago - (Top Rated Red Carpet Designer)
Resty The Couture Prince - Kuwait - (Top Rated Couture Designer)
This is your ticket to (8) high fashion shows + Top Models from the comfort of your home. Including fashionable giveaways, voting challenges, LIVE digital meet & greets, behind the scenes story lines, digital Pop-Up shopping and we are just getting started! Your ticket will also include our Digital Swag Bag full of fashionable goodies, savings, and fun! Grab your ticket today!
A Full Day of Fashionable Programming:
Beginning with a Fashionably FIT Sunrise Yoga Summit with Vikara Events from the Rooftop!
Over 10 Fashion x Business Summits on Instagram LIVE with Top Experts (FREE)
Virtual Red Carpets with Special Guests
Fashion Forward Watch Parties
Multiple Continents + Unique Runways, Prominent Landmarks & Landscapes:
Beauty Brands: Velocity Style Bar & AZ Royalty Salon
Powered by: @GFashion @sandersonlincoln @adlerpublicrelations @welcometoarizona @fashionrewired
Grab your tickets today!
GROUPS: BOOK your fashionable watch party and virtual red carpet with us today --> (VIP@phoenixfashionweek.com)
Share this event on Facebook and Twitter.
DON'T MISS THIS!
COVID-19 Practices: It's always fashionable to stay healthy.  Our team will first and foremost follow ALL CDC and Arizona health guidelines. Including team social distancing, required facemasks, proper hand sanitizer and soap and water for hand washing.  We have spent considerable time to create a safe and consistent system to effectively produce a virtual fashion show that will include NOT HAVING a traditional hair and make-up room backstage.
RUNWAY: Runway models will be socially distanced on the runway. We know that with the current pandemic we are motivated to still practice proper safe health measures, while pushing our industry fashion forward.
COLLABORATIONS: As always, the Phoenix Fashion Week team welcomes any and all fashionistas to join our project.  We have some great ideas that we want to share with creatives of all backgrounds and experience levels that simply want to CREATE & SHARE while embracing change.  
Connect with us! info@phoenixfashionweek.com
----------------------------------------------------------------------------------
Produced By:
FAQs
TIMELINE: 7:00pm pst - (8) Runway Fashion Shows 
PRIVATE URL LINK: All ticket holders will receive a dedicated URL link to watch the Runway Shows virtually via smart TV, Laptop, Desktop, or Mobile Phone
WHEN: Your URL Link will be sent via email on Sat. Nov. 21st (6:50pm pst) to the email address used to purchase your tickets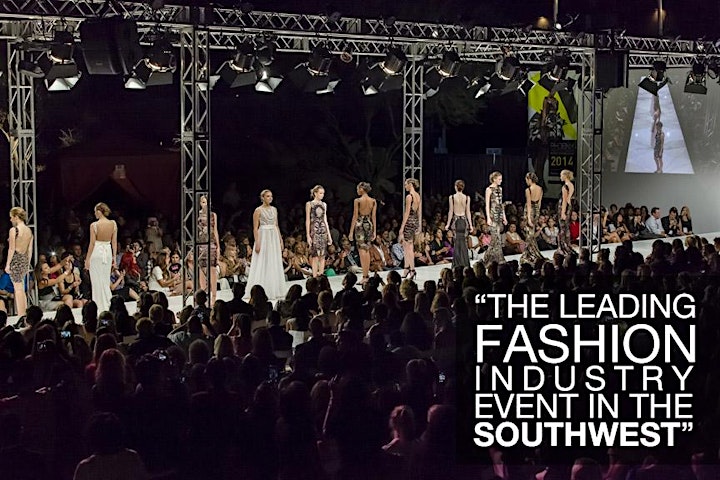 Date and Time
Location
Refund Policy