Get Your Digital Pass - A GLOBAL VIRTUAL RUNWAY EXPERIENCE
About this Event
12.01.20 - THE STYLE TREND SHOW (7pm MST)
Presented by: G|Fashion
50% OFF CYBER MONDAY - A FASHION MOVIE SALE! Use Code--> "CyberMonday" & Save!
The New Entertainment Option - A FASHION FORWARD MOVIE - With family and close friends from the comfort of your own home, GLOBALLY! - Get the Digital Pass!
Testimonials: "My girlfriend and I watched the #StyleTrendShow from home and it was SO AWESOME! Well done and kudos to you and the whole team!" -@iamsidneyriley, Musical Artist
"I watched the #StyleTrendShow and it was really good! I loved it a lot. My FAVS were @DanyMizrachi, @OrlandoDugi and the finale by @RockyGathercole." -@LaurenBander, Fashion Designer
"I have played the Style Trend Challenge game obsessively! It definitely puts your style taste to the test with like-minded fashionistas.; it's addicting! A great way to pass the time while interacting." -@NiyaDeGroat, Director of Multimedia
Your Fashion Movie Plan:
Secure Your Digital Pass Today & Get comfortable at home to watch!
Share this link with your fashion family, friends, followers and associates globally!
Discover a new designer for your collection!
Have a healthy debate about your favorite runway look!
(Enter to Win $300 ) by playing our * New Style Trend Challenge game on your mobile phone by simply swiping your favorite looks from our runway shows! VOTE Here --> Style Trend Challenge
Rinse & Repeat + Enjoy!
Beauty Brands: Velocity Style Bar & AZ Royalty Salon
---------------
---------------
Who are the brands that will be showcased at this season's Fall Into Fashion, Style Trend Show?
FINALE by - Rocky Gathercole - Philippines (Best known for dressing Tyra Banks for Dancing With the Stars & America's Next Top Models)
Dany Mizrachi - Israel (Best known for dressing Israel's Royal Family in Couture)
Dolcessa Swimwear - Las Vegas (Best known for multiple years in the Sports Illustrated Swim Issue)
Elevee Lifestyle - Los Angeles (Best known for dressing top athletes Larry Fitzgerald and Archie Bradley)
Orlando Dugi - Santa Fe New Mexico - (Top Rated Native American Couture designer)
Christine Adar - Chicago - (Top Rated Red Carpet Designer)
-Featuring: Phoenix Fashion Week TOP Models & The JENZI Dancers - Unique Runway Locations
Presented by: G|Fashion
Powered by: @sandersonlincoln @adlerpublicrelations @welcometoarizona @fashionrewired @XpposeMedia @VolantiSottsdale @GoldenMargaritaAZ @VisitTucson
Grab your DIGITAL PASS today!
FAQs
TIMELINE: 7:00pm MST - (6) Runway Fashion Shows  + (1) Presenting Brand
PRIVATE URL LINK: All ticket holders will receive a dedicated URL link to watch the Runway Shows virtually via smart TV, Laptop, Desktop, or Mobile Phone
WHEN: Your URL Link will be sent via email at 6:50pm (MST) to the email address used to purchase your tickets
---------------
---------------
Share this event on Facebook and Twitter.
DON'T MISS THIS!
Cheers, Phoenix Fashion Week
Share this event on Facebook and Twitter.
DON'T MISS THIS!
Connect with us! info@phoenixfashionweek.com
----------------------------------------------------------------------------------
Produced By:
FAQs
TIMELINE: 7:00pm MST - (6) Runway Fashion Shows  + (1) Presenting Brand
PRIVATE URL LINK: All ticket holders will receive a dedicated URL link to watch the Runway Shows virtually via smart TV, Laptop, Desktop, or Mobile Phone
WHEN: Your URL Link will be sent via email at 6:50pm (MST) to the email address used to purchase your tickets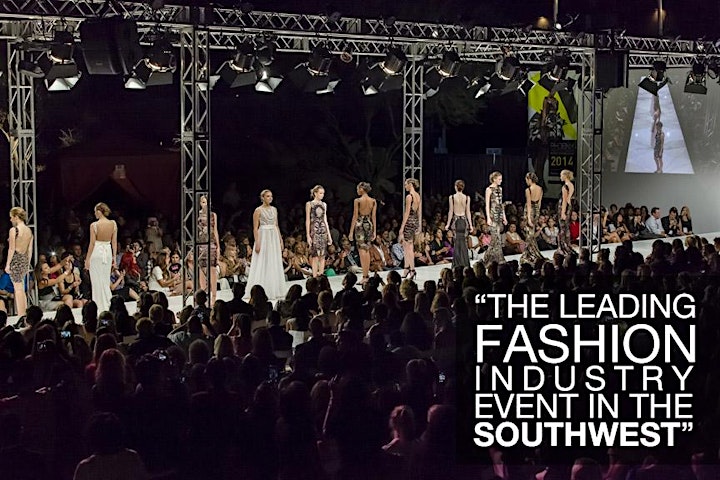 Date and Time
Location
Refund Policy