Description
Kicking off the Uptown Innovation District, our largest event of the year will bring together a wide ranging audience to look at sustainability within the city. Modern Makers has partnered with Urban Blooms, who build green walls out of living plants, to throw the most sustainable and collaborative fashion experience Cincinnati has ever seen! We welcome you to explore, network, shop, eat and dance in our 100,000 sq ft industrial space-- showcasing a catwalk made out of moss, a skate park, vendor tables, food trucks and living walls!

---
Master of Ceremonies PAM KRAVETZ

Designers| Jen Choto | Sidney Cherie | Yuka Ejima | Liz Hardy | Ashley Shartle | Anastasiya Yatsuk |Hark + Hark
R.J Luna | Calle Evans | Kat Bishop | Tessa Clark | Shannon Yoho | Arin Moyer | Kaley Madden
Chelsea Cutrell | Catherine Richards | Samantha Krukowski | Anissa Pulcheron (TEAM + Erika Frondorf)
Blake Banks | Sariya Babanova | India DeMaio | Shelby Nungester | Suniti Nelson | Aaron Broughton
Peter Bonn (TEAM WITH Grant Wilson +Jordyn Wade)
Artists | CM Turner + Casey James Wilson | Rick Wolhoy |Rives Rash| Shaheen Miro
Vendors | FRAMERI | TAFT ALE HOUSE | Salix | hark+hark | Gomez | Charnee's Donuts
Calle Evans | Grind and Glaze | Proper Gnar | Julie Clark Pottery | Icon solar | Unbelievable Skincare
Elegance By CC | Libby | Rives Rash | Amanda Bialk | Mija's Malas | Jessica Murray | Beth Kalinsky
Rock Salt Vintage | John Bucher | Joi & Floyd | Suzy & Brittney | continuum | Sariya Babanova
Philippe Haas Showroom | Mercedes Benz
Photography | Michael Lacey | Krystalyn Hackett
HMUA | Christine Harten | Industry Salon
Stylist | Anastasia Hagerstrom
with generous support from Uptown Consortium + ArtsWave + TAFT'S ALE HOUSE
DIRECTIONS:
Our warehouse space is at the corner of MLK and Reading Road at the south east corner right next to I 71. The area is under construction right now (big things are happening!) so please follow our directions as GPS can lead you astray. We will have signs along the road.
Headed south on 71, exit at Taft and turn right onto Reading Road, then right onto Lincoln before MLK. Take the first left turn onto Concordia. Pull into the parking lot on your right and head to the back entrance for ticketing.
From MLK turn to head south onto Reading Road, take the first left onto Lincoln, then first left onto Concordia. Pull into the parking lot on your right and head to the back entrance for ticketing.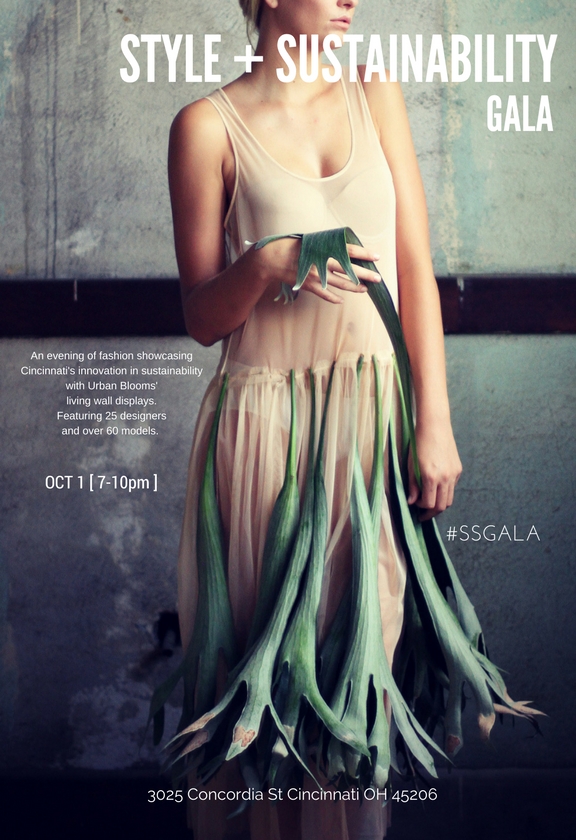 #ssgala2016 #urbanblooms #modernmakers #styleandsustainability