Description
OPEN BAR DISCOUNT TICKETS - GILT CITY DC

FREE ADMISSION TICKETS - FIRST 100 GUESTS ONLY

EXCLUSIVE ON EVENTBRITE ONLY!!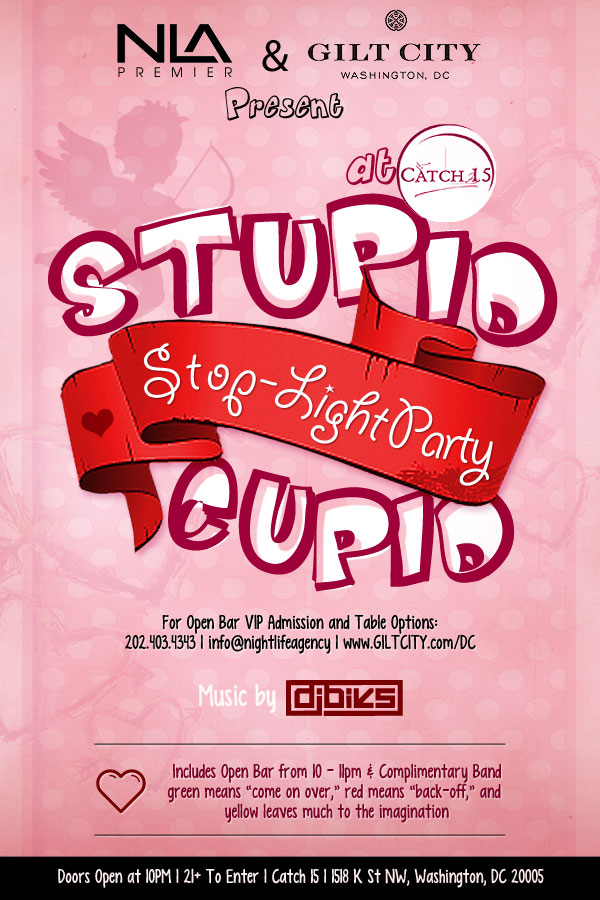 Being single doesn't mean you are forbidden to have fun on Valentine's Day. Step into the crowd and mingle, meet new beautiful people and put the fun back into your Valentine's Day! Join us for our Annual Stoplight Stupid Cupid Party at the brand new and must-see Catch 15 on 'D Day', February 14th.
Hosted by NLA and showcased on Gilt City, Stoplight Stupid Cupid Party entitles guests to an hour of open bar along with complimentary Glow Bands to represent your status, so whether you are coming in with a date, with a group of 21 over single friends or just by yourself, the night holds a myriad of possibilities!
Pencil in the date on your calendar and make sure you don't miss NLA's Stoplight Party–a night where green means "come on over," red means "back-off," and yellow leaves much to the imagination. Full dinner menu will also be made available during the event.
Everyone is welcome! Yes, even the press. For interested media outlets, you may email
media@nightlifeagency.com
for inquiries on how you can get Press VIP passes.
Tickets will be available on
Gilt City Tickets Include
- 1 Hour Open Bar
- Complimentary Glow Band to Relieve your Status
- Access for Party Between 10pm until 3am
FREE Tickets Include
(Does not Include Open Bar)
- Entitles Complimentary Admission From 11PM - 12AM
Music by Jay Sean's DJ BIKS
Catch 15
1518 K Street, NW | Washington, DC 20005
Information Line: 202.403.4343