Description
Do you want to tap into the 97% of the market which has lesser competition?
Do you want to get to your customers before your competitors do?
Do you want to stay ahead of the game and become your customers' first choice?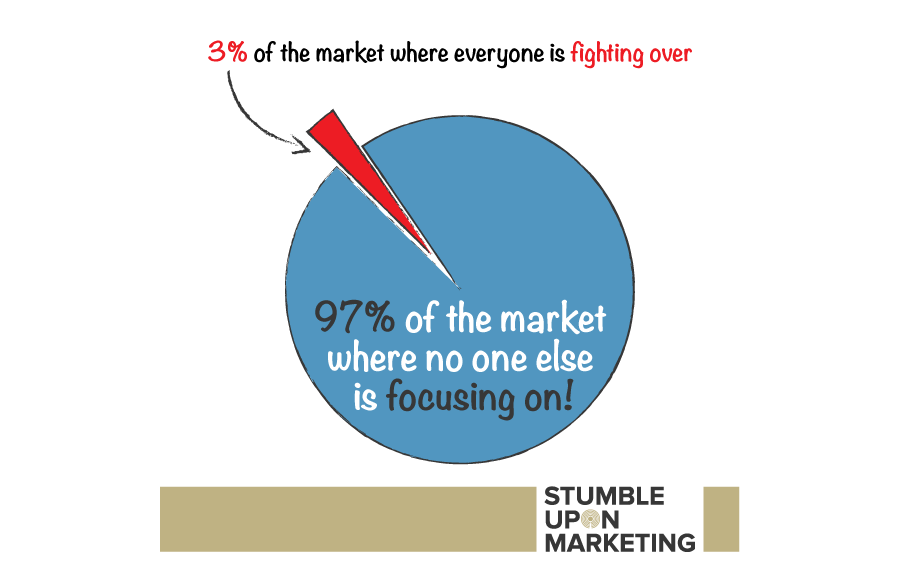 Enter: STUMBLE UPON MARKETING - Your Game Plan to Hijack the Market, Inject Buying Intentions & Direct Sales Into Your Pocket.
You see, most of the time businesses are just focused on selling to the 3% of the market who are ready to buy. Sure, this small slice of the market are customers who are ready to buy what you're offering, but problem is, every other competitor is going for that slice too! That's where price wars break out, and the players start fighting over customers with cheap shots and tricky moves.
With STUMBLE UPON MARKETING, you will have the mindset, skillset and toolset to shift your focus to the 97% - the underserved market that your competitors are ignoring. You will learn how to capture the attention of this huge market slice, be the first brand to pop in their minds, and win the sales before your competitors even know what's going on!
WORKSHOP BENEFITS
Engineer touchpoint and business opportunities to capture your market before your competitors
Understand the difference between intentional and accidental buying behaviors and how to use them to your favor
Learn how to market to 97% of the customers that your competitors are ignoring
Explore different platforms and channels to expand your business reach
Utilize the Demand Generation Pyramid to create different stages of content hooks to reel in your prospects
Uncover the secret to impactful content marketing with the 7-Step Content Creation Checklist
Deploy effective distribution campaigns to reach the right target markets
Create outreach strategies to boost four areas of your brand - Visibility, Awareness, Stickiness and Engagement
Dominate your niche, Amplify your authority and Grow your business in 2019
WHO SHOULD ATTEND THIS WORKSHOP?
Entrepreneurs
Business Owners - Solo, Micro and Small
Startup Founders
Freelancers
Trainers, Speakers, Coaches and Consultants
Marketing Professionals
Sales Professionals
Anyone who wants to start selling to the 97% of their untapped market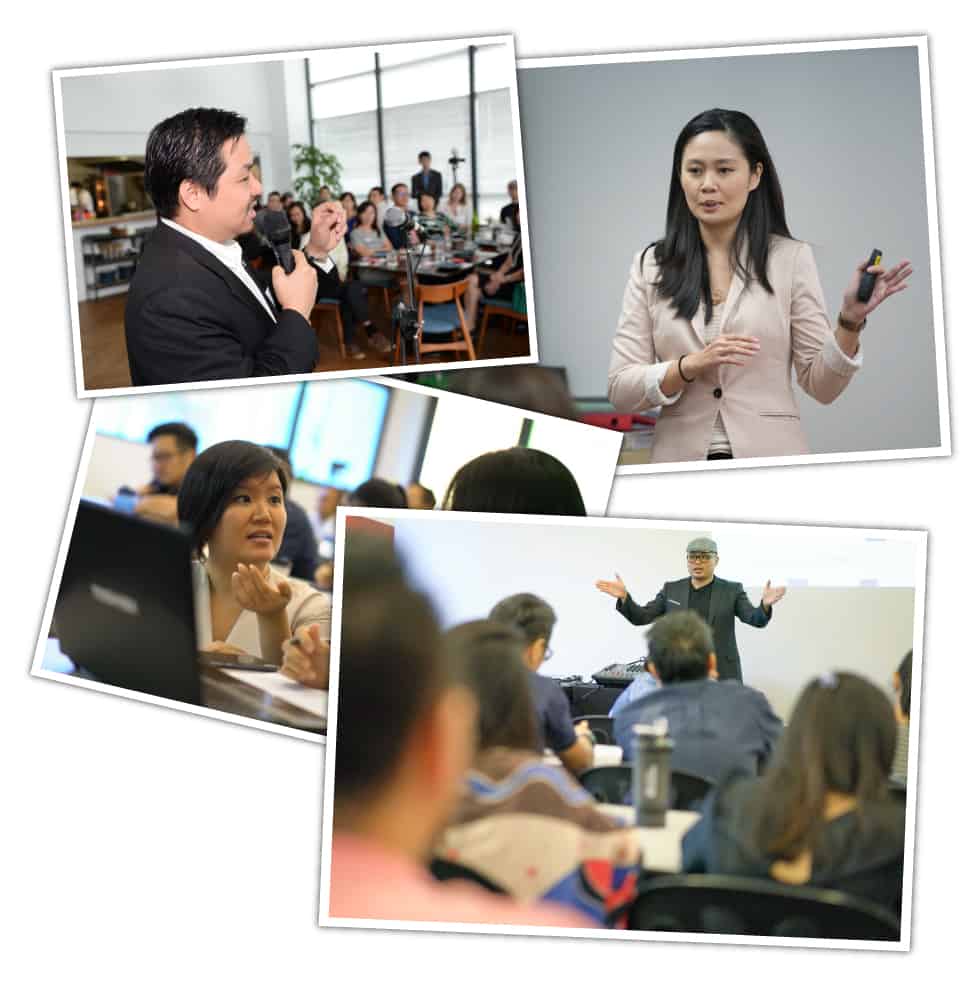 WORKSHOP CONTENT
0900 | REGISTRATION
0930 | FUNDAMENTALS, FOUNDATIONS & FRAMEWORKS

Foundation Mindset
The Tetrad of Modern Marketing
The Authority Formula
Authority Amplifier Framework
5-Stage Marketing Funnel
Stumble Upon Marketing
- The Premise (Intentional vs Anticipation)
- The Opportunity
- The Execution
M.A.P. - The 3-Step Game Plan
1000 | DEMAND GENERATION PYRAMID
Why most businesses will never gain 97% of the market share
Tactical Sales > Strategic Marketing
The 97% Mindset for Market Dominance
1030 | MAP YOUR CUSTOMER DISCOVERY JOURNEY

Customer Journey
Customer Identification
Demographics
Psychographics
TouchPoint Identification
Offline & Online Platforms
Activity: Psychographic & Platform Mapping
Activity: Getting Insights of Your Audience
1100 | MORNING TEA BREAK & NETWORKING
1115 | ASSEMBLE YOUR MAGNETIC CONTENT

Content Mapping from Customer Avatar
Creation vs. Curation
The 7E Content Creation Checklist (Give Examples of each)
The Reverse Google Method
Content Format (based on content channels)
Activity: Content Mapping Using Demand Generation
1145 | POSITION YOUR CONTENT STRATEGICALLY

Targeted Content Distribution
Boosting Your Brand V.A.S.E.
Visibility - Visibility Amplifiers
Awareness - Brand Connection
Stickiness - Retargeting & Remarketing
Engagement - Conversation starters
The Battle between Frequency & Variety
Activity: SUM Action Plan
1230 | 4 CONTENT GAPS
1245 | HIGH-PROFIT MARKETING

The Only 4 Ways to Increase Your Profits
1300 | WRAP UP & Q&A
LEAD FACILITATOR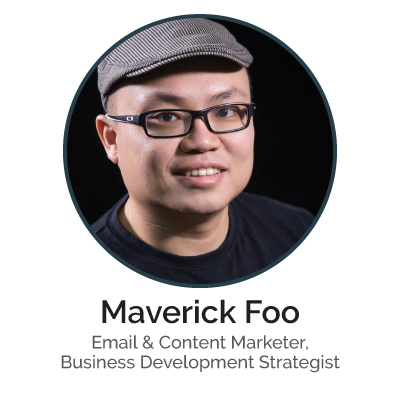 Hi, I'm Maverick, and over the past 15 years, I've been involved in marketing, especially for B2B & high-ticket B2C items. I've worked with and marketed high profile individuals like America's Premier Leadership Authority, Dr. John Maxwell, Renowned Marketing Professor Dr. Philip Kotler, World's #1 Small Business Guru Michael Gerber, International Business Coach Brad Sugars, The Trainer's Trainer Bob Pike, The Man Who Would Not Be Defeated, W Mitchell and more.
I've also worked with local and regional trainers like Richard La Faber and Dr. Billy Kueek, helping them boost their brand in their target markets and establish their authority in their space.
On top of that, I've also the privilege to work with MNCs and local SMEs in the areas of marketing and talent development.
Combining my years of marketing across different channels (print ads, email, content, social media and events), together with my profound interest in applied-marketing technologies, I'll let you map out your marketing funnel that is practical for you, something you can act on immediately. And I'll be using a few frameworks and templates, because it speeds up the learning, and you can have immediate clarity on the big picture.
Looking forward to work with you and your team at the workshop.

FAQ:

Q: Seems like a lot to cover in half day. Is there an extended version of this program?
A: Truth is, you might be surprised what can be covered in the 3 hours session. There will be one key concept, followed by a few tools, frameworks and resources to put it into action. We do have an extended program, but as it's more loaded with high-profit marketing models, it will span over two days.
Q: Am I gonna walk out with a strategic framework that I can use immediately?
A: Yup, that's the idea. Of course, you will need to refine it after testing a bit here and there, but I dare say it's at least 80% complete. You will also have the building blocks and templates necessary to apply the concept to future products and services.
Q: Will you be giving out any notes or slides?
A: Yes, there will be a slide download for sure, and we'll print some worksheets and templates for you to use during the session. You'll have the PDF copies of those worksheets so you can use them again.
Q: Hmph, I kinda like the way you guys wrote this copy. Do you provide copywriting services?
A: Hey, thanks for the compliment. Yeah, we do. Let's talk more at mav@authority.institute.