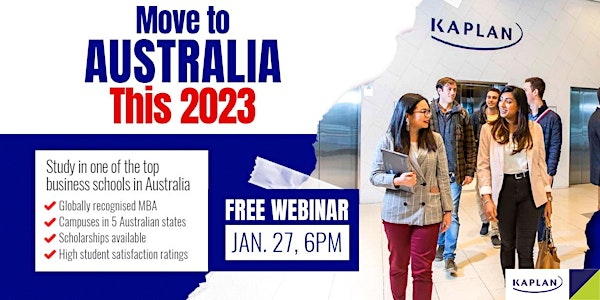 Study, Work, Succeed in Australia! Your future starts in this Free Webinar!
Find out how we can help you move to Australia this 2023!
About this event
Work-full time while you study at one of the top business schools in Australia!
Study and graduate with an Australian degree which is recognized worldwide. Scholarships available for Filipinos! 🇵🇭🎓
Join our FREE webinar via Zoom this January 27, Friday, at 6pm to know the process and eligibility.
Why study at Kaplan Business School? 🇦🇺
✷ Globally recognized MBA
✷ Campuses in 5 Australian states
✷ Scholarships Available
✷ High student satisfaction ratings
Save your spot and register now to attend for free!
Now is your great chance to study and work in Australia! We provide free consultation and assessment, school application, and visa processing (with a 95% visa approval rate).
There will be a live Q&A after the webinar too, where you can ask questions about studying & living abroad from our experienced education counsellors. 👨‍💼
See you there! 🙂 #StudyAbroad #FortrustPH #Australia