Description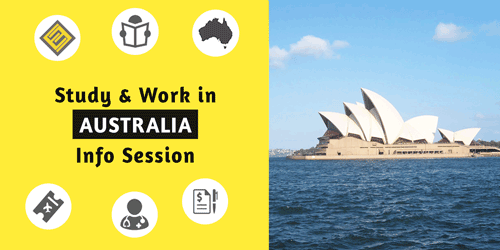 Study and Work in Australia is not as difficult as you think!
This Education Session is dedicated to student who has not decided what courses to pursue in university and wanted to take a gap year to travel, stud or work in Australia for the time being. There are many vocational short courses available in Australia where the student can sign up, the course length from 10 weeks up to 3 years. At this event, student can discuss their options with the alumnus and representatives from prestigious Australian universities at this event, free of charge. The event is located in the heart of Petaling Jaya in Selangor (Search "Excel Education" on Google Maps or Waze). Come and meet with us to get yourself a personalised consultation on living, program options, scholarship assessment and Job hunting tips in Australia.


About Us (Excel Education)
Partner with over 200 leading universities and institutions in Australia, Malaysia and New Zealand. We give recommendations to school-leavers and young adults seeking advice to further education aboard. Our headquarter is based in Sydney, Australia and two branches located in Malaysia and China.
EVENT DETAILS
Location: 32M Jalan SS25/22, Petaling Jaya, Selangor, Malaysia (Waze Map:https://waze.to/lr/hw281xyek7)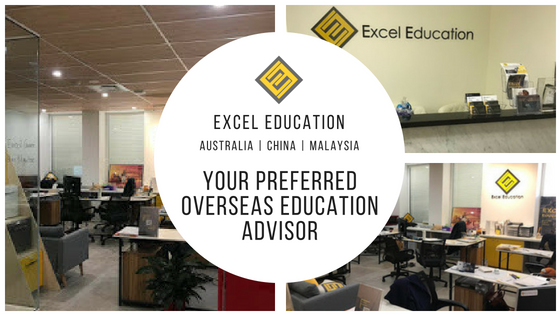 For more events like this, join the Excel Education community on Facebook
Need help with your uni application? Connect with us here
Frequently Asked Questions
What can I learn from this event?
The E2 Education Session is a great event to learn about the opportunities offered by some of the top Universities overseas. You will find a wide range of majors to choose from and learn about the steps you need to take to study abroad
How can I get a Scholarship?
Most of the Universities offer merit-based scholarships to cover a percentage of the annual fees, but we do not have full scholarships at the event. The participating Universities will be happy to talk to you about their merit-based scholarship programs for international students. To verify your eligibility, we encourage you to bring copies of your report cards, IELTS scores or any other relevant documents to the event. To learn more about how you could get a merit-based scholarship, please come to the fair and speak with the admissions officers directly.
What do I need to bring?
Students are not required to bring any documents to the Education Session. However, if you bring your SAT/ACT, TOEFL or IELTS scores and your high school transcripts, Our counsellors will give you a better idea of your eligibility for admission and merit-based scholarships. Whether these documents are available or not, you should not miss the opportunity to learn about the Universities and the steps you need to take to be admitted.

Can my parents come? If I have one ticket, will I need extra ones for my parents?
Parents are always welcome to come and meet with the University representatives. All prospective students need an individual ticket to participate, but parents who are not interested in studying abroad do not need one.

Is there a dress code?
We do not require any dress code. You are free to come as you like.
Organizer of Study & Work in Australia Information Session
Excel Education - E2 has been the preferred international university placement agency since 2015, we consult and you decide. Our services are free of charge. We take pride in assisting students to make their career dreams come true by placing them into the right course and institution in Australia, the United Kingdom, Canada and Malaysia, with Australia as our primary focus.
Headquartered in Australia, we have been providing personalized study solutions to students following their educational aspirations. Our dynamic team of Educational Consultants are equipped with solutions that are tried and tested to provide you with impartial insights on courses and universities.
Career profiling assessments, which helps to identify unique strengths, interests and traits to provide a clearer picture of the student's potential career pathway, are also available to our students for free. As partners in global education, we see it as our privilege to create a hassle-free road for you.
"Exclusive Service, Exceptional You." - Excel Education
Contact us for information about courses, institution, fees, scholarship and student visa assistance. All of our services are Free of Charge (FOC) and we look forward to assisting you in making the right decision in life!
Contact Excel Education:
Website: www.e2studysolution.com
WhatsApp: +60182414802
Facebook: Excel Education-E2
Instagram: @exceleducation.e2
LinkedIn: Excel Education -E2
YouTube: Excel Education_E2
Twitter: _ExcelEducation