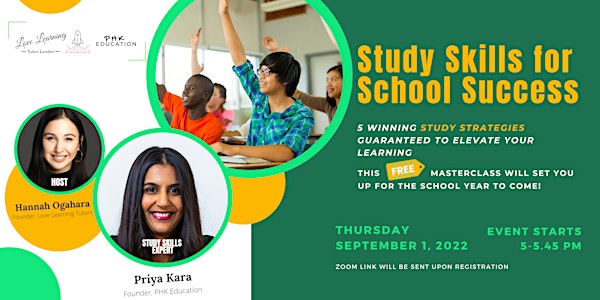 Study Skills for School Success
5 Winning Study Strategies Guaranteed to Elevate your Learning for the Start of your School year.
About this event
Love Learning Tutors are proud to present our first collaboration masterclass with PHK Education. We will uncover proven strategies to get students into good study habits help them excel in the coming school year. This FREE masterclass is not to be missed by any student aged 10-18 and their parents.
Do any of the following lines sound familiar to you from your child:
1) "I have a poor memory when it comes to revising for my exams."
2) "These homework tasks take too long."
3) "I feel nervous about starting the new year at school."
Starting the new academic year can swing a wealth of feelings, especially if your child is starting a new school or an important exam year at school.
To help build your child's confidence and ease them into their academic year with the right study habits, sign up for a free 45-minute masterclass; Study Skills for School Success. This masterclass shares 5 winning study strategies that are guaranteed to elevate learning for your child's school year.
This masterclass, led by Priya, a former teacher and school leader for over a decade turned study skills expert and online course creator, supports students on how best to learn and study so that they can reach their academic goals with greater ease and confidence. Through the masterclass, Priya shares 5 study strategies, an opportunity for a Q and A at the end and also a free download to help your child continue with their study success.
If that were not enough, masterclass attendees would have access to a back-to-school strategy checklist, a discount on Priya's study skills course + a complimentary study planner, a free tutor matching consultation, a £20 discount on a trial lesson with Love Learning Tutors.
See you there!