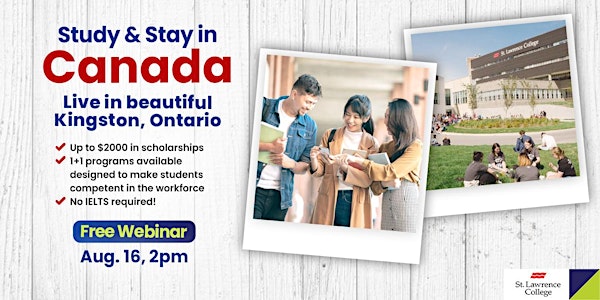 Study & Settle in Ontario, Canada with a $2,000 Scholarship (Aug 16, 2pm)
Join the 430,000 new residents Canada is aiming to welcome in 2023!
About this event
Study, work, and migrate to beautiful Kingston in Ontario, Canada! 🇨🇦
Get up to $2,000 in scholarships when you apply through Fortrust!
St. Lawrence College offers:
✸ 1+1 postgraduate programs eligible for PGWP and OINP
✸ Waived IELTS for all programs
✸ Waived school application fee
Join our FREE webinar on Tuesday, August 16 at 2pm to know how!
🎟 Limited spots only. Register now to attend.
SLC has programs in Digital Marketing, Project Management, UX design, Supply Chain Management, International Business, and more!
Why move to Ontario, Canada?
🎓 Ontario's labour market for students is very healthy
💸 Has the lowest income tax rates in all of Canada!
🌏 Its capital – Toronto – has been called the most multicultural city in the world
🚣‍♀️ It is home to the 5 Great Lakes – the biggest continuous body of fresh water in the world
Make your move abroad with Fortrust!
With our 95% average student visa approval rate, you're in good hands! 💯
See you! 🙂 #FortrustPH