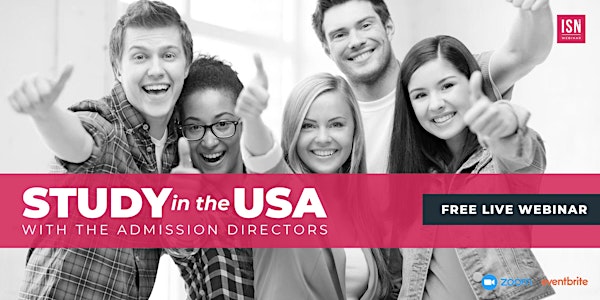 Study in the USA Webinar for South Asia
U.S. universities are looking for international students like you! Join the webinar to learn all about their institution and how to enroll.
About this event
STUDY IN THE USA WEBINAR
Ever considered pursuing higher education in the US? Join us for our Live Webinar and connect with Admissions Directors from leading Universities in the US. Our presenters are ready and will be on hand to tell interested students about studying at and applying to their institution. They will discuss details on the admissions process, merit-based scholarships, and other requirements for enrollment. They will also talk about work-and-study opportunities through STEM Programs and even career opportunities after you have completed your selected course/program.
The webinar also has a Q&A session so you have the chance to ask further questions and get answers right away.
This ONLINE EVENT will definitely help you discover what educational program in the US is best suited for you so don't miss out on this amazing opportunity!
When: Thursday, January 26, 2023 (9:30 AM - 10:30 AM EST)
Local Time:
Pakistan: 7:30PM - 8:30PM (GMT+5)
India: 8:00PM - 9:00PM (GMT+5:30)
Nepal: 8:15PM - 9:15PM (GMT+5:45)
Bangladesh: 8:30PM - 9:30PM (GMT+6)
Cost: FREE
Presented by:
Snow College
Illinois Institute of Technology
For Whom: Students who would be pursuing their undergraduate/graduate degrees. Parents are also welcome to join the Webinar.
Agenda: 60 minutes overall webinar time. 30 minutes Presentation to be followed by a 30 minutes Q&A session.
This event will be conducted via Zoom. The link to access will be emailed after registration.