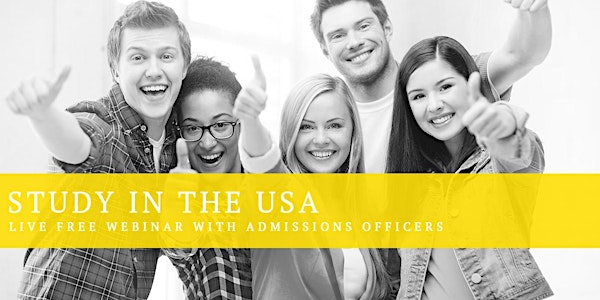 Study in the USA Webinar for Gulf and Turkey
U.S. universities are looking for international students like you! Join the webinar to learn all about their institution and how to enroll.
About this event
STUDY IN THE USA WEBINAR
Join us for our live webinar about Studying in the USA! At the webinar, you will learn about the requirements, time needed to complete your degree, most common admission requirements, merit-based scholarships and more. We will also talk about Internships and OPT possibilities, plus career opportunities after finishing the program/course.
When: Tuesday, July 21, 2020 | Online Event | 12:00 pm - 1:00 pm EST
7:00 pm local time in Kuwait , Bahrain and Turkey
8:00 pm local time in Oman and UAE
Presenters:
Allison Blizzard, Director, Office of International Student Services at Portland Community College
William A. Velez, Assistant Director International Recruitment & Admissions, DSO at Chemeketa Community College
Cost: FREE
For Whom: Students pursuing their undergraduate/graduate degrees and parents
Agenda: 30 minute Presentation Followed by a 30 minute Q&A Session on Zoom, the link to access will be emailed after registration.