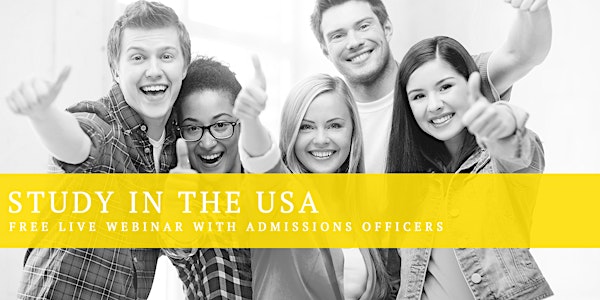 Study in the USA Webinar for East Asia
U.S. universities are looking for international students like you! Join the webinar to learn all about their institution and how to enroll.
About this event
STUDY IN THE USA WEBINAR
Join us for our live webinar about Studying in the USA! At the webinar, you will learn about the requirements, time needed to complete your degree, most common admission requirements, merit-based scholarships and more. We will also talk about Internships and OPT possibilities, plus career opportunities after finishing the program/course.
When: Thursday, August 27 | Online Event | 10:00 am – 11: 00 am EST
9:00 pm Vietnam, Thailand and Indonesia
10:00 pm Malaysia
11:00 pm Japan and South Korea
Cost: FREE
For Whom: Students pursuing their undergraduate/graduate degrees and parents
Agenda: 30 minute presentation followed by a 30 minute Q&A session on zoom. The link to access will be emailed after registration.