Learn how you can UPGRADE Your CAREER with top-rated courses at University of Bradford
About this event
Everyone Deserves the Best Education
🎯 Are you planning to study in the UK? Or want to secure you admission at University of Bradford?
💥 Join our live webinar and ask your questions to our guest speaker, Mr. Ismat Abu Shihab, Director of Regional Hub Dubai at the University of Bradford.
Book your seat: Click Here to Book Now
Topics of the session
Introduction about the University
Available degrees, courses and faculties
Discuss the campus, University facilities, locations...etc.
The entry requirements
Receive on-the-spot answers to your questions
Available scholarships for students
Apply and study a course with a work placement year
Secure opportunity for 2 years of post-study work
🔰 Q&A with the Director of Regional Hub - After the live session, the guest speaker will be answering all of your questions about University admission, scholarships, accommodation and more
🕒 Date: Monday 6 December, 2021
🕒 UAE Time: 6:30 PM to 7:30 PM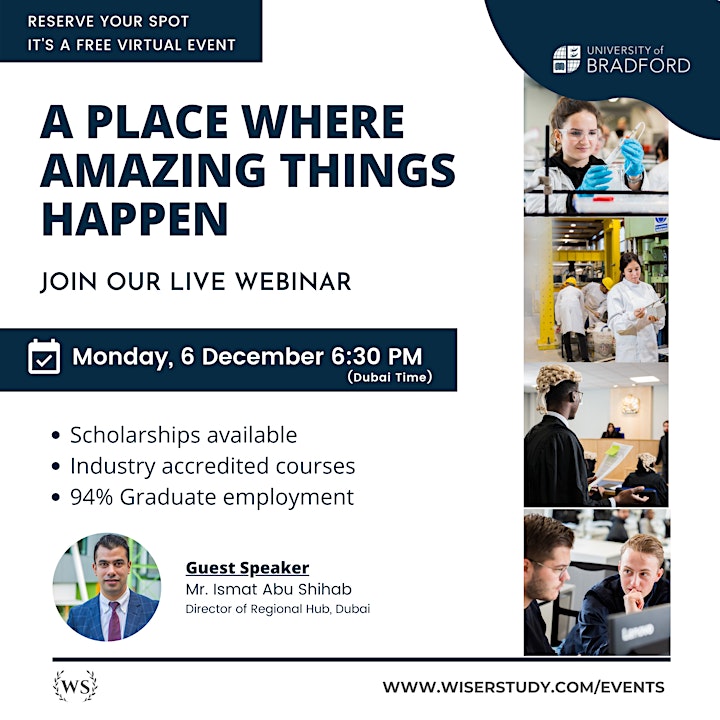 Overview
Study in the UK, with the University of Bradford
The University of Bradford boasts more than 50 years of academic excellence as a university. With 140,000 graduates in over 175 countries, we continue to grow our international reputation, course provision and research impact. Our commitment to developing new course subjects and teaching modes, reflects and anticipates the needs of employers, students, and global society as a whole.
Social inclusion and scholarships
The University was awarded The Times Good University Guide 2020 University of the Year for Social Inclusion, reflecting our dedication to supporting students from all backgrounds, identities, beliefs and challenges. We offer a number of scholarships to support our students, which are detailed on our scholarships pages.
Bradford is a diverse and welcoming city, offering affordable living costs and excellent transport links to the UK's most famous places.
Discover more about life as a student in Bradford
Professional accreditation
We're proud to be part of an elite group of universities to boast a triple-accredited business school. Many courses across our four faculties are also accredited by leading industry bodies, including our Engineering and Biomedical Science programmes. The Guardian University Guide 2020 ranked our Chemical Engineering course at number five in the UK.
Accolades
Best English university for improving students' life chances (English Social Mobility Index, HEPI 2021)
Top Northern University to be a business leader (Hitachi Capital 2020)
University of the Year for Social Inclusion (The Times Good University Guide 2020)
Top 5 in the UK for satisfaction with living and accommodation costs (International Student Barometer 2019)
Triple-accredited business school
Number 1 in the UK for visa advise (International Student Barometer 2019)
Why choose the University of Bradford
Industry accredited courses in all four of our faculties
Top 10 in the UK for Physiotherapy, Occupational Therapy, Optometry and Forensic Science (Complete University Guide 2021)
Top 10 in the UK for Chemical Engineering and Civil Engineering (Guardian University Guide 2021)
94% of graduates went on to employment or further study within six months of graduating (HESA 2017)
On-campus student accommodation, gym, library and social spaces
Over 130 nationalities represented on campus
Scholarships available
Organizer of Study at University of Bradford - Session