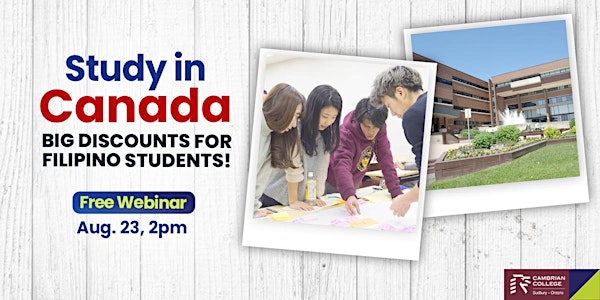 Study and Immigrate to Sudbury, Canada through the RNIP (Aug 23, 2pm)
Join our webinar to know how you can study in Canada through Cambrian College.
About this event
Did you know that Canada plans to welcome a record-breaking 411,000 new permanent residents in 2023?* 🇨🇦 (as per the 2021-2023 Immigration Levels Plan)
Find out how you can move overseas through the STUDY & STAY pathway! 🎓
Join our FREE webinar this August 23 at 2pm.
Get these HUGE discounts when you apply through Fortrust:
☑️ Housing & Book Bursary up to $500
☑️ 50% discount cost for 14 days quarantine in Sudbury
☑️ Immigration Opportunities – RNIP
Why study at Cambrian College? 🏫
✸ Migration pathway for international students in Sudbury, Ontario through the RNIP (Rural and Northern Immigration Pilot Program) 🏡
✸ Cambrian College has been the leading post-secondary institution in Northern Ontario since 1967
✸ Choose over a wide variety of programs, ranging from Health Sciences, Business and IT, Creative Arts & Design, Environmental Studies, Engineering, and more! 👩‍🎨👨‍⚕
There will be a live Q&A after the webinar too, where you can ask questions about studying & living abroad from our experienced education counsellors. 👨‍💼💯
We have helped over 25,000 students doing exactly what we do best. Choose your destination 🇦🇺 🇨🇦 🇮🇪, and Fortrust Education will help you get there. ✨
See you soon! 🙂 #FortrustPH