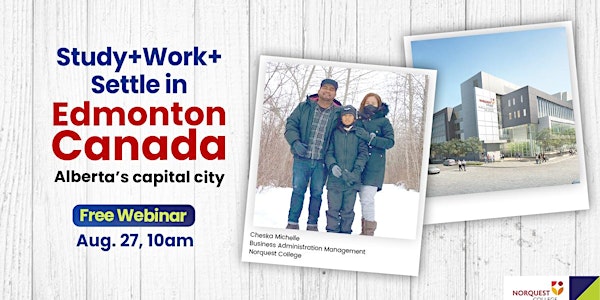 Study and Bring Your Family to Alberta, Canada (Aug 27, 10am)
Join our free webinar to know how you could study and bring your family to Canada!
About this event
Did you know that you can study and ultimately settle in CANADA? 🇨🇦
You can also bring your partner & family with you as your dependents! 👩‍🎓
Join our FREE webinar this August 27 at 10am to know how.
🎟 Limited tickets only! Register now to save your spot.
Why study at Norquest College? 🎓
✸ It is one of Alberta's largest publicly funded community colleges 🏫
✸ Excellent graduate employment rate 📈
✸ Get hands-on Canadian experience (you can work, volunteer, or intern while studying) 👨🏻‍💻
Get these EXCLUSIVE promos through Fortrust—the country's #1 education agency. With our 95% average student visa approval rate, you're in good hands! 💯
There will be a live Q&A after the webinar too, where you can ask questions about studying & living abroad from our experienced education counsellors. 👨‍💼💯
We have helped over 25,000 students doing exactly what we do best. Choose your destination 🇦🇺 🇨🇦 🇮🇪, and Fortrust Education will help you get there. ✨
See you soon! 🙂 #FortrustPH