Description
The Studio/E #ideaSLAM is back -- with a twist! Join us for another round of inspiring conversations and insights, all centered around the theme of enrollment.
Enrollment is the art of inviting another to combine their desire with yours, which is an essential practice for bringing new ideas to life. Whether you're trying to launch an idea within an organization, attract and retain great talent, or are looking for the perfect customer, enrollment is the key. Come hear from three Studio/E members who play out this art at the master level, and learn how you can up your own enrollment game.
New to the #ideaSLAM concept? At this event we will:
Hear idea journeys from three Studio/E members, followed by a Q&A

See the application of Studio/E methodology and tools first-hand

Mingle with a diverse, curious community of Exploratory Leaders
If you are not a Studio/E member, this is an excellent opportunity to learn more about our programs, hear three stories about what it took to successfully launch an idea, and connect with an extraordinary crowd.
FEATURED MEMBERS
Tiffany Snyder | Cargill
Kristin Prestegaard | Minneapolis Institute of Art
Chris Welsh | General Mills
PROGRAM SCHEDULE
5:30 - 6:00 PM Registration and Socializing
6:00 - 7:00 PM Member Pitches and Q&A
7:00 - 8:00 PM Closing and Connecting
TICKETS
$30. Free for active Studio/E members with discount code.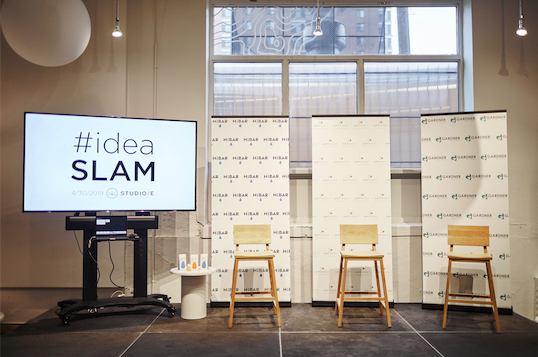 If you missed the last #ideaSLAM, check out the video recap.


FAQ
What does my ticket include?
Tickets include food, beverages, and copious amounts of positive vibes.
Where do I park?
Street parking is available at paid meters surrounding the building. You'll also find a parking ramp (the 11th and Harmon Municipal Ramp) connected to the building.
Do you accept refunds?
To receive a full refund, we do require a minimum of 7 days notice before the event. Please email membership@yourstudioe.com to make this request.
I love the concept! Where can I learn more about Studio/E?
Studio/E is an experiential learning community designed to help leaders and institutions explore, launch, and navigate ideas to discover more possibility to create the future they desire.
The methodology, mindset, and competencies of exploratory value creation can be taught to anyone and can be a powerful advantage to successfully navigating your course in our unpredictable world.
To learn more, visit yourstudioe.com or reach out to membership@yourstudioe.com.